Saturday – Leanne had decided that we were going to this place called Ocean Park which sounded like some kind of lame aquarium type thing – it didn't even rate a mention in the Lonely Planet guide (condensed).
How wrong I was.
We caught the MTR down to Central, walked over to the Star Ferry pier and caught the special 629 bus to Aberdeen and Ocean Park.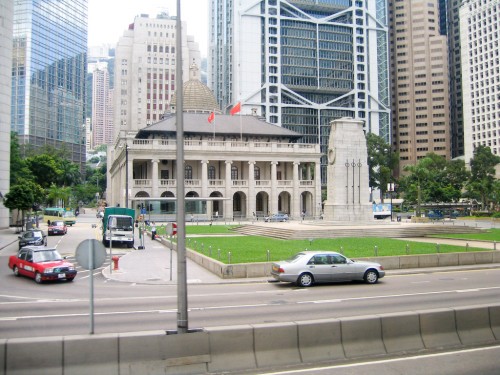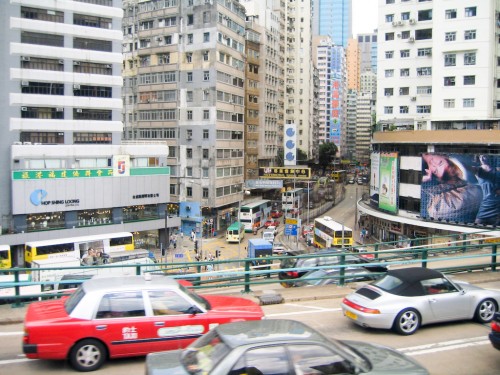 Even from the outside it looked impressive – and clean, and well set up.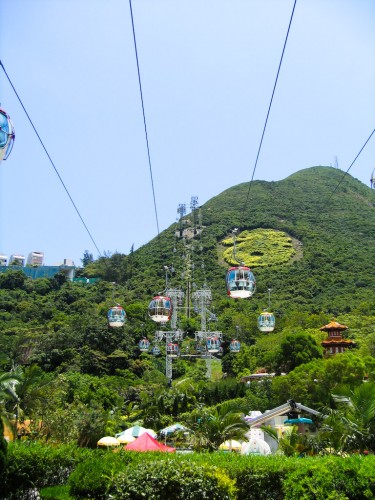 I hadn't really paid attention to how Leanne described it until we got there – kind of a marine park, with a bit of an amusement park as well. The first part was quite impressive, nice exhibits: Japanese goldfish, pandas, dinosaurs (models of them actually), butterfly house, a bird show, a seal show – plus lots of other activities for kids.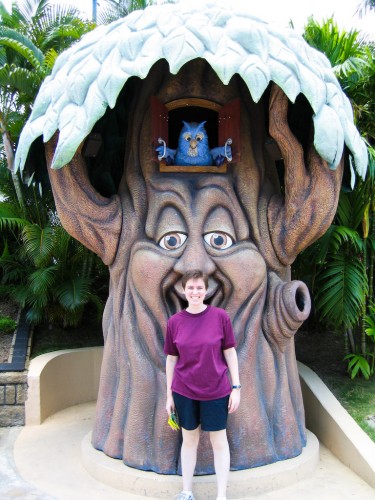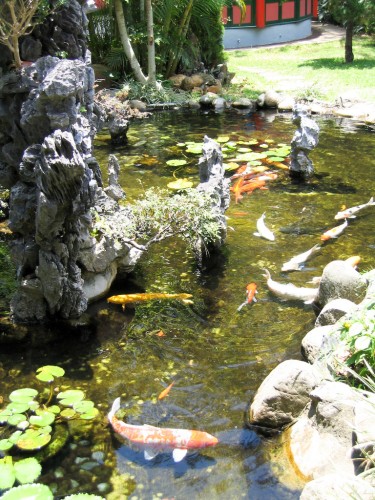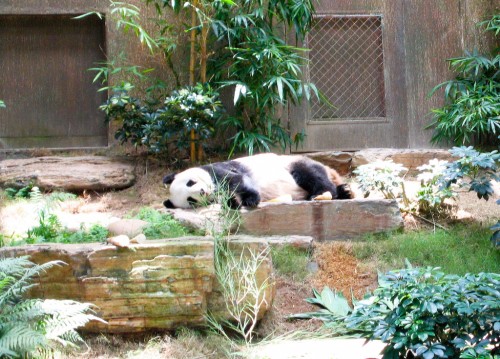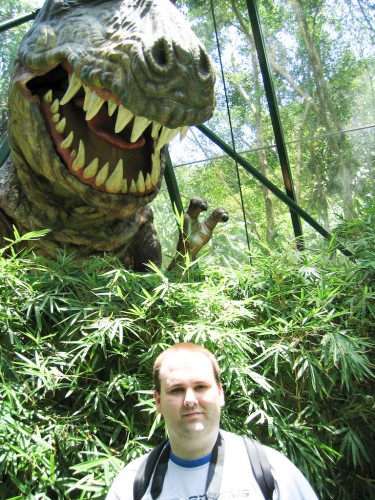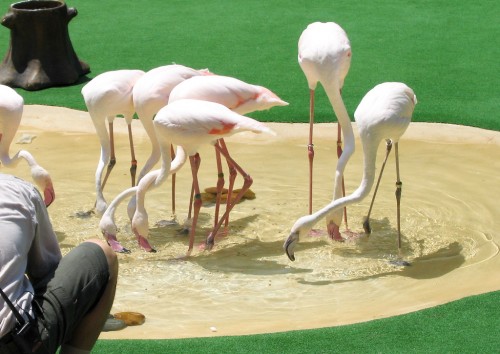 But it was the second part – or more importantly the cable car trip across the mountains to get there that surprised me – A long ride suspended high above the rugged terrain to the water front and the amusement park part. Here they had a Japanese garden, shark aquarium, reef aquarium, seal lion natural habitat, walk in bird aviary, ocean theatre dolphin and sea lion show, plus all the amusement rides.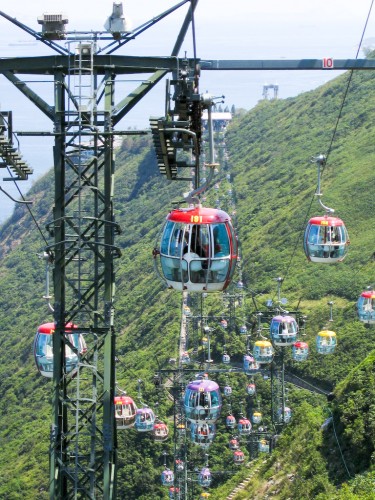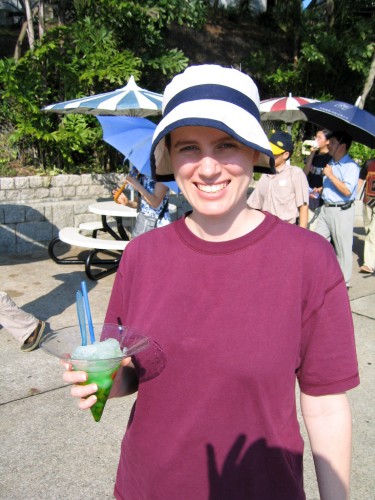 The good bits were the bird show (although the bird shows Jurong Bird Park in Singapore are better), the dolphin and sea lion show (although we couldn't get a seat – and it was a huge auditorium – and I think the dolphin show at Sea World on the Gold Coast in Australia is better), and the coral reef aquarium – which I think we both agreed was the best aquarium display we've seen.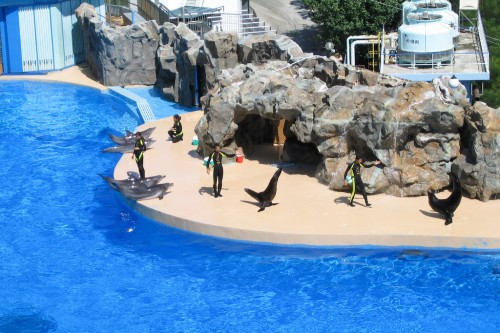 At the coral reef aquarium you enter above the water line looking down at a circular pool some 20-30 metres across and you can see some of the fish and other sea creatures swimming around the surface. Next, you descend to just below the waterline where you can see the fish through glass windows. There are two further levels below this, and each time you walk around the pool seeing the various fish who like to be at the different levels. It's quite huge and very well set up.
The amusement park includes a rollercoaster (two actually), ferris wheel, pirate ship and other such rides – they all seemed very popular with the younger people (we're not really into that kind of stuff – so we didn't try them out). All very well set up on the side of a hill overlooking the water in very nice garden like surrounds. They have some impressively long escalators on one part of the park where the hills are particularly steep and they need to move people from essentially sea level up to the hilltop several hundred metres up.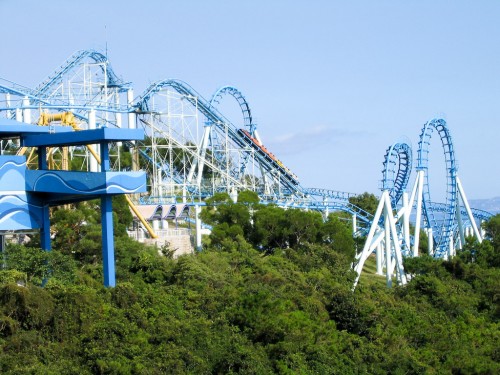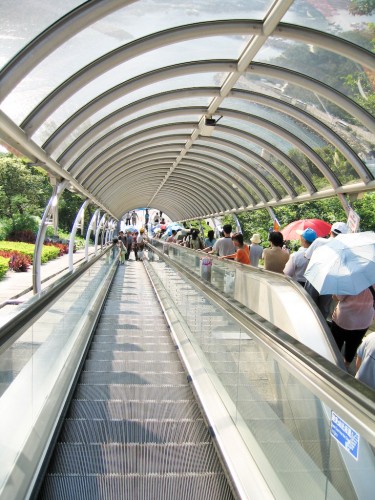 Good points: very well set up and very well maintained gardens and walkways, very clean and easy to get around. Attol Reef aquarium was very impressive as well, but I'd almost pay the HKD$180 just to go on the cable car ride alone !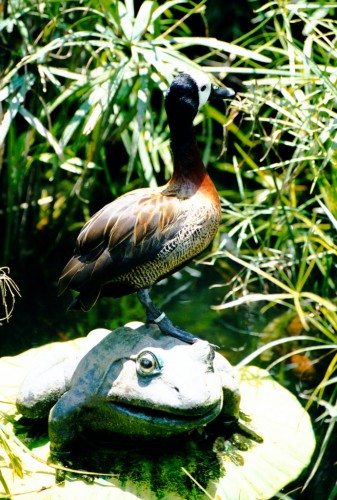 Bad points: don't go in Summer (July – August), it's simply too hot, and being on the side of a hill you should expect a lot of steep pathways. Not as many animal exhibits as I thought there could be – and I do wish that they would give you some buttons in the panda exhibit which you could press to wake them up when you want to see them ;-)
Overall, we had a really good (although extremely tiring) day and really enjoyed wandering around both parts of Ocean Park. Well worth the trip if you are in Hong Kong with a spare day.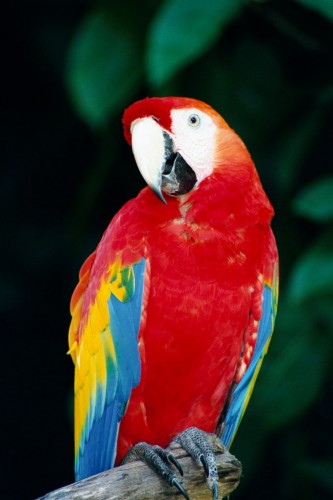 We didn't actually do anything Saturday night after being so exhausted from the activity of the day.
You can see some photos from day 6 in my photo gallery