We woke to more beautiful scenery this morning – and a much smoother boat ride. We had passed back into the channels just after dawn and out of the rolling seas. Breakfast was the usual fare, and I tried to have a shower after breakfast this time, but still had little water pressure.
The couple sitting next to us at breakfast had a guide to birds of Chile and they were discussing some of the birds they had seen on the trip so far – they only had binoculars. I went and got my laptop with my photos on it and asked if they could help me identify some of the birds. Some were easy – others not so. The thing we were all surprised at was one of my photos – which I had originally thought was just a gull or cormorant floating in the water, actually turned out to be a Magellanic Penguin on closer inspection. The white "C" around the ears was a clear indication. Now that I know what to look for, I have since observed many of them just floating past the boat. Difficult to spot (and almost impossible to identify) with the naked eye, the 300mm zoom lens really comes in handy.
The birds we think I had photographed are the Imperial Cormorant, Red-legged Cormorant, Magellanic Penguin, Black-browed Albatross and Kelp Gull.
[table1]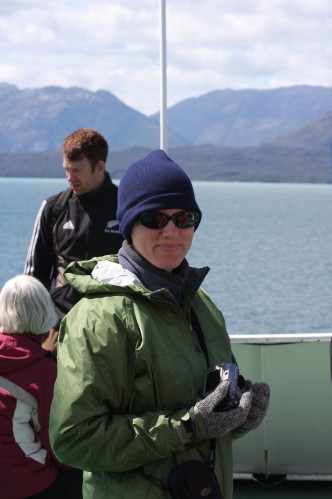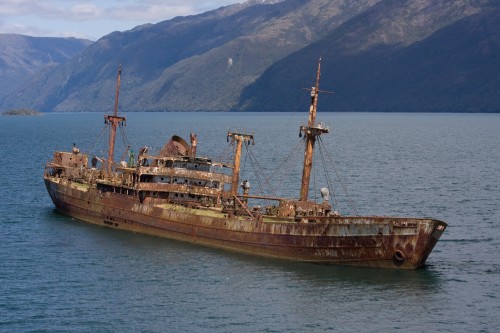 We headed up on deck after breakfast and spent most of the day standing or sitting around watching the world go by. I have been wearing my long-johns all day, which has made it a lot more comfortable up in the cold wind – everyone agrees it is getting colder the further south we go.
[table1]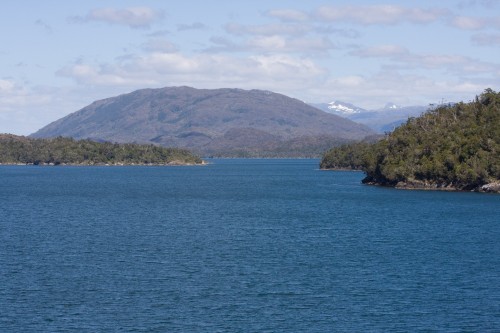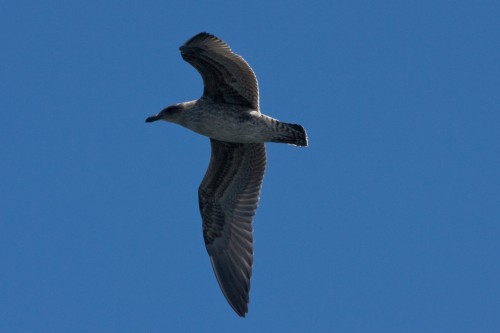 Lunch was a choice of corn pie or chicken – we both chose the chicken this time. While the food hasn't been fantastic, it has been very edible – we certainly haven't gone hungry on this trip.
[table1]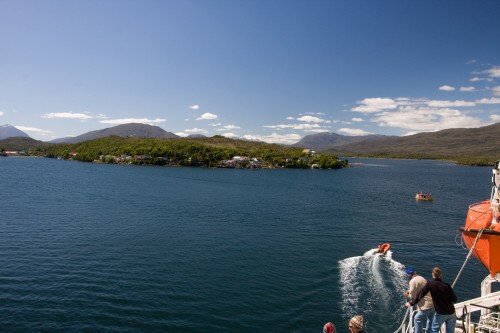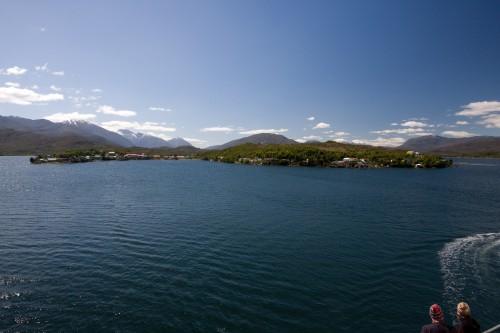 In late afternoon we stopped in Puerto Eden, our only stop on the cruise. This is a small township of just over 100 people on Wellington Island – very isolated. The people living here are some of the last remaining Kaweskar people. Normally we would have the option of disembarking here for a while, but I think we are running late, so we were not given the chance and just watched from the decks as a number of small boats came across from the settlement to collect supplies from the boat. Several local families got on board as well – joining us on the last leg of the trip to Puerto Natales.
[table1]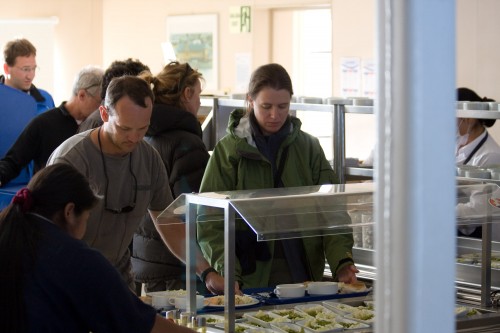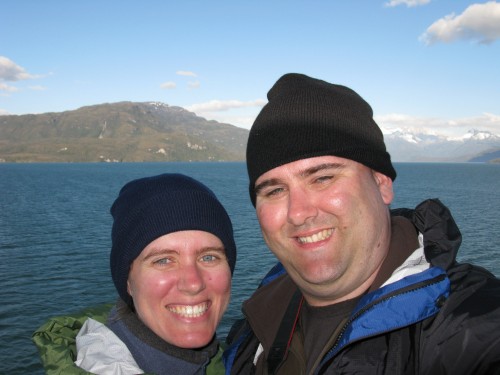 We were scheduled to reach the Glacier Pio XI at 8:30pm – we were all worried that we would not have good light for our visit, despite the sun going down at nearly 10pm (it goes behind the mountains quite  a bit before this). This of course was right in the middle of dinner – so we lined up early to get our food so we could get rugged up and up on deck to get a good spot for the approach.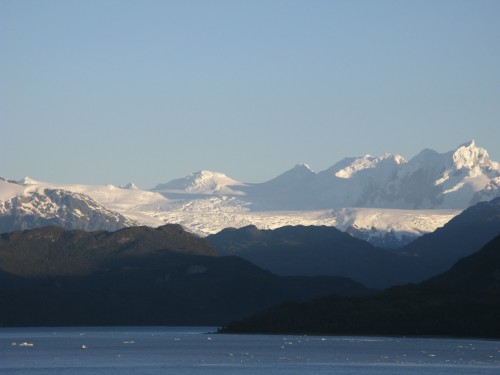 Dinner was a choice of Salmon (which Leanne really enjoyed) and beef with rice, and some jelly with fruit for dessert.
[table1]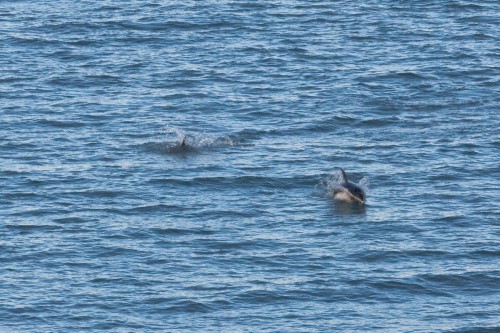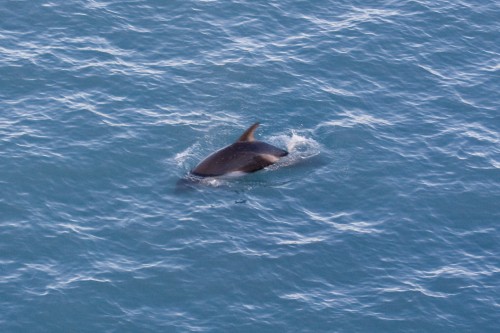 After eating we grabbed our gear and headed up on deck – found a good spot and waited. We could already see the glacier in the distance – and some small icebergs floating a fair distance away from it. As we got closer, we were rewarded with a few different birds, some Magellenic Penguins and finally, quite close to the glacier, a pod of Dolphins which put on a show for us. As we got closer to the glacier, we could really see the vivid blue colour in the ice and see massive crevasses between spires of ice. Quite spectacular. The last light of day added an extra dimension to the view.
[table1]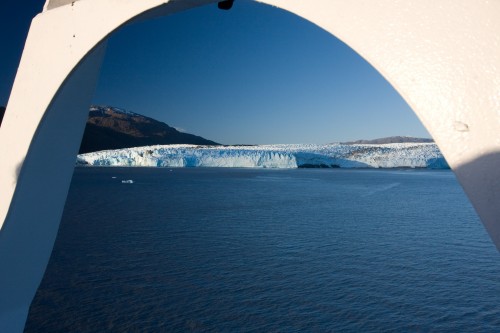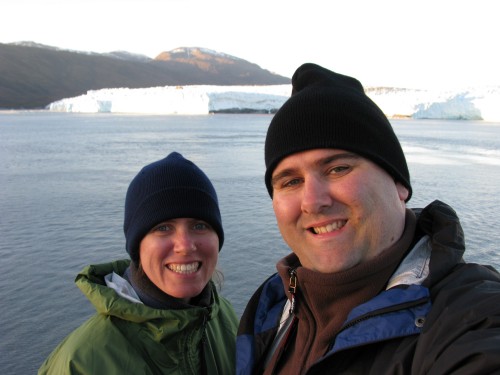 The wind coming off the ice was bitterly cold – we even with my t-shirt, long sleeve t-shirt, Polartec fleece and my rain jacket – I also had my long-johns, my gloves and beanie on … a full face balaclava would have helped a bit really. They drove the boat to within several hundred metres of the glacier, turned 90 degrees one way, and then the other, before turning around and heading back down the body of water to resume our journey.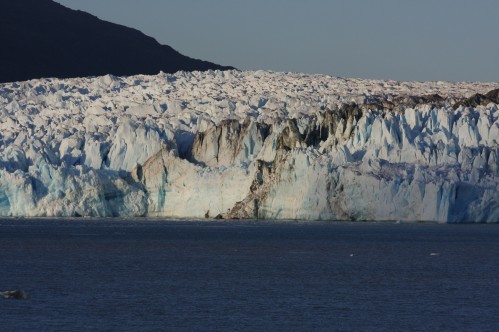 We later spent some time in the dining room playing games and working on the computer before heading to bed around midnight.