After a late night last night, we slept in a little this morning – after 9am before we got up. Breakfast was the same as yesterday – we'll have to be careful, since we found it not as filling as we needed for a full day of sight-seeing.
We headed out walking north towards town and the nearest Subte (subway station), where we got on line D towards Plaza Italia. The trains were very hot and stuffy – although when moving, the open windows helped the air movement to make it slightly less unpleasant. A couple of stops along, a local with ukelele (or whatever the local version is called) and pan pipes and played some Andean music for the travelers on the train (holding out his hat for money after each song of course). He moved to a new carriage a couple of stops later. Onboard entertainment is better than buskers at the station I say!
Subway tickets are 90 pesos each (one way), no matter where you are going – that's about 30 cents Australian. We got off at Plaza Italia and headed across the road to the Buenos Aires Zoo! The long lineup to get in shows how popular the place is … I guess it is still school holidays at the moment – there were a lot of families at the zoo. Entry with all the optional attractions (you can opt to not pay to see the reptile house for example) was 14.90 pesos – around AU$5 each. Far better value than Taronga, which now costs $37 each for adults!
[table1]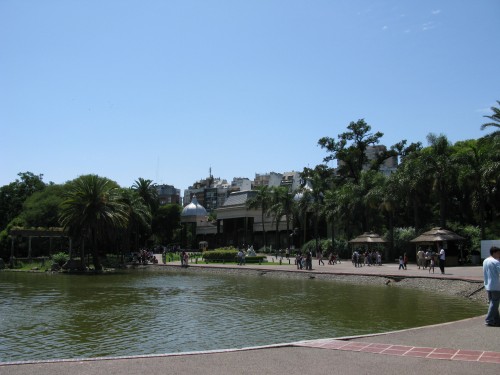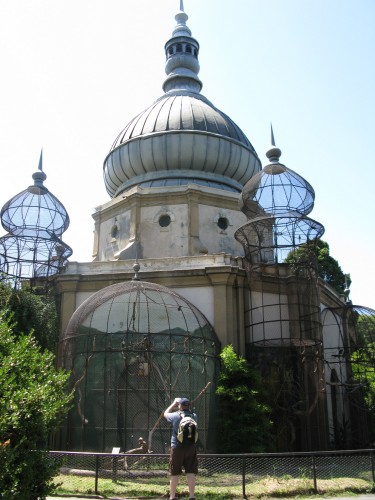 [table1]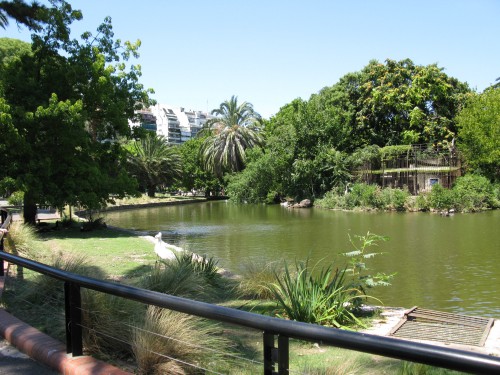 [table1]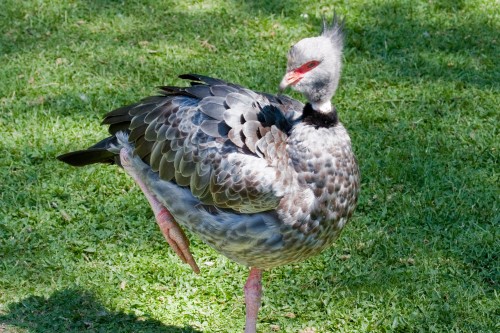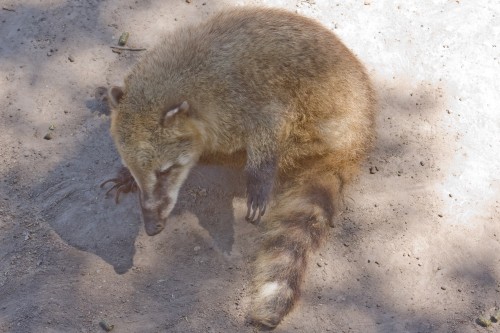 [table1]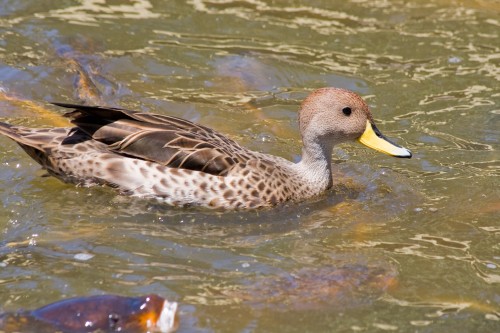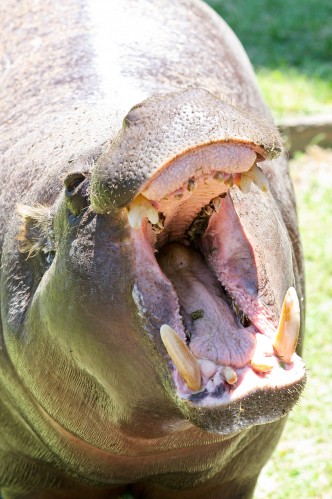 We spent the day wandering around enjoying the zoo – seeing some birds and animals we've never seen before. One of the highlights for me was the raptor cage – a number of birds of prey in the same enclosure … fascinating (pity they didn't have signs explaining what each bird was!). The signs were a bit of a challenge all day – they were all in Spanish with no English translation!
[table1]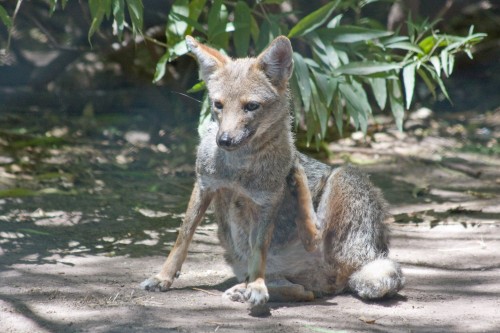 [table1]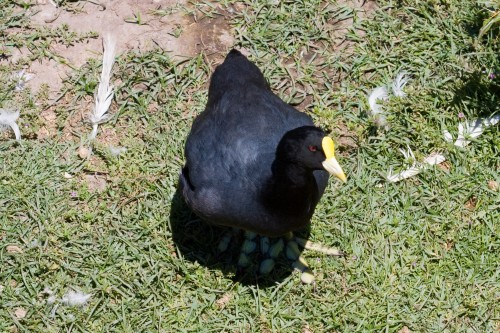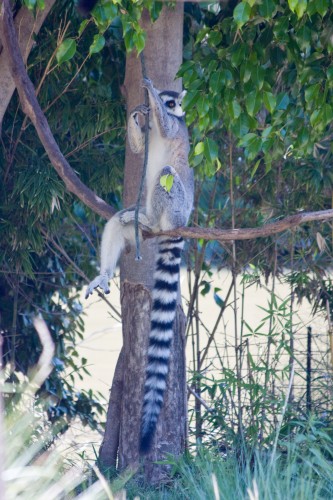 [table1]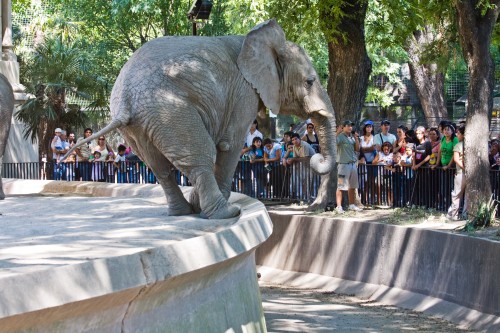 [table1]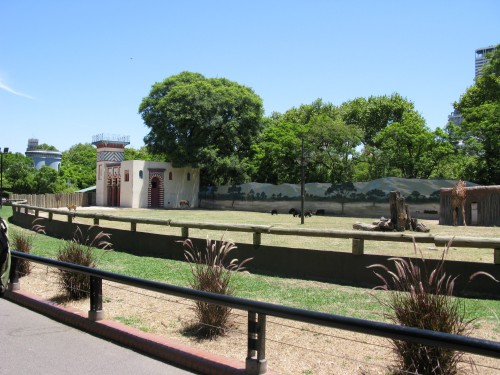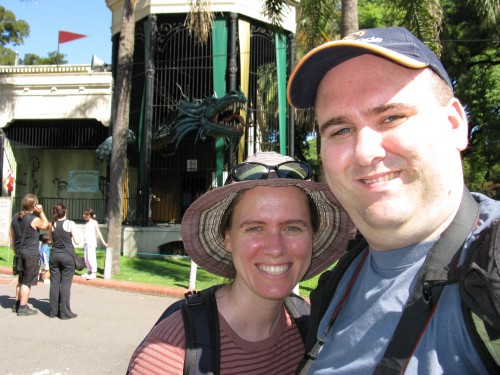 After a long day at the zoo, we walked down the road to the Museo Evita a museum dedicated to the life and achievements of Eva Peron. Quite sad really – I never realised that she died from cancer at the age of 33.
We then walked back to the subway and caught it back as far as Av 9 de Julio (the really wide one), and stopped for a quick dinner at a "large international hamburger restaurant" (we had already decided that we had no energy to get dressed and go out for dinner tonight … a long and tiring day!). From there we walked the dozen or so blocks back to the hostel, stopping at a supermarket along the way to buy some bits and pieces.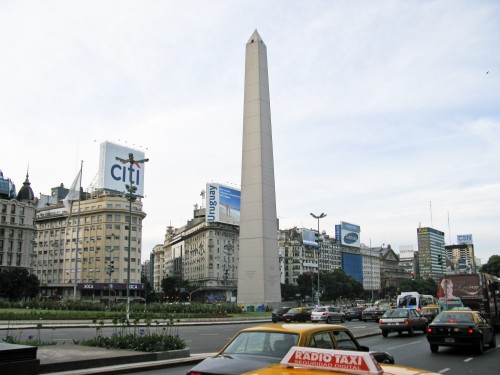 Leanne showered and collapsed into bed, exhausted. I had a nap and then got up to check my emails and sort out a few things. I have to make sure our accommodation is confirmed as we go so that they don't give our room to someone else. The flight times have also changed somewhat – with Argentina implementing daylight savings this year for the first time (seemingly at the last minute too!), so some of the times for our flights between Chile and Argentina are off by up to an hour – I booked them in early November, I suspect that was before they decided to implement daylight savings! No big deal really – just have to check up on these things to confirm when we need to be at the airport and when we will likely be arriving at our hostel at the other end. I made sure with our itinerary that we have flexibility to cope with late flights or changes in schedules.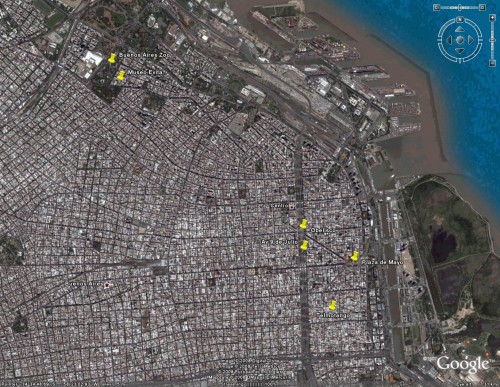 The hostel here is a lot quieter than the one in Santiago – even though there are more rooms, the setup doesn't actively encourage socialising (the lack of a bar helps there too I guess). I've noticed a large number of guests here seem to be locals anyway (possibly visiting from another town in Argentina – or perhaps from Chile/Brazil etc). Not as many English speaking guests as I expected – although there are a few. It's much more hotel like – very efficiently run (someone is present at reception 24 hours), and security is good (they have to buzz you in from reception – you leave your room keys with them when you go out and collect them when you return.
When I get a chance I'll have to start writing about some of the gear we bought for the trip and how well it has worked (or not). Some initial comments:
the big failure so far is the water filter – but it was never designed to remove chlorine from the water, so it's only a failure in that we haven't been able to use it rather than being non-functional
we've been wearing our Teva's (sandals) a lot in the warm weather … makes us look like tourists, but it's much more comfortable. I didn't think they would get quite this much use
we haven't actually carried our travel packs on our backs the entire trip – we've taken taxis or shuttle buses at each point, so there's been no need – have just carried the bags by the handles. I'd be a bit disappointed if we didn't get to use them properly as packs at some point, otherwise we could have saved a lot of money and just brought our Samsonite bags!
Leanne is using the day pack from my One Planet travel pack … it has a large pocket on the front (back ??) which is just the right size for a 1.5L water bottle. It even has a strap near the top which is ideal for anchoring it in. I told Leanne she looks a bit like Boba Fett with his jet-pack on her back when carrying it … she just rolled her eyes and ignored me.
We're very happy with the Pacsafe bags we bought (slashproof bags with secure storage), the Metrosafe 200 is ideal for shorter trips (and it's a passable enough man-bag so I don't mind carrying it either), and my Pacsafe 200 is great for carrying and securing camera gear and such.
I'll write more about our gear and such later.
Tweets from today
working on his blog when he should be sleeping

24th January, 2008 12:24 AM from web