Bit of a late start this morning, up after 9am and eventually headed down for the usual breakfast. We were just about to leave for our day's outing when one of the hostel managers came and asked if we were ready to move rooms. We told him we weren't sure what he was talking about – he went away to double check, but apparently they were supposed to inform me before our arrival that our booking was for 3 nights in one class of room with a fourth night in a better (larger) room. Indeed, the new room is larger – which is nice … but it is slightly more noisy being closer to the courtyard. It is only a few meters away from our existing room, so it wasn't much of a hassle to move all our gear across – we didn't bother to pack it up, just grabbed it from the cupboard in one room and put it in the cupboard in the other room.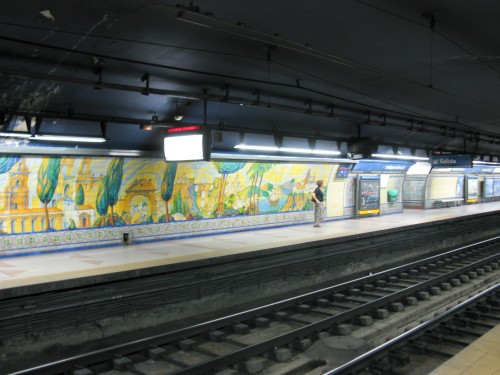 So, after a slightly later start than planned, we headed off – this time walking up towards Independencia Subte station (subway) up near the corner of Av 9 de Julio and Av Independencia. We caught the subway all the way out to Plaza San Martin and looked around at the plaza and buildings in the area – this is a rather posh part of town (Palmero) and the difference in style of the apartments was quite obvious.
[table1]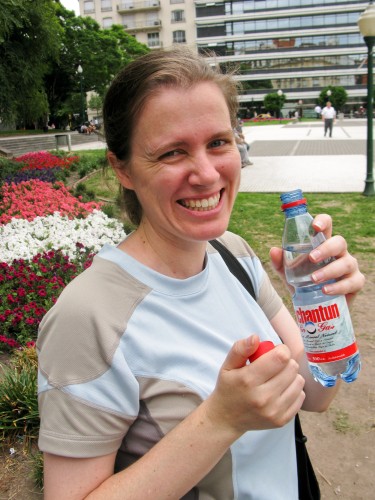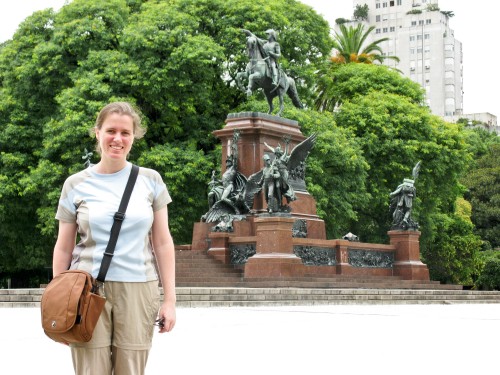 We came across a large fenced off area under some trees which contained several dozen dogs of all different breeds. This seemed to be a doggy day-care area – where dog minders look after the dogs while people go to work. We've noticed that many people have dogs – even when living in apartments. The Lonely Planet Guide mentions this as one of the downsides to Buenos Aires – lots of doggy doo on the footpaths. It is not unusual to see someone walking up to 10 dogs at once in one of the parks either (although at least the professional dog walkers generally pick up after the dogs). There was a bit of excitement when one of the dogs slipped out the gate while one of the keepers was trying to get in, and several people went running madly after it to try and catch it – which they eventually did. The rest of the dogs thought it was fantastic and started barking madly in support of the escapee – made us both think of "The Great Escape".
[table1]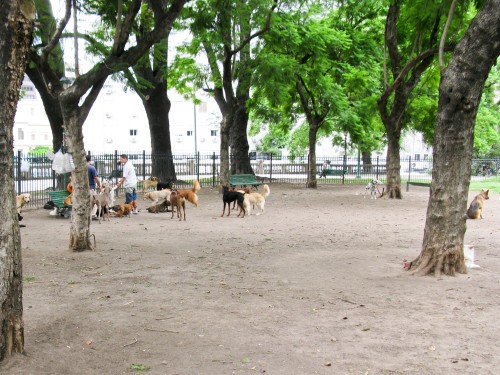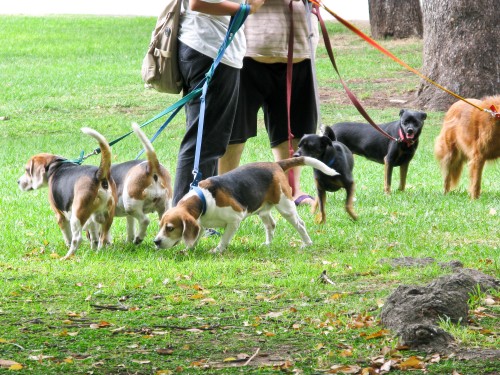 We stopped at McDonalds for a snack and to use the bathrooms (something McDonalds is generally good for worldwide!), and then walked down Florida – one of the main pedestrian-only shopping strips – packed with people. We eventually made our way to Plaza de Mayo (where we visited the first day) and took some photos of Casa Rosada (Pink House). This is the presidential palace (although the president no longer lives here – only has offices), and is where people like Juan and Eva Peron have "preached to throngs of impassioned Argentines" (as written by the Lonely Planet Guide).
[table1]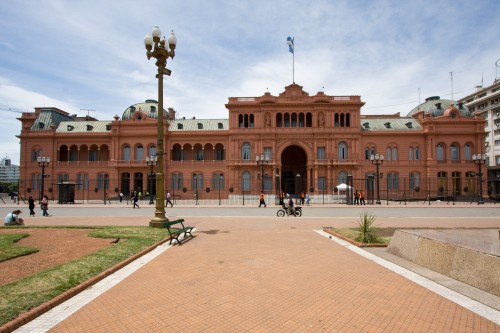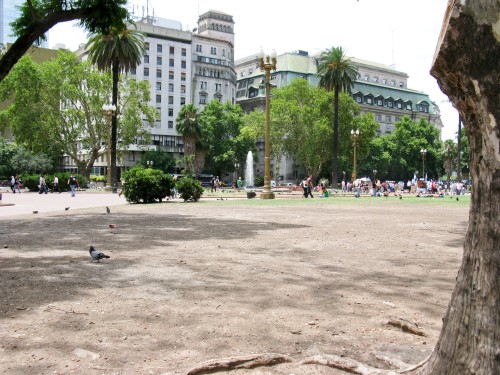 [table1]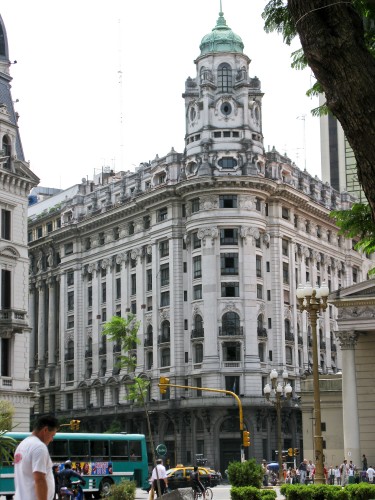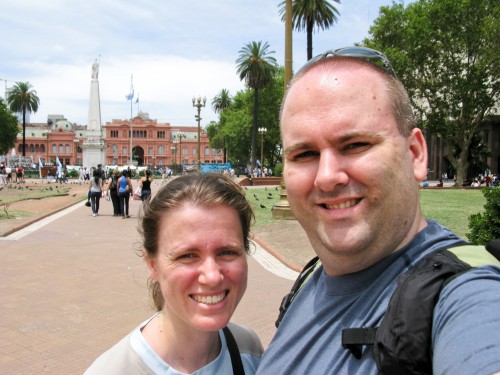 We sat and people-watched for a bit in Plaza de Mayo before finding a sandwich for lunch and then hopping thre Subte again from Peru station out to Saenz Pena in the Congresso district. On this line they use really old trains with wooden carriages – the feeling in the carriage reminded me of the old Glenelg trams. We walked through Plaza del Congresso to the Palacio del Congresso (national congress) – another beautiful old building (this city is full of them). After another visit to McDonalds (for an icecream and to use their bathrooms again), we jumped back on the Subte at Congresso, back to Peru and then wound our way through the back streets to our hostel.
[table1]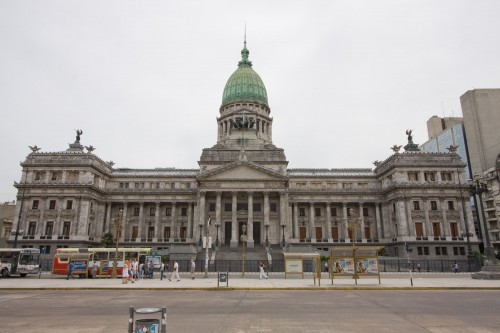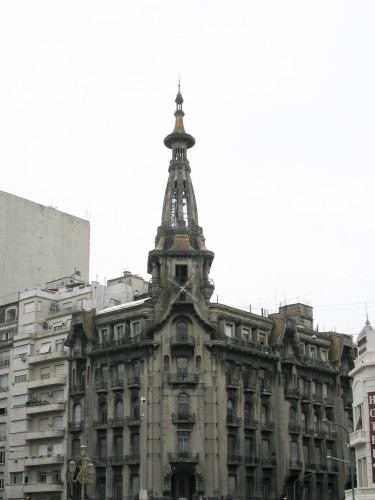 We both had a snooze and then later got dressed for dinner again – this time at a local steak house we discovered just around the corner. It was nearly 8:30pm when we got there and we were the only guests – most wouldn't arrive until after 10pm! We enjoyed bread with a ricotta dip, fresh squeezed orange juice (not watered down!), empanadas (my new favourite food), a fresh salad (lettuce, hard boiled egg and grated carrot), some creamy mashed potato and some very nicely cooked steaks. The spicy salsa on the side was a great addition too. All up under 100 pesos (this was a reasonably up-market restaurant too), something around AU$36.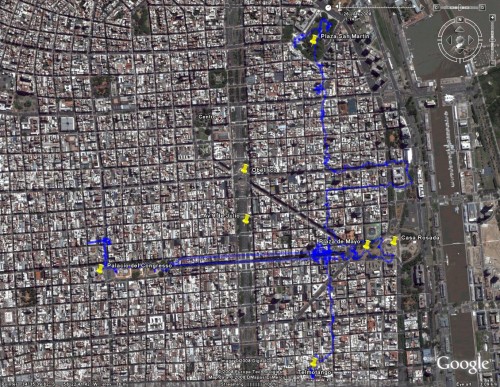 When we got back to our room, we did a bit of packing before sitting down to catch up with our blogs and emails – although I was too tired to go downstairs and use the internet connection to post them … I ended up crashing a lot earlier than I had expected to – completely exhausted.
We have both enjoyed Buenos Aires, although we would love to see a lot more than we have – there is so much to do here.