Day 5 started after a reasonable nights sleep – better than we had in Santiago anyway – it is really quiet here on the roof of the hostel, and the fan makes a big difference to sleeping comfort. Pity the bed is so hard.
After showering and getting dressed we headed down for breakfast – again included in the room rate. This time it was a little disappointing – croissants with dulche de leche (kind of a sweetened caramelised milk that is very popular in South America), fresh fruit and orange juice (very watered down). At least the fruit is generally good quality – apples, bananas and plums.
After breakfast Leanne went to get some washing organised at the laundromat across the road from the hostel and I sat out in the courtyard on the roof enjoying the cool morning air and catching up on writing some blog entries.
Dad has been asking me about birds I've seen, and until now I've only seen pigeons – hundreds of them. But this morning I saw a couple of parrots fly by overhead. There was too much glare to see what colour they were, and I only really noticed them because of the call they made as they flew.
Once we got ourselves organised, we headed off to see some sites – first up we decided to see if there was anything interesting at the "Eva Peron Plaza" on Av Paseo Colon, but it turned out to be just a smallish sculpture about something – probably celebrating workers rights by the looks of it from across the road (it took us 3 changes of lights to get all the way across the road the first time, so we didn't bother to get a closer look!
We continued up towards the main part of San Telmo south of Av Independencia, and eventually worked our way to Plaza Dorrego, known for its markets and cafes.We instantly fell in love with this area – particularly the main street (Defensa) which is virtually non-stop antique shops for several blocks. We didn't go into many (you need to ring the doorbell and be escorted in by the proprietor) – but mostly just browsed looking in the windows at all the fascinating old things for sale. Leanne's sister would love this area – although I'm not sure what the prices are like.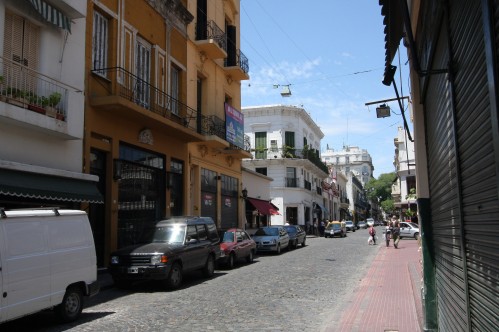 We started getting hungry and so when we came across Desnivel, a restaurant highly recommended by the Lonely Planet guide, we decided to have a look. Just inside the door was the chef carving up a variety of cuts of meat to cook over coals – they looked delicious, so we decided to eat here. It was a good choice – the empanadas (kind of like a spicy meat pasty) for entres were delicious and the steak (with garlic sauce) I had for mains was very very good. Leanne's veal medallions (which actually turned out to be an interesting version of a veal snitzel) with mashed potato was also very good. Seemed to be a very popular place with the business lunch crowd – and nobody seemed to be in a big rush to go anywhere … very relaxing meal.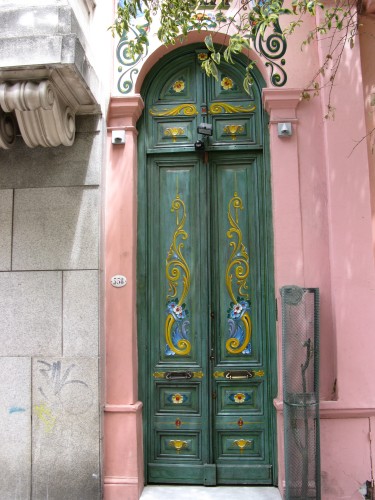 After lunch we wandered around a bit more looking at more antique stores before winding our way through the back streets of San Telmo back to the hostel. We picked up the laundry – 6 pesos (around AU$2) for a bag full (four sets of underwear each plus two t-shirts each). Considering the same wash would cost upwards of AU$60 (yes that's sixty dollars) in a hotel back home, we thought that was good value. We have been doing some hand washing as needed - we bought quick drying synthetic clothes so that we could do this and have the clothes dry overnight. Still not quite the same as properly washed clothes, but it is good enough to keep us going until we have enough to justify paying for a full wash.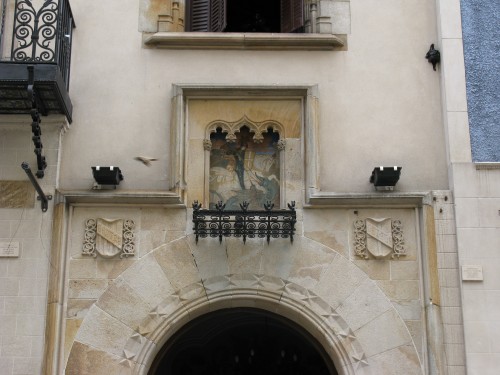 We decided to take the rest of the afternoon easy and sat in the room catching up on choosing some photos to upload to the blog.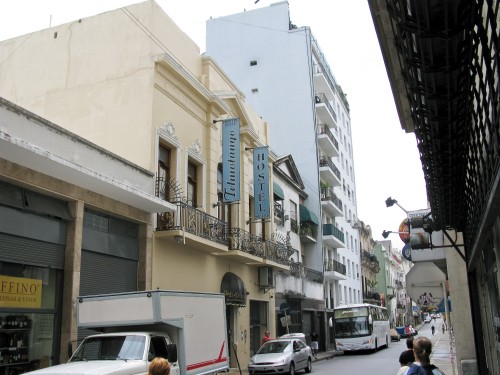 We both had snoozes and then some time after 8pm got dressed (trousers and short sleeved shirts this time) and wandered down to a restaurant strip we had discovered a few blocks away on our earlier walk. After choosing a place which looked popular with the locals (always a good guide), we had fun trying to work out what the items on the menu were (Leanne's Spanish skills don't cover every combination of food yet!). Fortunately they had an old version of the menu which included English translations, but many of them were quite unhelpful in describing what the food actually was.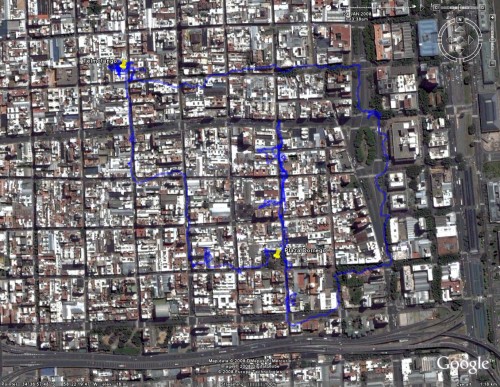 The other problem was that half the things listed on the menu were not currently being offered, so on the third go I ordered something that I wasn't quite sure of - but seemed to be some kind of stuffed pasta (I figured it would be a bit like ravioli). It ended up being an interesting dumpling style pasta stuffed with ham and cheese, served with a bolognaise sauce – not too bad. I tried a ham and cheese empanada for entree, but it was a bit disappointing – not the same pasty style I had at lunch, more breadlike. Leanne's sandwich was an interesting combination of ham, cheese and a thin slice of steak on something similar to turkish bread. It was interesting watching the locals and how they interact when dining – and also the street hawkers (some tolerated by the restaurant, others moved along) – since we were dining al fresco.
After dinner, Leanne headed to bed, while I stayed up catching up on emails and work stuff.