A fairly relaxed start to the day today – we had time for a leisurely breakfast down in the hotel dining room and then pack up to check out at around 11pm and catch a taxi to the airport.
Our flight was on Avianca and was actually an international flight to Madrid (Spain) which stopped in Cali first – so we were only doing the domestic leg of the trip. The flight details told us the plane departed from Terminal 1 (the international terminal), so that is where we went to check in. As it turned out, the checkin staff said we should have gone to the other terminal (Terminal 2), but we were late (it was still more than 2 hours before the flight!) so they would check us in here and then we could catch a bus over to the other terminal to catch the flight. Weird.
They also insisted on charging us excess baggage – we are allowed 20kg each for domestic flights, yet we had nearly 80kg between the two of us (which is well within the limits for international flights). I tried to argue with them that we were on an international itinerary, but they insisted that we were not transiting since we had stopped in Bogota for more than 24 hours. Rather than continue to argue, we agreed to just pay the COP97,000 fee (about AU$57). I'll have to take that up with our travel agent.
Security was tight – our bags were scanned when we entered Terminal 1, then again when we entered Terminal 2 after a short bus ride, and then before we reached the gate, we had to line up with everyone else in two lines for the narcotics division to search everyones bags and do a body pat-down (females in one line, males in the other). Eventually we got to our gate with plenty of time to sit around and wait for the flight.
The plane (Boeing 767) was only about 25% full, but I don't know how many people may have been getting on at Cali to continue on to Madrid. Flight time was only about 45 minutes, so it went quickly – they only really had time to give us a drink before we were descending in to Cali.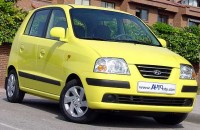 It took a while for our bags to arrive off the plane, but our driver from the hotel was waiting and so we were able to head straight to his car for our ride in to Cali. This is where it got interesting. I was expecting a small-mid sized sedan which seemed to be favoured by drivers who do airport pickups, but our driver had an actual taxi – what's more it was a Hyundai Santro – a micro-hatchback  similar to the one in this photo – our stack of bags looked larger than the car itself.
I had no idea how they were going to fit everything in, especially given they only managed to fit the smaller of our two wheeled bags in the boot. They got the smaller backpack shoved top-down into the gap between the front passenger seat and the rear seat, then our carry-on bags (including my roll-on) on the rear seat behind that. On the floor in front of the front passenger seat was the larger backpack with our large wheeled back on the front passenger seat itself. Leanne then sat in the middle seat and I squashed in next to her. Fortunately our driver was pretty short, so he had his seat pulled forward quite a bit, otherwise I may not have fit in behind him!
Anyway, we eventually made it out and the trip in to Cali was surprisingly comfortable. It took nearly 45 minutes to get from the airport into the Hotel Pension Stein – a large old colonial style hotel sitting on the side of a hill, quite grand really. We checked in and were taken taken to our room – where we unpacked and had a bit of a rest before going out to explore the hotel a bit.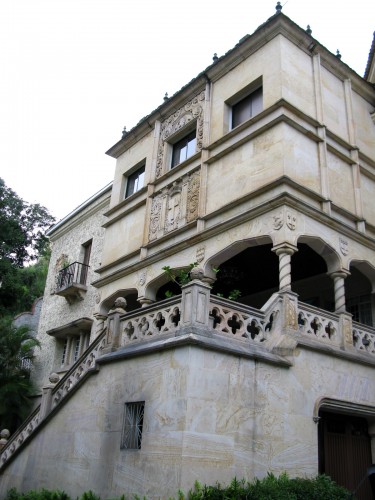 Three meals a day are provided by the hotel kitchen (except Sunday lunch), so we didn't have to worry about going out to find food – but meals are set menu each night, so you don't get a choice as to what you are served.
We stopped down at the dining room for dinner – not really sure what to expect, but after a started of some exotic fruit (very tasty) they served us a very tasty meat patty with vegetables (like a hamburger without the bread), followed by a type of apple cake for dessert. We met some of the other families staying at the hotel – even though it is run like a normal boutique "pension" style hotel, this particular one specialises in supporting families who are adopting from one of the local orphanages.
As such, there were plenty of kids around – most of them adopted, some of them young babies only a few months old, and others who were close to school-age, adopted on previous trips.
After dinner, we went back to our room and watched some more MacGyver on DVD and read our books – the internet was down, so I wasn't able to do any work or write any blog entries.
I was feeling very tired and went to sleep around 10:30pm, but we both woke up around midnight and couldn't get back to sleep. It took me a few more hours of reading my book before I eventually managed to get back to sleep – I think a combination of jetlag and excitment about Monday.