Managed to get a bit of a sleep in today – if you can call 8:30am a sleep in. Didn't sleep as well as I would have liked – for some reason the hotel room gets really hot at night. I really can't work out why.
We headed downstairs for some breakfast and then spent some time trying to work out where to go today. We decided to visit the old part of town in the La Candelaria district. The hotel had their driver take us there – about a 30 minute drive.
We started at Plaza de Bolivar, the heart of the original town of Bogota – a square dedicated to famous Colombian, Simon Bolivar. We then headed east through the old part of town admiring the old buildings.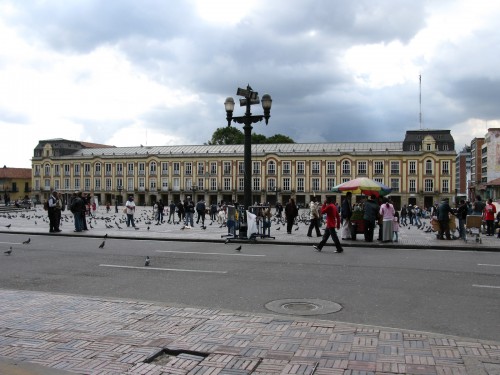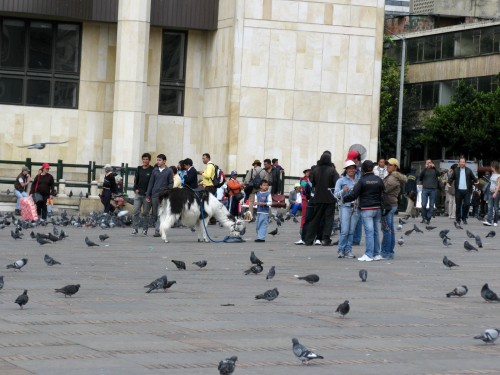 Next we headed north up to the Parque de los Periodistas where we sat and people-watched for a while. Fascinating seeing the various mixtures of race visible in the locals.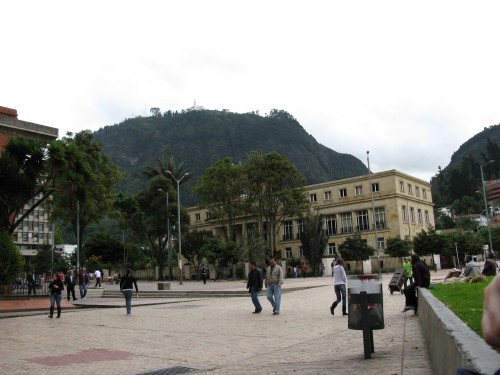 We then walked down to the Museo del Oro – the Colombian Gold Museum, which housed a fascinating display and description of how gold was used and the signifcance of this and other previous metals to the ancient cultures who lived in this region.
After the museum we walked through some of the markets in Plaza de Santander and surrounding streets before wandering along one of the main shopping streets and looking in some of the stores. Eventually we worked our way back to the museum and to an official taxi rank nearby (it is not advisable to hail taxis in the street here) and caught a cab back to the hotel.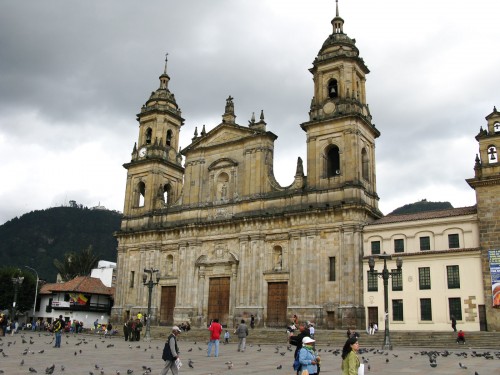 One thing we found amusing, but rather practical once we thought about it – was the prevalence of pay-by-the-minute mobile phone call vendors on the streets and in the plazas. They typically have up to half a dozen mobile phones chained to their jacket and wear a sign which proclaims the price for calls – typically between 150 and 300 pesos per minute (about 9 – 18 cents per minute). Rather than owning their own phone and paying monthly rental fees and such – people would just walk up to the nearest phone person and call using one of their phones. It was quite amusing watching someone standing around with chains leading to the 2 or 3 other people standing nearby talking on his phones. Seems to be a popular service. Unfortunately I wasn't that comfortable with pulling out the camera to take a photo – maybe on our way back through Bogota in a few weeks I'll try and get a photo.
Another thing we quite liked was that all motorcycle riders – and their passengers – wear highly reflective flourescent coloured tabbards with the license number of their bike sewn onto them. It must be a legal requirement and related to the registration of the bike – since everyone did it. This makes the bikes far more visible, especially at night.
They don't have a subway or metro rail system here in Bogota, instead they have the TransMilenio – a fast urban bus service built like a metro system, but at far less cost. The system has self-contained stations (much like a metro station), with ticketing machines and ticket gates to get through, and large covered areas for waiting for the bus (bendy buses usually) – complete with doors on the station that open when the bus arrives for you to get on and off. I believe they also have dedicated lanes along major roads to avoid traffic problems. It really is an ingenious and practical solution to the problem of public transport. Again, I wasn't able to get a photo of one of the stations, I'll try and get one next time.
Back at the hotel, we relaxed for a while and watched a DVD on the laptop before walking up the road to get some dinner. The hotel is on a major road which is wide and well-lit with plenty of small shops open along it, so we felt quite safe walking a couple of blocks up the road at this time of night – lots of people out and about making their way home from work or off to a local restaurant for dinner.
The weather here is interesting, because we are so close to the equator the weather is the same pretty much all year round. There are wet and dry seasons and I'm not sure how much rain they get (it is very green here, so I'm guessing it's a fair bit), but the temperature tends to stay around 14 – 18 degrees all year. At the moment it is near the upper end of that scale, and the relatively high humidity actually makes it feel quite a bit warmer – I was quite comfortable out and about with short sleeves. Even this evening when we headed out after dark, I was very comfortable without a jumper on.
We have a few more days back here in Bogota on our way home – we have some paperwork to collect before we can take Andres out of the country, so we hope to be able to see a few more of the sights at that time. We fly to Cali tomorrow (Saturday) just after lunch.