Up rather late this morning – our bus wasn't until 1pm, so we were able to take our time getting ready. Very nice to sleep in a bit! We eventually got up at 9am and headed for breakfast and then showered and started packing. Leanne went to collect the clothes (1500 pesos per kg – 4260 pesos in total … about AU$10). We finished packing, checked out of the hostel and arranged for them to look after our bags while we went for a bit of a walk.
We walked along the waterfront for a while with the camera – looking at all the birdlife there. At one point there is an old pier (just the poles in the water remain), which we had seen on previous mornings had a colony of cormorants living on it … we thought the one-bird-perch-per-pole was quite amusing. We had also hoped to get some good photos of the black-necked swans, but they weren't around, instead we had Coscoroba Swans! Ironically as we headed past the same area a couple of hours later, the black necked swans were back as well.
[table1]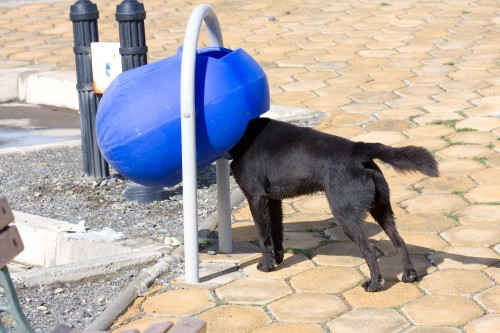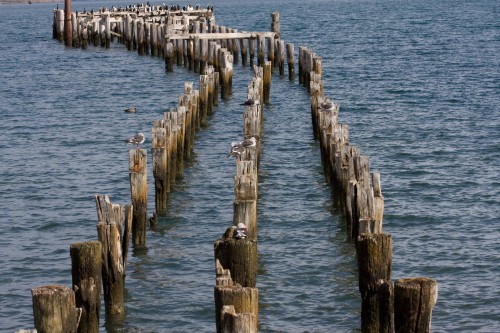 [table1]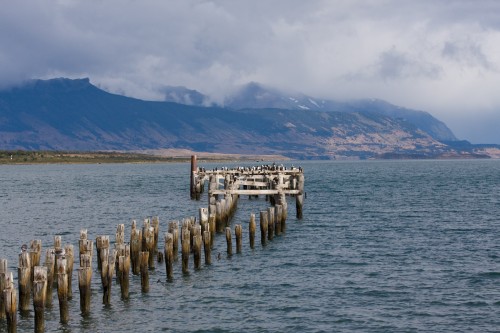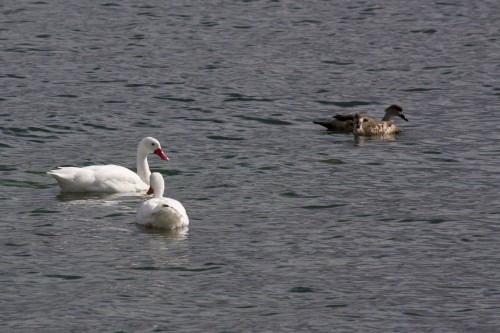 [table1]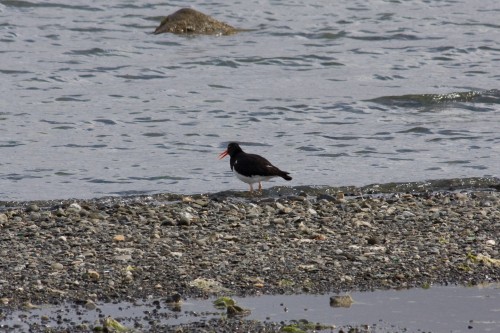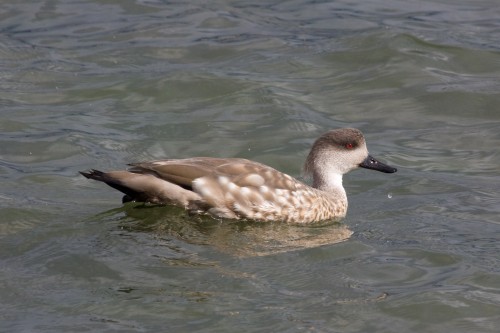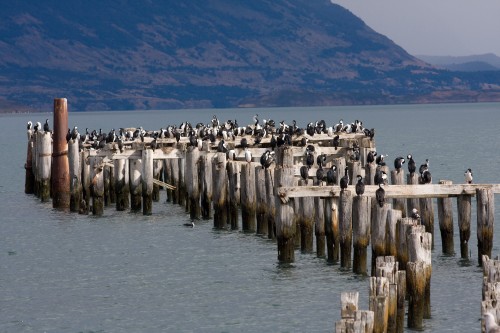 We stopped at a little cafe around the corner from the hostel for hot chocolate and cake – it was very very nice, and when we went to pay the bill, the owner got all excited and showed us the receipt book – we were customer number 22,222 ! All the staff came out to celebrate and they gave us a free block of chocolate! Lovely little place – and I would have liked to try a few more of their cakes and different types of hot chocolate too!
We walked back to the hostel and arranged for a remise to pick us up – we didn't feel like walking to the bus station and being all hot and sweaty before the start of our trip. 1000 pesos flat rate anywhere in town (about AU$2.40) seems cheap – but given we had paid only 700 pesos for a 20 minute bus ride from Puerto Varas to Puerto Montt … it was a bit expensive compared to a 2 minute ride to the bus station. I guess this is a tourist town though and it was door-to-door service.
The bus left promptly at 1pm – 5,000 pesos each to Punta Arenas (about AU$12). It was a nice bus too – I had enough leg room to be able to pull my laptop down and catch up on writing some more blog entries – good thing I kept the laptop charged!
The trip passed fairly quickly – just over three hours, and we were pleasantly surprised to find the main part of the town to be relatively flat – I was worried that it would be hilly and we would have a hike to get to our hostel. As it turned out, it was quite an easy 5 block walk from the bus station. Ironically, the other choice of bus company we had would have meant only a 1 block walk to the hostel – but we didn't know that until we arrived.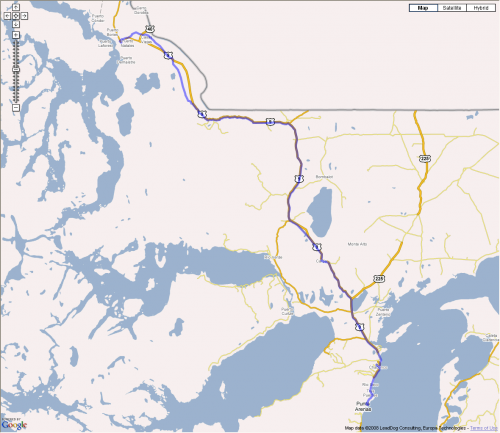 Punta Arenas is a large "coastal" city of over 110,000 people – large focus on fishing and also quite industrial, and is the main business centre for the Patagonia region. I put "coastal" in quotes, since it is actually quite a long way inland and us actually on the Strait of Magellan which runs between the South American mainland and the island of Tierra del Fuego (and the hundreds of other smaller islands which make up the coastline). Being a major centre – it has a large airport, and many people fly into or out of Punta Arenas from the large cities to the north (although the area is notorious for its galeforce winds – so I'm not sure how pleasant that would be!).
We checked in to our hostel soon after 4pm and got settled – they have WiFi – it worked in our room – it's quite fast – and we even have a desk! So I'm happy – hopefully I'll be able to get caught up on all my computer stuff before we head off on our next boat cruise on Wednesday!
We went out to explore the town for a while – found the ubiquitous Plaza de Armas and the offices for the cruise company where we would need to check in on Wednesday. We were hungry – we hadn't really had lunch … and it was too early for dinner – so we stopped at a cafe and Leanne had hot chocolate and churros, while I had a banana split and a vanilla milkshake. Quite nice – but very sugary – we went for a bit of a walk around the downtown area before returning to our room to start our research and planning for our time here.
We ended up not going out for dinner – Leanne went to bed early while I got caught up on some blogging and posted the entries I had written up on the bus today.