Up early to finish packing, have a quick breakfast and then wait for our Remise (taxi) to the bus station. The bus left just after 8:30am and we both had a snooze as we drove across the barren plains of the Pampas.
I woke up as we turned off earlier than I expected and turned down a rough dirt road. I had seen a sign on the way in the other day which pointed to El Calafate – and I figured it was a "short cut". I confirmed this on the map later … to follow the highway (like our previous bus had), we had to travel two sides of a triangle (with the short cut forming the third side).
[table1]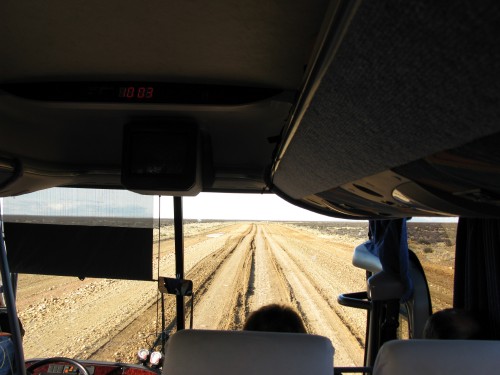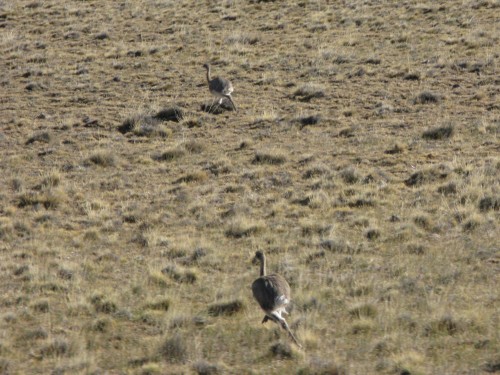 I'm not sure if the short cut was any quicker – at times we crawled along at only 20 – 30km per hour, and it took us over 90 minutes to get back onto the highway. I'll have to check the distances to work out whether it would have been quicker to stay on the highway. At least we got to see a lot of Rhea's along the way.
[table1]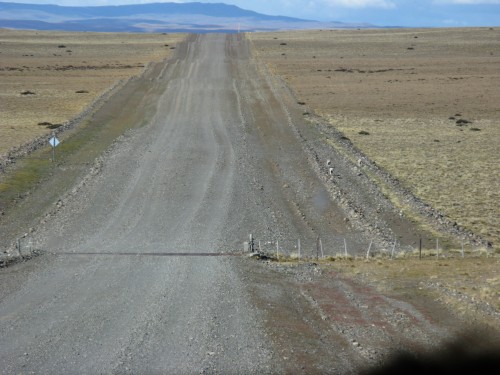 As we continued, I started seeing landscape that I hadn't remembered from the previous bus journey – and it soon became clear that we were going a different route to Puerto Natales rather than through Cerro Castillo like before. This was confirmed as we drove in to Rio Turbio, a coal mining town near the border – indeed, just past the outskirts of town we reached the Argentinian border control. At this point we once again handed over our passports while the driver took his passenger list in and got our paperwork processed. This time it took over an hour – while we waited on the bus.
Next, we drove about 15 minutes down the road (the border itself was clearly marked this time) before coming to the Chilean entry control. This time we had to get off the bus, collect our bags and line up – fortunately Leanne and I were near the front of the line – first to get our passport stamped, and then to have our bags inspected. We spent some time trying to explain to some other tourists on the bus why it was so important to not take fruit or vegetables into the country – they had no idea about fruit fly and other such pests and diseases – despite all the information given to them at the border crossings. It's no wonder there is enough tension at Australian airports to make a TV series about it all … although given we come from South Australia, we are much more used to such issues with our fruit-fly exclusion zone than I'm sure many other Australians are!
Another 45 minutes wait and we were off again – we thought it was another 2 – 3 hours to Puerto Natales – we would be arriving a lot later than scheduled, but it turned out we were just down the road – we came in from a completely different direction to when we had left.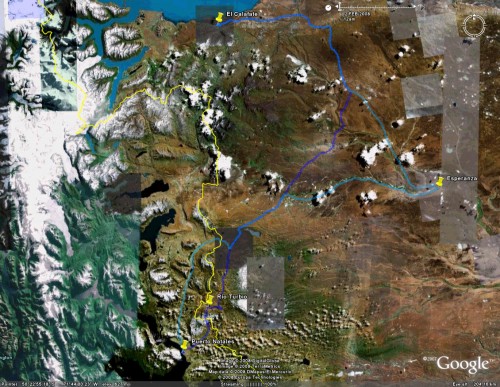 The satellite image above shows the two paths – light blue is from Puerto Natales to El Calafate via Cerro Castillo, and the dark blue is the return trip via Rio Turbio
With the time difference, it was about 2pm when we arrived – we had booked a room back at the Hostal Natales (which unfortunately was across town from where the bus dropped us off), so we put our packs on and walked – at least the main part of Puerto Natales is basically flat (just a gentle slope down to the water). We checked in, dumped our gear and went out looking for lunch. We also had a heap of washing we wanted to get done – there was a Lavandería just up the road with a couple of hard working girls who did a good quick job with laundry – so we took our bag of dirty clothes with us. Unfortunately they were closed for lunch, so we ended up carrying our dirty laundry across town as we headed for the bus company offices to book our bus to Punta Arenas for tomorrow.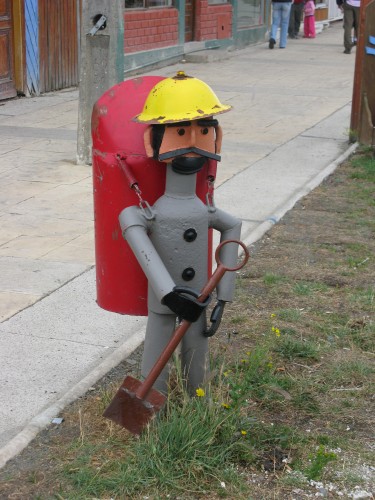 For lunch, we ended up back at the vegetarian restaurant we had eaten at the previous week – but I left after eating to head back to the hostel for a sleep while Leanne stayed to enjoy a hot chocolate and read some magazines. One the way back to the hostel, Leanne was able to drop the laundry in and negotiated a 10am collection time for tomorrow morning – plenty of time before our 1pm bus.
We sat around the hostel for the afternoon while I enjoyed the faster internet connection and caught up on some emails and blog entries. Leanne curled up on the couch with a book from their collection at the hostel. We headed out for dinner after 8pm and ended up at a little restaurant where I had the rather greasy steak, onion, fried eggs and chips, while Leanne had a seafood soup.
We headed to bed once Leanne had finished reading her book at around midnight.
Tweets from today
on a bus back to puerto natales