I finally worked out what was causing the poor quality MP4 video output from PowerDirector 10 – even at very high bitrates.
Turns out that the hardware video encoder in my ThinkPad T510 really doesn't do MP4 very well.
I did discover that for certain source video formats (especially the AVCHD videos from my Sony HDR-CX700 video camera), the Intelligent SVRT button does a very good job of producing high quality video … in AVCHD format at the same quality as the original video! However, a 28Mbps stream is not exactly ideal for the web!
I also had good success using a high-bitrate MP4 profile with the SVRT option checked for video output from my GoPro HD Hero2 camera. Even though Intelligent SVRT seemed to get a bit confused, manually selecting the SVRT option worked well. Again, this is producing high quality output in the same format as the original source, and very large files! Still not web-friendly.
The troublesome case which had been frustrating me for a while now, was video from my trusty old Canon A650 digital camera. It produces 640×480 AVI files, which, no matter what options I chose for the MP4 profile (I even tried AVCHD!), the quality was horrid.
Here is an example of the poor quality I'm referring to:
[jwplayer mediaid="20996″]
I finally found that if you can't use SVRT mode, the trick was to turn OFF the hardware video encoder (ie, disable "Fast video rendering technology") …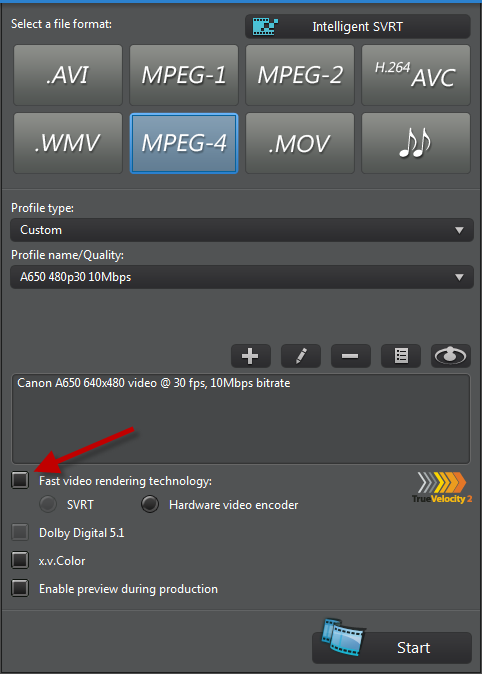 … and then you end up with video the way you expect it to look:
[jwplayer mediaid="20997″]