This morning, we caught the MTR to Tsuen Wan and walked to the Sam Tung Uk museum, a restored village over 200 years old comprising 12 houses set within defensive walls – once a prosperous Hakka farmer's family compound – and now a folk museum. Quite an interesting view on early life in the New Territories, and how changes in the region affected the lives of these simple farmers.
We then headed back to Kowloon Tong on the MTR before jumping on the KCR (Kowloon-Canton Railway) up to Newtown Plaza at Sha Tin where we visited Snoopy World. Basically this was just a kids playground with large snoopy characters everywhere – very well done for what it was, but we were hoping for something a little more like the Snoopy shop in Singapore with a shop and restaurant – but alas it was just the play area. So we had lunch and then headed off again.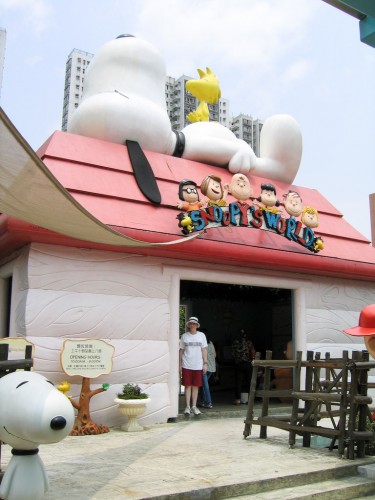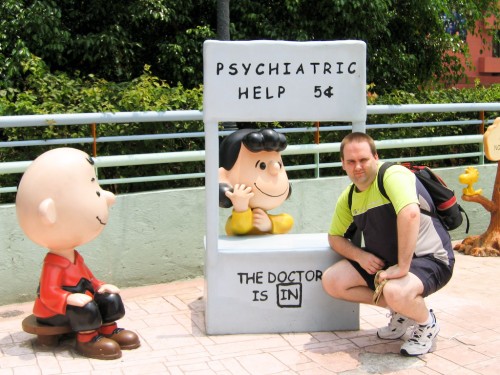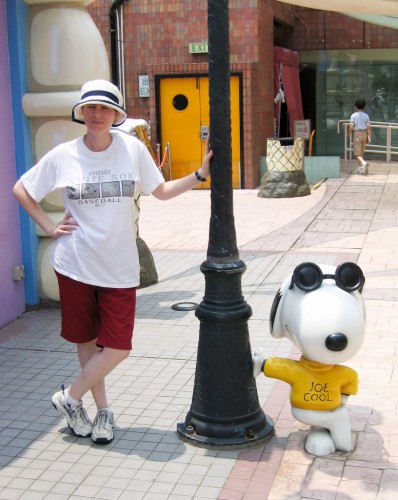 This time, back on the KCR and then MRT back to Central, where we walked a few blocks until we got to the Central to Mid-Levels escalator – a rather impressive people moving device – labelled the "world's longest covered outdoor people mover" – basically a series of escalators and travelators which in the morning moves from the Mid-Levels region down about 800m in height to the Central region where the main business district is. Then in the afternoon it reverses direction and takes people back up the hills from Central to the Mid-Levels. The terrain is quite steep here, and if you had to walk it you would probably collapse from exhaustion all that way – so it is quite ingenious to have a long series of escalators specifically for moving people up or down the hills.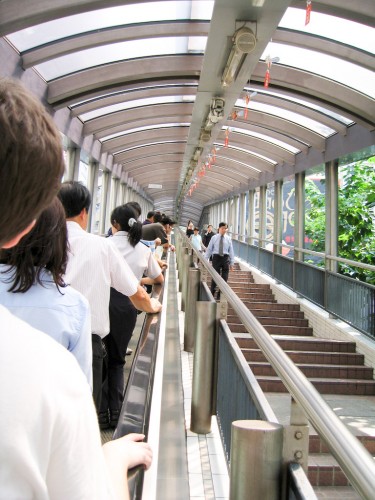 Before we got there I had been already thinking to myself about how much time we had spent on escalators already in Hong Kong with all of our travel on the MTR, and inside buildings – I think we almost spent more time on escalators than we did on open ground ! Then we got to the Central-Mid-Levels escalator and it just kind of summed up Hong Kong. It might seem like a cushy easy-ride, but given the hilly nature of Hong Kong and the fact that you are constantly moving up or down a hill, or an MTR station, or a building, then escalators are really the only efficient means of moving such large volumes of people efficiently. Having 3 or 4 escalators all moving the same direction next to each other out of an MTR station is not uncommon. That being said, my stair-climbing muscles have developed quite nicely during this trip as well !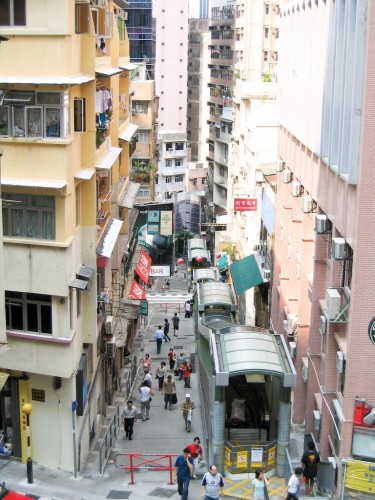 We worked our way to Hollywood road which is where all the antique and handicraft dealers seem to congregrate and then down to Man Mo Temple, an incense choked tribute to two local gods. Finally, we headed back down to Sheung Wan and onto the MTR back to the hotel for a sleep and a relaxing evening. We were going to head up to Victoria Peak again to take in the night time views, but it looked a little cloudy, and indeed as we were debating about how we were going to get there it started raining, and a thunderstorm started pretty much putting an end to that idea. That's something we'll have to do next time we're in Hong Kong.
You can see some photos from day 8 in my photo gallery