Leisurely start to the day – up in time for breakfast at the hotel and then we got ready to go out for the day. Clear skies made it look much more inviting to go outside, even though it did still look very cold.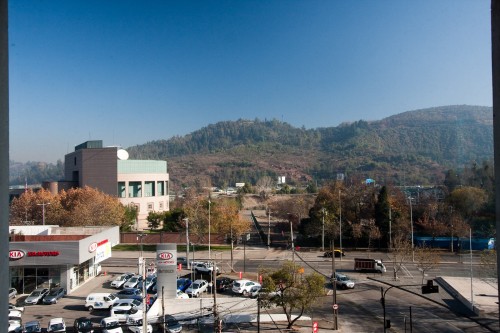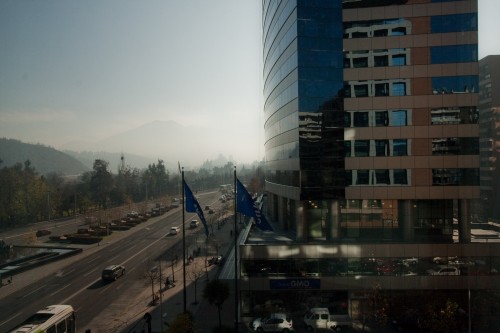 We got one of the hotel drivers to drive us to the Santiago Zoo – we had wanted to visit this zoo the last time we were here in Santiago, but it is closed on Mondays – so our visit had to be today or not at all. The zoo is set on the side of Cerro San Cristobal – the mountain with the statue of the Virgin Mary on the top and the funicular which takes you up to the top. The zoo is surprisingly steep, much steeper than other hilly zoos we've been to like Taronga or San Diego – and it even felt more steep than the Zoologico Santacruz south of Bogota that we visited last week.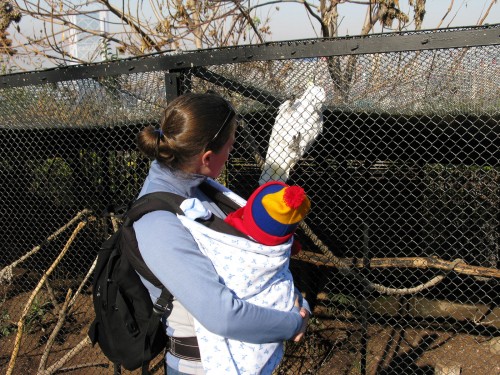 After climbing up from the road to the zoo entrance, we kept climbing and climbing as we explored the exhibits – the zoo seemed to just keep going up the side of the hill. The walk-through aviary was quite spectacular, set at the edge of the zoo with views out over the city, you walk along a raised platform that must be at least 10m above the ground at some points – trying to take photos over the side of ground dwelling birds below made me quite dizzy.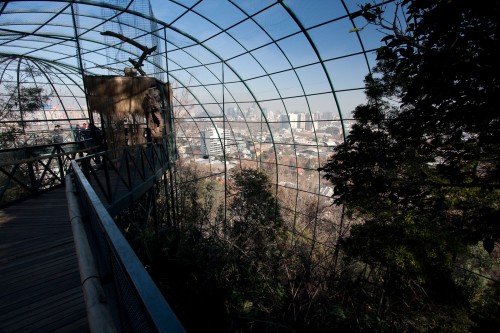 Overall the zoo is not great – small enclosures that are generally not up to scratch by modern zoo standards in other parts of the world. They have a reasonable collection of native animals, plus quite a few exotics – lions, tigers, hippos, polar bears, and even giraffes and elephants.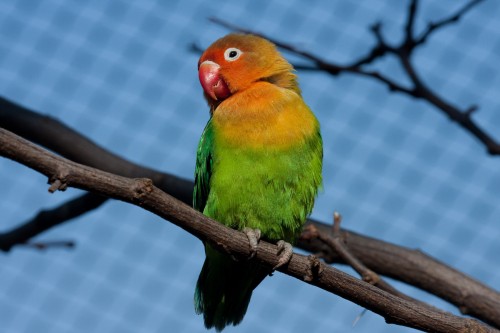 It was a sunny day today which made it much more pleasant than yesterday, although the air was still very cold – at least standing in direct sunlight made it a little less unpleasant. Even so, next time we visit Santiago at this time of year, we will definitely take gloves and beanies. One good thing about the zoo is that it didn't take very long to warm up with all the climbing.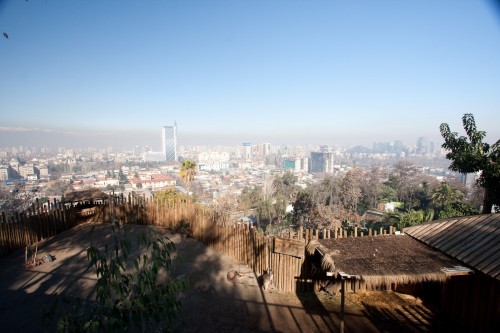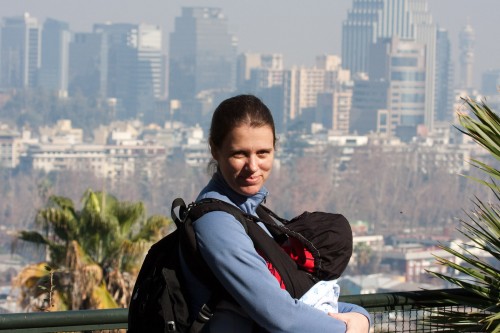 We left the zoo around lunchtime, climbing back down to street level at the bottom of the hill. We walked to Baquedano metro station and after stopping for a quick lunch we hopped on to the metro to Tobalaba station which seemed to be the closest to the hotel. We wandered around a bit looking for somewhere to buy formula and nappies to stock up for the trip home. It took us a while, but eventually we got everything we need – it seems that supermarkets here in Chile aren't allowed to sell formula, you have to go to a chemist!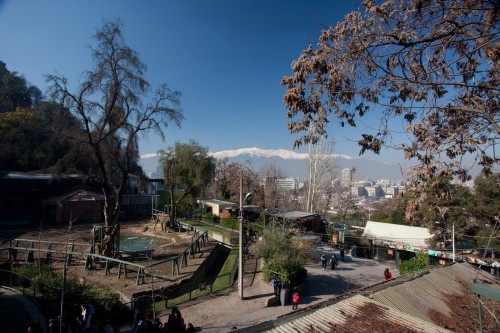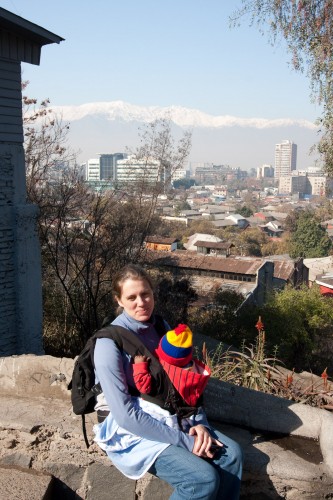 We eventually got back to the hotel and started the task of packing the bags preparing everything for the long trip home. We really didn't know what to expect with Andres – we didn't know how many bottles he would want and so needed to make sure we had more than enough formula and bottles to cope with unexpected demand. We also didn't want to be stuck without enough in case of delays or other problems on the flight, so we took far more than we needed to, just in case.
With all the washing, sterilising, drying, preparing and packing, it ended up taking nearly 3 hours to get ready – we then had a bit of a problem. We had requested a late checkout because our flight is not until 11pm and we needed time to be able to get everything ready. I explained that I wanted to leave at 6pm, and the hotel staff seemed to indicate this would be fine. However, I think that there was a bit of a breakdown in communication because just before 5pm, we got calls from the hotel management asking whether we would be out of the room by 5 – the hotel was full and they wanted our room back! I explained that we weren't ready (couldn't just up and leave the room at that point – would have been impossible) and we really needed the room until 6. They weren't happy, but there wasn't a lot they (or we) could do.
We got down to check out right on 6pm, and they tried to charge us a full extra day for use of the room – the agreement was that the late checkout would incur a 50% charge of the normal room rate. I managed to convince them to only charge us the 50% and not the full day's charge – paying full price for only 5 hours use of a room was a bit steep I thought. Anyway, we eventually got that all sorted and got the hotel driver to take us to the airport. Traffic seemed quite a bit lighter than I had expected, so we actually made good time and arrived quite early.
At the airport, we managed to jump the checkin queue (having a baby is better than frequent flyer status in some places!) and they got us checked in for our flight, assigned seats with a bassinet position. We then headed through immigration and security and then went to get some dinner. Santiago airport is quite well setup with quite a few shops and restaurants on the air-side of the airport. We stopped at Ruby Tuesdays for hamburgers and then went for a long walk around the terminal to help digest it all. Finally, we stopped near the gate and settled down to wait for our flight to start boarding. Fortunately they have free WiFi at Santiago airport, so I was able to catch up on a few last minute things before the flight.
Eventually we boarded (again, jumping the queue), and got settled in. After takeoff they set up the bassinet for Andres, and although he didn't really like it at first, he eventually settled down and finally fell asleep. The timing of the flight worked quite well overall – Andres slept most of the way from Santiago to Auckland, which meant that we were also able to get some sleep. We did actually manage to sleep a bit – we were both exhausted from such a long day. Having our Thermarest compressible pillows with us really made a lot of difference – these were one of our best purchases on our trip last year and we also used them pretty much every day on this trip too – especially so on the long flights!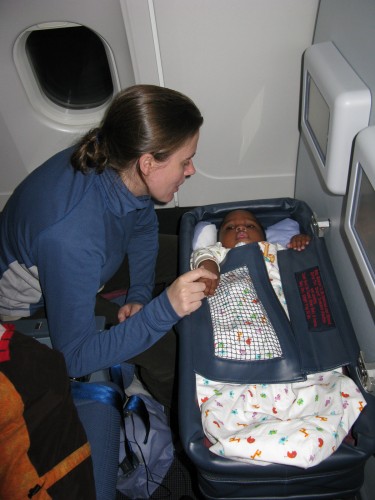 Tweets from today
waiting at Santiago airport for our flight to Sydney (via Auckland). Couple of hours yet until boarding.
just back from a day out in Santiago – cold but sunny. Finally got to visit the Zoologico Nacional de Chile, missed it on our trip last year