Had a nice sleep in this morning – lovely soft bed makes a nice change to the rock-hard beds they seem to prefer in Colombia. Andres did wake up a little early and was grizzly, but after a feed, we put him in the bed with us (king sized bed – plenty of room for all three of us!) and we all went back to sleep for a while.
We eventually got up and went down to breakfast around 9:30am, with Andres making plenty of friends with the hotel staff again. The hotel puts on a nice continental buffet breakfast, and Leanne especially liked the warm milk with packets of chocolate to melt in it.
Now that it was daylight, we could see that we were in a really nice area of Santiago – there are hills quite close to the hotel and large mountains nearby. Pity it's was quite misty and very cold – forecast maximum was 11 degrees for today and poor Andres has never worn so many clothes in his life.
We waited around the hotel for a while getting ourselves a bit more organised and then around lunchtime, we headed out to the Embassy to collect a visa for Andres. It was a leisurely 20 minute or so walk down the road to the Australian Embassy, which is nothing grand like the US embassy across the road from the hotel or the Czech embassy a few blocks away – the Australians just occupy a couple of floors of an office tower. We had to wait for a little while to get the visa – there was nobody at the counter and we had no way of signaling to anyone that we were waiting! Eventually someone came out and fetched Patti for us – she took all the paperwork and the passport and came back a short while later with the visa stuck in the passport – all very straight forward.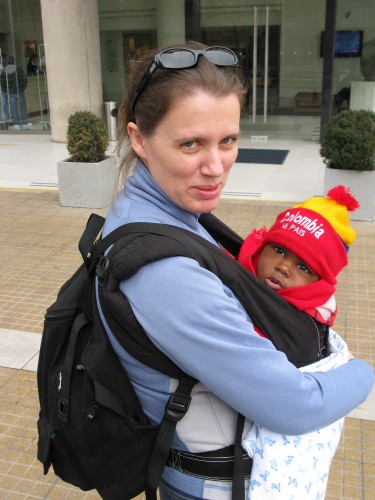 We stopped for a hot chocolate and a snack and to feed Andres and then wandered back to the hotel via a different road – this area is really up-market with nice apartment blocks and office buildings. We can see more of the mountains in some places and there is snow not too far up, which actually makes us feel even colder. It is very still and quite misty, so visibility is rather poor.
We went out again for dinner – this time to TGI Fridays for steak and seafood and then stopped at a mini-mart on the way home to pick up some supplies.
It is nice to get back to the hotel and snuggle up in bed after being out in the cold!