A very early start today – we had a driver coming at 9:00am to take us to the airport for our flight to Bogota. For some reason, they like you to get to the airport 2.5 hours before a domestic flight. I understand that Bogota airport sometimes gets quite busy, but some of these regional airports shouldn't need you there that early.
Either way, we were at the airport by around 9:30am – we arrived at what looked like a small out-building of the airport, but turned out to be the terminal building itself! There was one other car parked out front unloading passengers, so we stopped right by the door. Andres stopped and talked to a nice policeman standing by the curb while Leanne and I lugged our luggage into the terminal. The distance between the curb and the checkin counters (all four of them – one for each airline!) was so small that we didn't even bother with a luggage cart – we just brought the bags in one-by-one, we were never that far from our other bags and there was practically nobody else around anyway!
Checkin took only a few minutes – after weighing our 5 bags (total weight: 95kg – less than I expected!), they handed us our boarding passes and waved us towards the departure gates. They didn't mention anything about excess baggage and we didn't ask, so we were grateful to avoid what I estimated to be around 130,000 pesos (AU$75) of charges. I guessed that the flight was nowhere near full, thus the additional baggage wouldn't cause any problems for them.
We wandered towards the gates and found that there was a small pre-departure lounge before security and then a larger departure lounge after security. There were actually about 6 gates, but they were all just doors leading out to the tarmac, where you walked to your plane. Since we were almost 3 hours early for our flight, we decided not to go through security yet and instead sat in the food court – where there were six cafes servicing the one departure area. Slight overkill I think, but at least there was a choice of food and drinks (although most of the drinks were types of coffee).
The three hours passed fairly quickly – Andres decided to go for a run at one point and went from one end of the terminal building to the other. We could see him the entire time, so I wasn't particularly concerned – the building wasn't that big, probably less than 100m long. The staff seemed to take a liking to Andres and they would come up and shake his hand as he went past.
We witnessed a few planes coming and going while we waited – but none of them would have had more than a dozen seats in them.
Eventually, our plane arrived – the largest plane of the day by far, an Airbus A318. We passed through security and waited briefly in the departure lounge before being ushered across the tarmac and onto the plane first by the ground crew (yet another advantage of travelling with children).
At only 45 minutes long, we barely had time to have a drink before we began our descent into Bogota. I think the walk from the aircraft to the baggage claim area at the Avianca terminal at Bogota Airport was longer than the flight itself – at least it seemed that way!
Most of the other travellers on the plane must have been taking connecting flights, since there were only about 10 bags which came out onto the carousel, 5 of which were ours!
Outside the terminal, our guide and interpreter, Jorge was waiting for us. He took us to his car – fortunately he had brought a mini-van so we had plenty of room for our bags.
On the way, we asked if we could stop at the ICBF offices to collect our Compliance Certificate – possibly the most important document in the whole adoption process – without it, we might have difficulty leaving Colombia and we certainly wouldn't be able to have Nicol become an Australian Citizen or get a passport! Jorge told us he had already heard from Magnolia that our certificate was ready and waiting for us, and since we were driving virtually right past the offices, it would be no problem to stop and collect them.
Jorge and I went in to ICBF while Leanne remained in the van with the kids. It didn't take that long to get the certificate – we spent some time carefully checking the details to ensure there were no mistakes (which might cause problems in the future!) and I spent some time filling out a questionnaire for them – and then we were done. Having the certificate means that we are officially ready to leave Colombia – we are finished with the adoption process here and there is nothing else official required (other than presenting the certificate when leaving the country).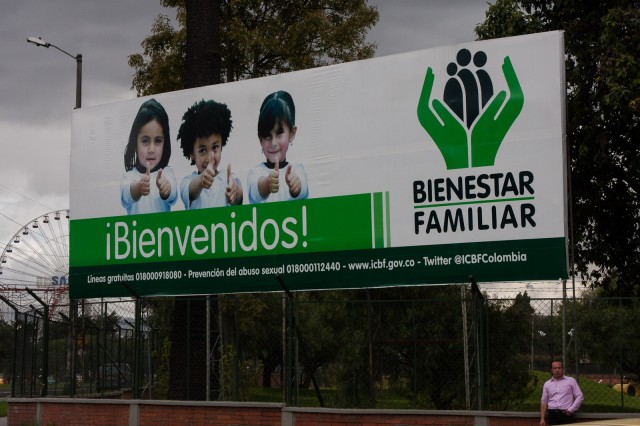 We continued on to our hotel – the Halifax, another hotel specialising in catering to adoptive families. Our room was upstairs this time, much larger than our room last trip – with plenty of space for both a single bed and a cot.
After unpacking and settling in, we made a trip around the block to the local supermarket for supplies.
Andres likes the playroom with toys for kids, and the small playground out the front is a nice diversion occasionally – even if not really that exciting for a lively 3yo.
The one thing I hadn't missed from our last trip here was having to sterilise Nicol's bottles ourselves. Unlike the Pension Stein in Cali where the kitchen staff will sterilise your bottles for you while you eat your meal, at the Halifax, they only provide you with the tools and you have to boil your own water and do the sterilisation yourselves. The worst part is waiting for the water to boil – which can take over half an hour with a large saucepan filled with water. Fortunately, they have good WiFi, so I was able to do some things on my computer while sitting in the kitchen waiting.