A very early start again this morning – the bus was scheduled to pick us up at 7:30am, but it turned up just after 7am! Good thing we had finished showering, we were just finishing our packing and were about to head down to breakfast, but we had to skip that and race to get our gear together. The bus guy was very patient with us. We stopped at a number of hotels to pick up more passengers, before heading out of town towards Puerto Bandera, 50km away. At this point we paid our park entry fee (another 40 pesos each) and boarded a boat for a cruise on Lago Argentino in The Glaciers National Park.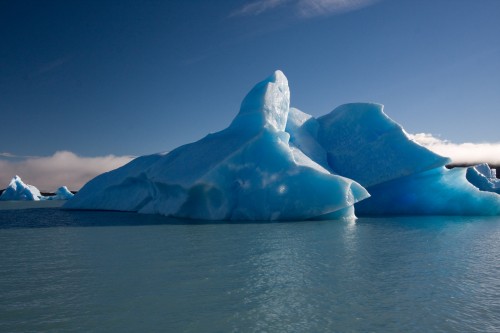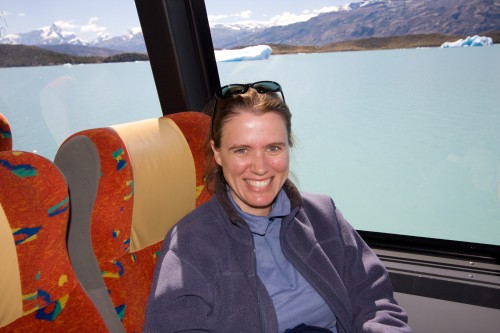 The weather forecast had been for more rain – but at least on a boat, we can get out of the weather if we needed to. When the sun finally came up it was a clear, sunny day – the weather turned out to be stunning, although it was still quite cold (especially out of the sun).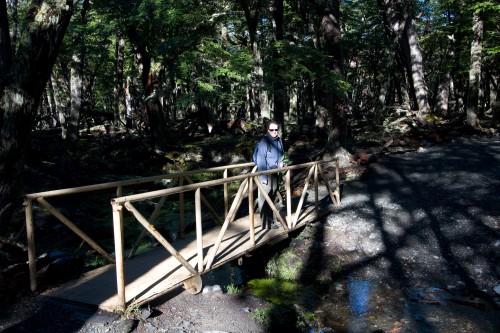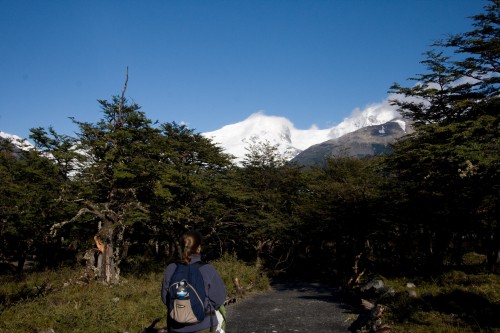 Our first stop was at Bahia Onelli (Onelli Bay), where we disembarked and walked for about 20 minutes through a beautiful forest area to see Lago Onelli and three glaciers which fed into it: Onelli, Bolado, and Agassiz. A broad and fast flowing creek emptied the milky water into Lago Argentino. We were the first people to head off on the walk, so got to enjoy the peacefulness of the forest and lake area before the crowds from the two boats (about 250 passengers each) arrived.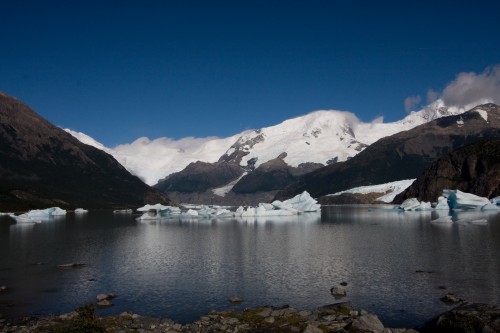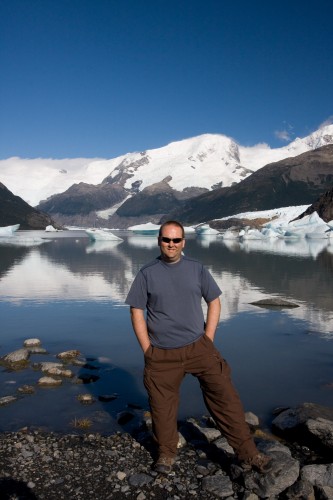 We sat around enjoying the sun and clean air before walking back to the restaurant to have an early lunch – we had decided to book lunch rather than buy another "jamon y queso" (ham and cheese) sandwich lunchbox from the hostel.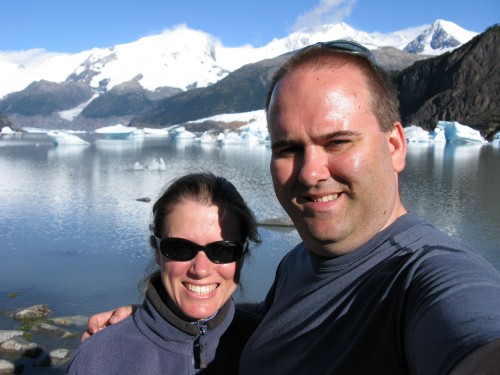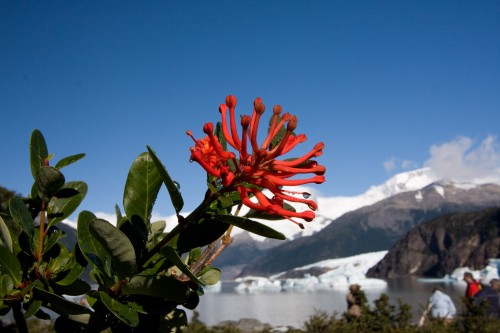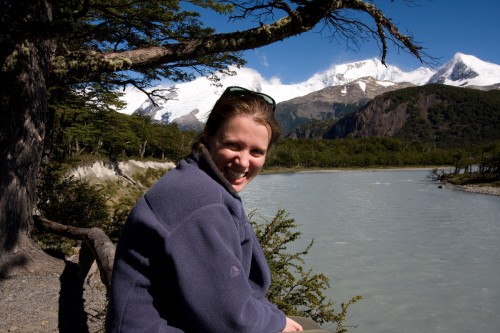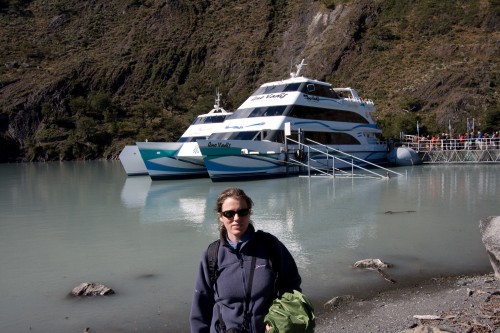 After lunch we lined up to reboard the boats, but while waiting on the pier, we spotted an Andean Condor flying from the cliffs just above us – awesome bird. I hurried to change lenses on the camera (careful not to drop anything into the water!) and we spent the next 10 minutes furiously shooting photos. There were actually four Condors there – including a juvenile (still brown without the white collar around the neck). We were so happy to have seen them so close up – really made the trip worthwhile.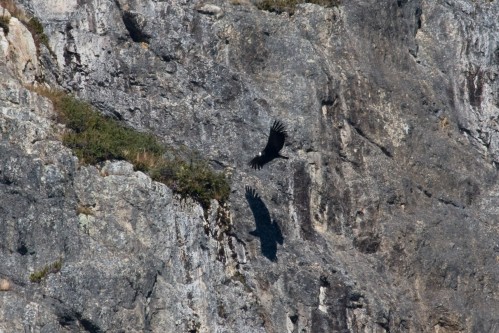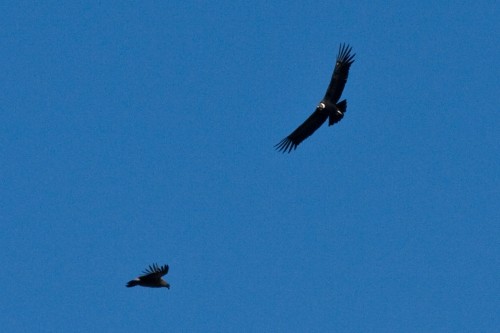 The boat continued up the lake and we passed increasingly larger icebergs as we got closer to Glacier Upsala, which is notorious for large calvings of spectacular blue icebergs. There was a larger three level boat accompanying us on the cruise, and it was dwarfed by many of the bergs – some must have been 20 or 30 metres high, and some were 50+ metres long. The colours were amazing too – especially with the sunlight shining through.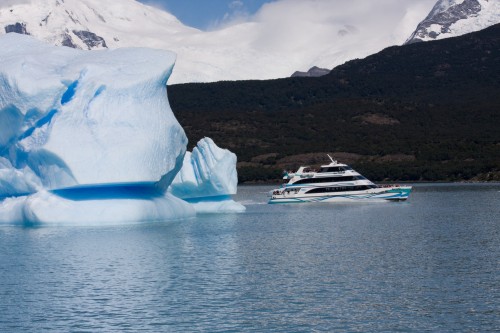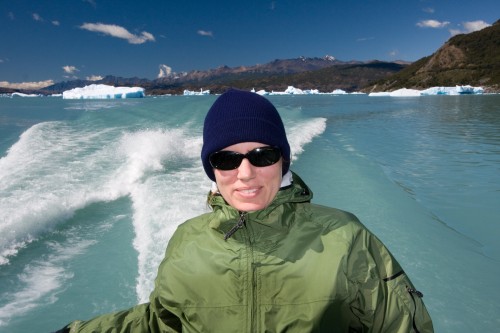 We continued sailing around the icebergs, coming closer to the massive glacier. Upsala is the largest glacier in the national park (nearly 600 square km in size), feeding directly from the Southern Icefields. We could only get within 700m of the glacier – it calves so frequently that it is deemed too dangerous to get any closer. The water is extremely deep in front of the glacier too – around 1000m deep!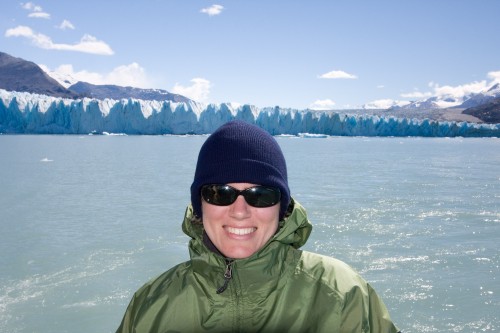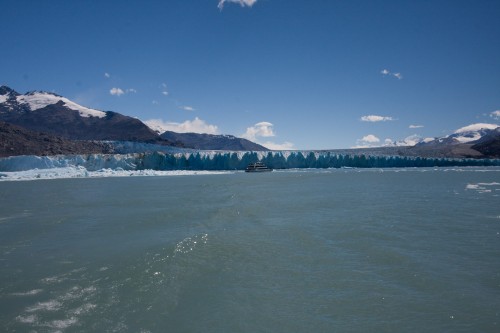 Standing out on deck in the icy cold wind as the boat sped along – we were glad we had remembered to put on our long underwear and thermal tops. With our gloves and beanies on, it was actually bearable. (although still cold).
Finally we headed back and took another branch of the lake to visit Glacier Spegazzini, which is the tallest glacier in the park – with some parts rising over 130m above the water level. We saw another Condor flying from the cliffs nearby too.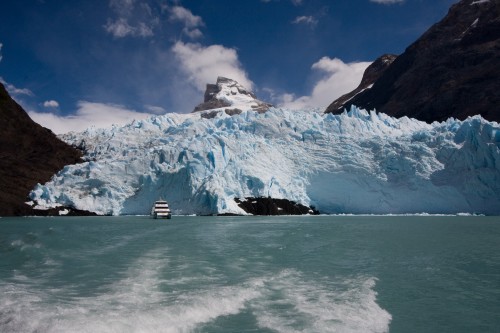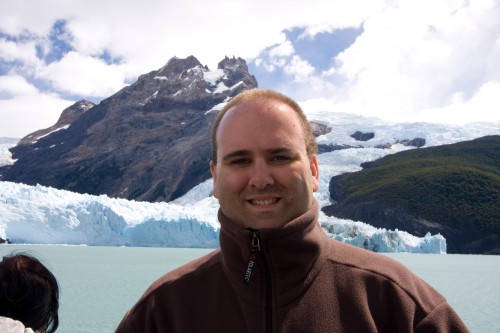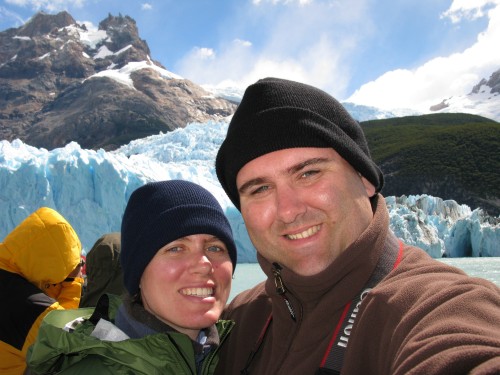 Eventually we left and headed back to Puerto Bandera – we had a nice nap on the way – before boarding our bus back to El Calafate. On the way we saw another Condor only 20 or 30km from El Calafate – we'd seen nothing for 4 weeks, then suddenly we see 6 in one day!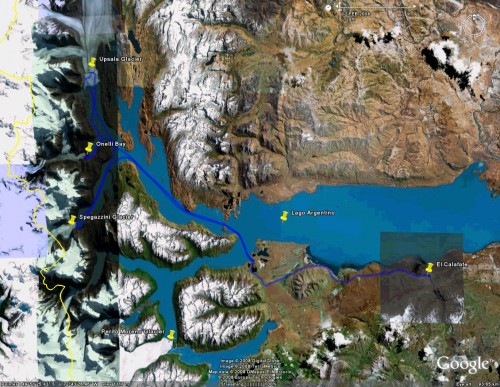 We arrived back at the hostel around 6pm and stopped to have a nap before wandering in to town to find some food. I had pasta (very nice vegetarian dish!) while Leanne had an extremely salty (almost inedible) crepe.
Back at the hostel we did some packing ready for our bus trip back to Puerto Natales the next morning.