Surprisingly late start today – the tour company was not picking us up until 9am – indeed it was nearly 9:30 before they arrived. We were picked up in a minivan and driven to the far side of town, where we got on to a large coach for the trip to Peninsula Magallanes to view the Perito Moreno Glacier. We were driven 70km along the shores of Lago Argentino with the last 20 or so km being a slow windy road which worked its way around the peninsula.
[table1]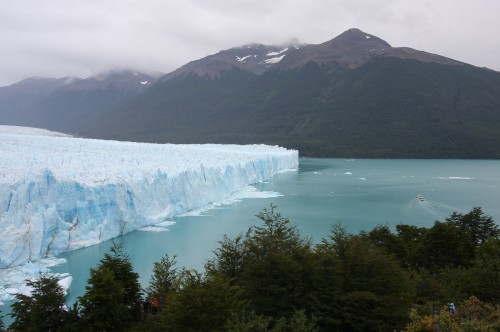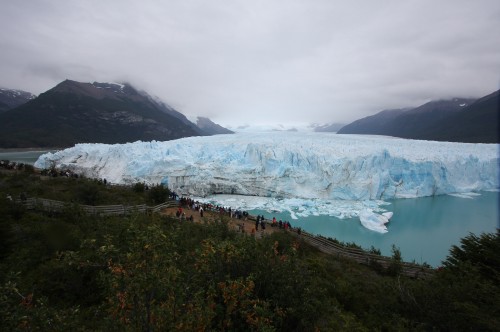 We were dropped off at the end of the road from where we could walk to the balconies – a series of viewing platforms looking out over the Perito Moreno glacier. While not the largest, tallest, highest, fastest, bluest or any other claim to fame – this glacier does have its own unique advantages in that unlike other glaciers in the region, it is not retreating (they are not sure why), and it also juts out across the lake to impact on the shores of the Magallanes Peninsula – which makes for great viewing opportunities.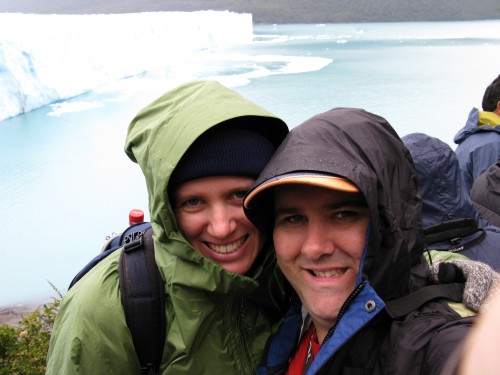 Unfortunately it had been drizzling all morning – which wasn't that uncomfortable (although it was quite cold), but it made it a bit tricky to take photos – I had to be very careful to avoid getting the lens wet and having to clean it again and again.
Despite the weather, we spend an hour admiring the glacier – and seeing some spectacular ice falls (no major iceberg calving unfortunately), then headed up to the cafeteria area to eat the lunch we had brought (a lunchbox prepared by the hostel for us). We then got back on the bus and were driven back along the entrance road to a small port where we boarded a boat to cross the lake.
[table1]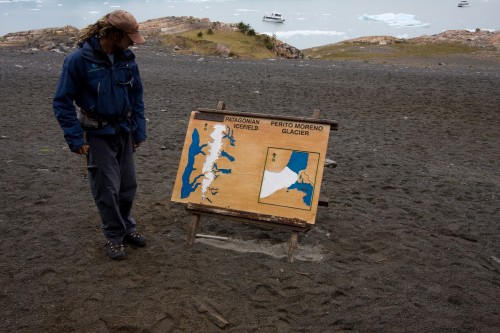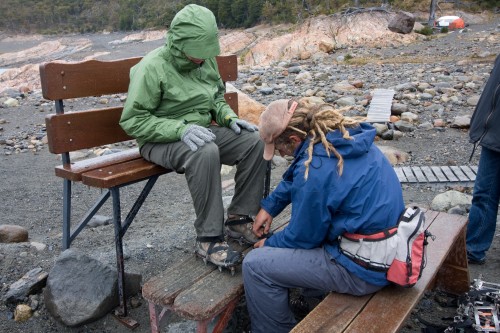 On the far shore, we met up with our guide and were given a talk about the glacier before being led to the staging area for our trek. At this point, they fitted us with crampons (metal spikes that are strapped to our shoes so we can walk on the ice). We then set off on a 2 hour trek on the glacier itself – being shown various aspects of the glacier with some amazing crevasses and brilliant colours. We were strictly forced to walk in single file to avoid any potential danger from hidden crevasses and sink holes … we had two guides – one leading the way and choosing a safe path, and the other providing support and help as we went. Our main guide was an experienced mountaineer from New Zealand who was living here for 18 months, traveling and working. It was nice to have an English speaking guide (although he also spoke fluent Spanish).
[table1]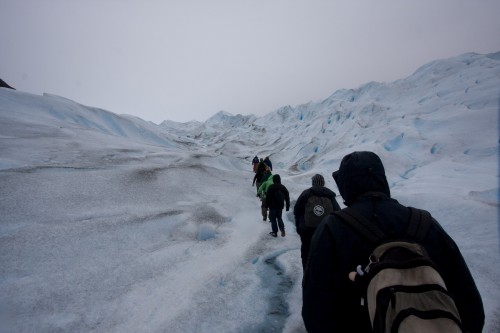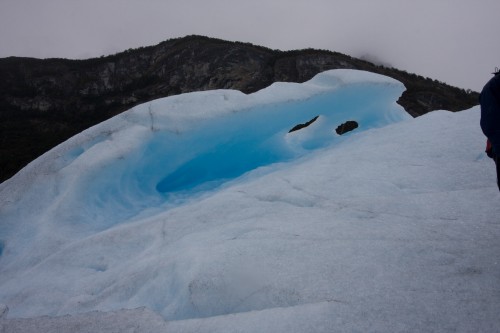 The trek was hard work – walking on ice takes a bit of effort, and there was a lot of climbing as we went higher up the glacier. The weather didn't help either – we were rugged up trying to stay warm – but also getting soaked from the constant rain. We both had worn our long thermal underwear, which turned out to be a very wise move – it became very cold on the ice, and the rain thoroughly soaked our pants, but the long underwear kept our legs dry and warm. It was fascinating being on the ice though – a very different experience – such a unique environment.
[table1]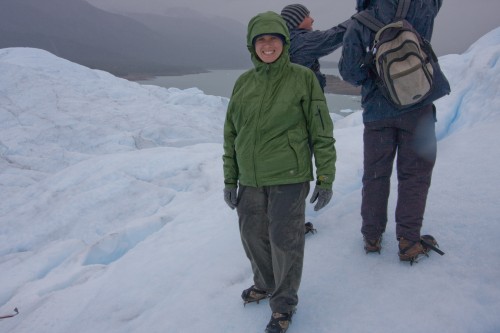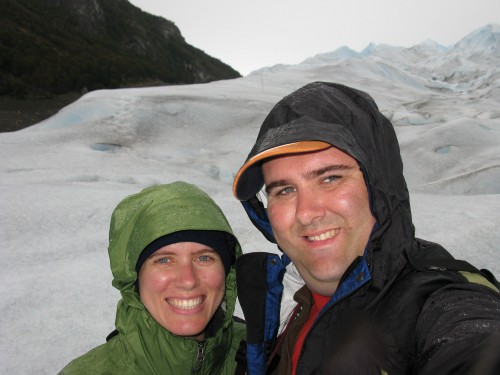 When we eventually returned to the refuge I noted a thermometer which read 5 degrees – no wonder we felt cold! By the end of the trek we were quite soaked through from the rain (perhaps we should have spent the extra couple of hundred dollars on Goretex rain jackets!), and we had to wait over an hour for the boat to take us back, so it was a bit uncomfortable, but we had enough layers available to not suffer too much.
[table1]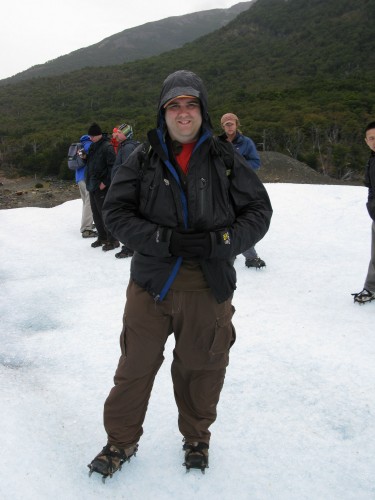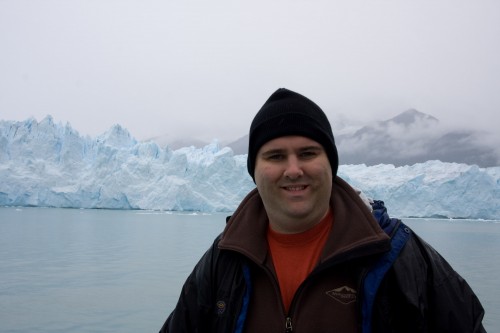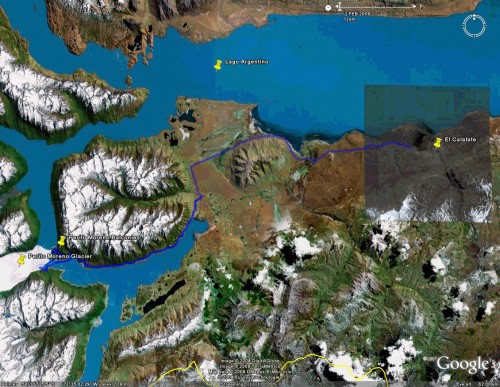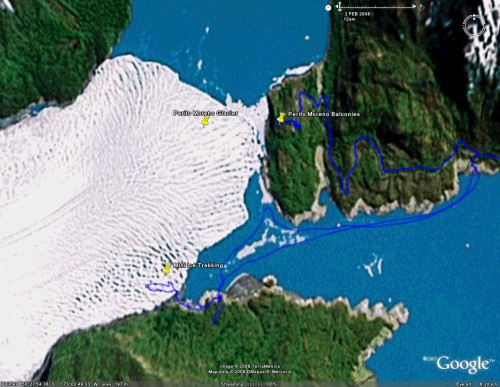 We mostly slept on the bus trip back to town – we arrived back around 7pm and rather than being dropped off at our hostel, we got off in town and headed to the bus station to change our booking to Friday. We then walked back to the hostel and I booked some accommodation in Puerto Natales.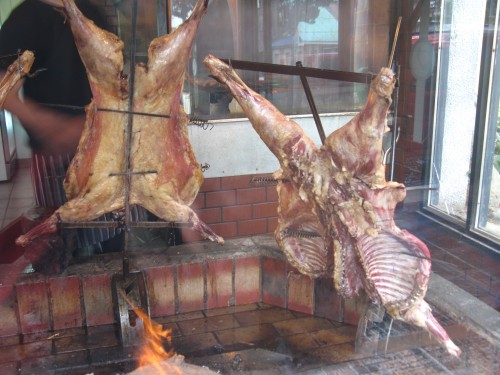 I cooked the food we had bought yesterday – another penne bolognaise – although this turned more into a savoury mince. We had some leftovers (and nowhere to store them), so I offered it to the other guests hanging around the kitchen – one guy was keen and gave two thumbs up on the food – always nice to be appreciated.
Tweets from today
waiting for space in the kitchen at marcopolo inn el calafate to cook dinner