Up early to catch our bus this morning – a quick breakfast and then out to wait for our bus by 7:30am. The bus (12,000 pesos each AU$29) took us into Torres del Paine National Park, a 3 hour trip, most of it on very rough and dusty roads.
[table1]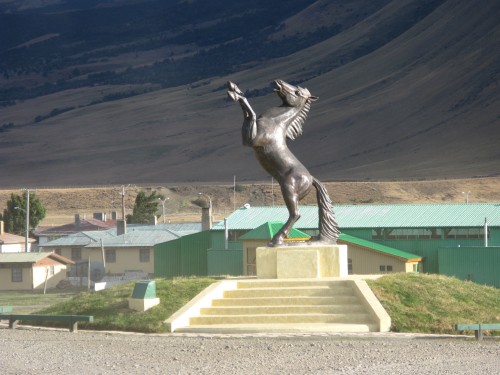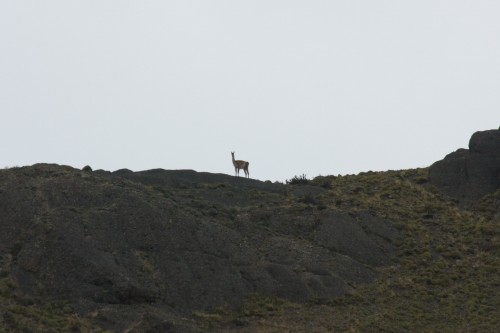 Along the way I broke rule #1 of photography, which states "if you don't have your camera, you can't take any photos". My camera was in my day pack, which I had placed in the rack above the seats. This turned out to be an unfortunate decision because we subsequently saw hundreds of birds and animals along the side of the road, including many of the beautiful Southern Caracara and various other birds of prey, which I was unable to identify. Later we passed a lot of Guanaco and then when we drove past a salt lake, we saw a pair of Pink Flamingos flying across the lake – absolutely stunning colours.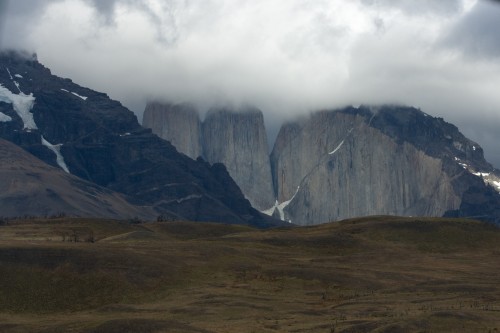 We got to the national park entrance at Laguna Amarga at around 10:15am, lined up to pay our entrance fee (15,000 pesos each AU$36) and then hopped on a minibus (1,000 pesos AU$2.40) to take us to our starting point for the trek. Many other people were also heading off to trek the "W" (3-5 days) or the Grande Circuito (7-10 days) or just staying in one of the hostels, refugios or hotels just inside the national park. A lot of the people we had met on the Navimag had come with camping gear (or hired it in Puerto Natales) planning on doing the trek.
The minibus stopped less than a kilometre down the road – we thought this was a bit soon, but when we all got out we realised why – there was an old wooden bridge we had to cross. The bridge was barely wide enough for the minibus – it made it with literally only a couple of centimetres to spare (scratches down the side of the bus showed how often they didn't quite make it through). After the bus made it across, we piled back on and continued very slowly over the rough roads, eventually getting us to Hosteria Las Torres just before 11am.
[table1]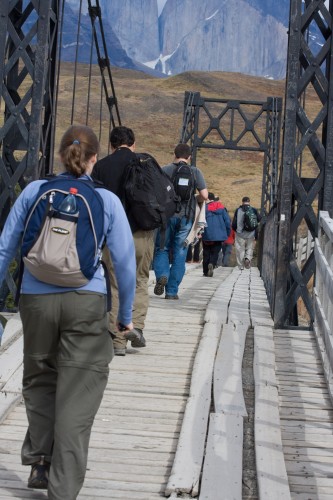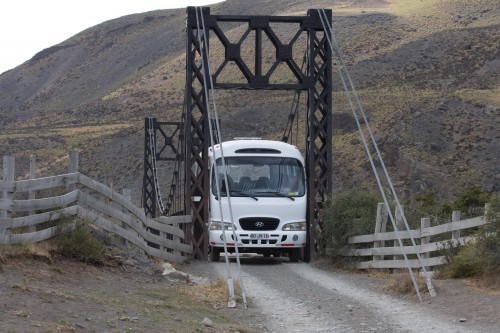 Our plan for the day was to do the 8 hour (return) trek to the lookout from where we could see the three "towers": Torre Sur, Central and Norte – the majestic fingers which give the park its name. There are two refugios and campsites along the way and then the track heads up the mountain to the lookout. "Moderate" was the trek rating – we weren't sure how we would go but decided to give it a try.
We set off straight away, following the roads to the start of the trail. We crossed the Rio Ascencio on a small suspension bridge and then the track turned north and headed what seemed like straight up the side of the mountain. From the maps we thought it was supposed to be relatively flat until the last bit up to the lookout – we were wrong! I found the problem later when looking at a more detailed map – the contour lines on the little map they gave us at the park entrance had 250m between contour lines, which meant that what looked like a fairly flat run on the map, could actually be a climb of up to 250m.
[table1]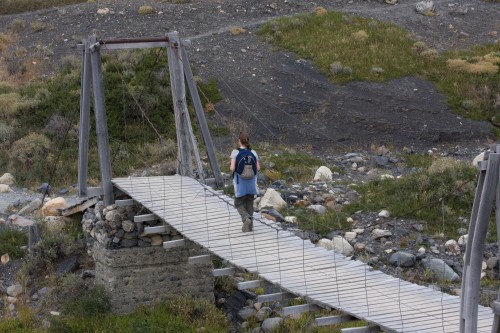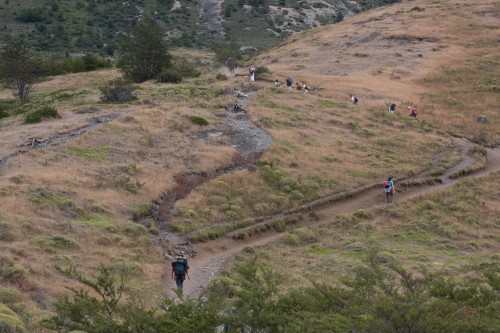 The first part was quite depressing and we had to encourage each other to keep going – our lack of fitness showing. We could easily walk all day if it was relatively flat – indeed we have walked all over Buenos Aires and other cities … it's the hills that give us trouble! We were constantly being passed by trekers carrying 15kg (or more) packs on their backs (although in our defense – many of them were much younger than us).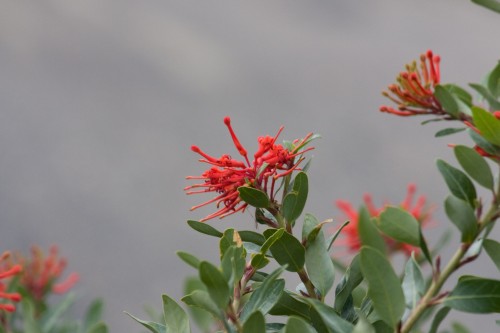 After nearly two hours of strenuous climbing (at least the scenery was great), we reached the top of the pass – I think it was nearly 800m we climbed once I got a look at a decent map. From here we could see the first refugio up the valley and the path winding its way along the side of the mountain towards it – very pretty sight. In many places the path was covered with a very find shale (the whole mountain side was covered in it), and was only a foot or so wide with a steep drop below.
[table1]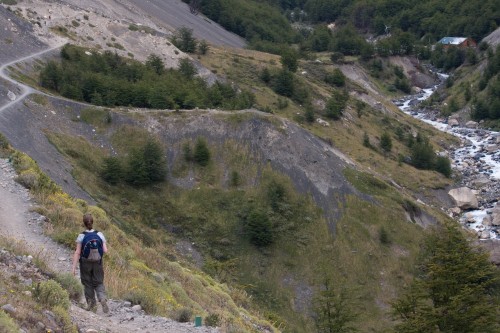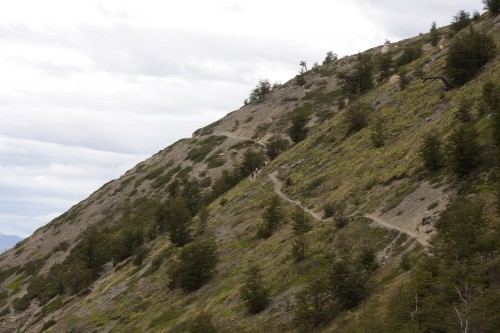 We eventually arrived at the refugio / campsite at Campamento Chileno about 1:20pm … 20 minutes later than our deadline for making the 8 hour return trip (although we did have a bit of leeway with timing for catching the last bus). We stopped to have a bite to eat – we had buttered some rolls and brought them, plus some dry biscuits, chocolate and a bag of Snakes that we had brought from Australia (our staple walking/hiking food back home).
[table1]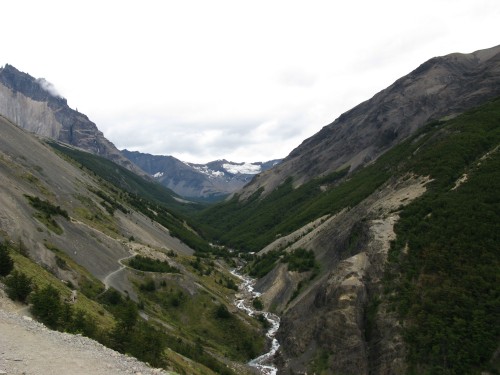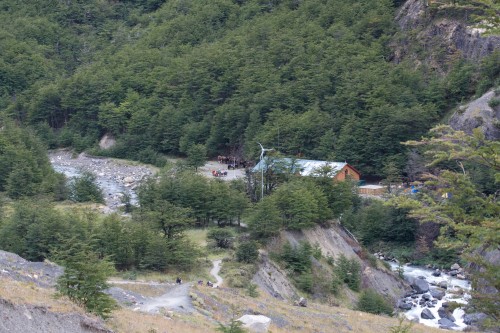 We only rested about 15 minutes, watching all the trekers and campers with their packs – there were a team of horses there too (we're not sure how much they charged to bring you or your gear up the mountain). After our stop (which was probably not long enough, but we were on a deadline), we headed off again, continuing along the path which now followed the river (Rio Ascencio) for a wihle before heading up through a forested area.
[table1]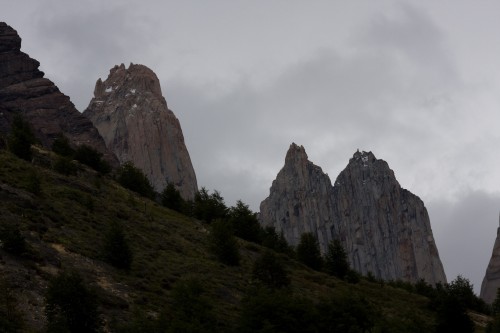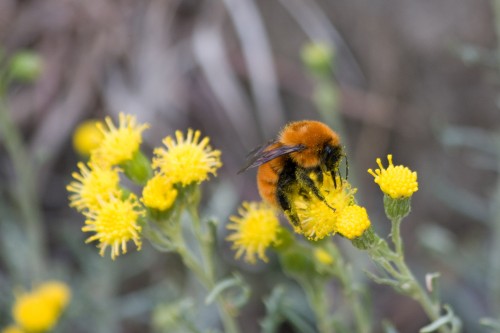 It was at this point that we ran into trouble – at one precarious point after a short but steep climb over some rocks, first one, then the other of my legs cramped up badly – my quads, just above the knees. It was quite painful and I had to brace myself against a tree to keep from falling down the hill. After stretching them out, them improved and I was fine again. We decided to continue for a while and see how we went, but about half an hour later when we tried climbing a steep hill that took the path away from the river for a while, one of my legs cramped again. I was now worried about being able to make it back up to the pass on the way home – so we decided to turn back.
We were never going to make it to the lookout (and we later found out that the last hour was considered quite difficult – even by people much fitter than us), but we had hoped to get to the second refugio at Campamento Torres about 5km further along from the first camp. We were disappointed, but happy to have made it so far – especially given our lack of climbing fitness! We stopped back at Campamento Chileno for a while, taking some photos of the towers (not as good from this angle – but at least the clouds had cleared and we could see the tops).
[table1]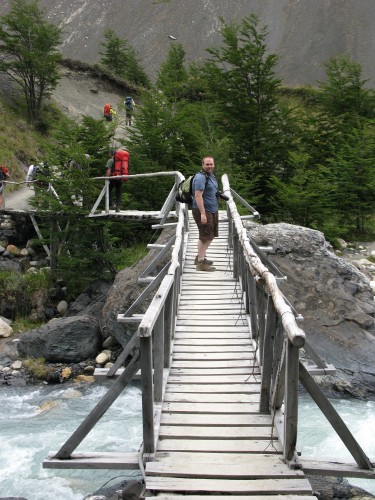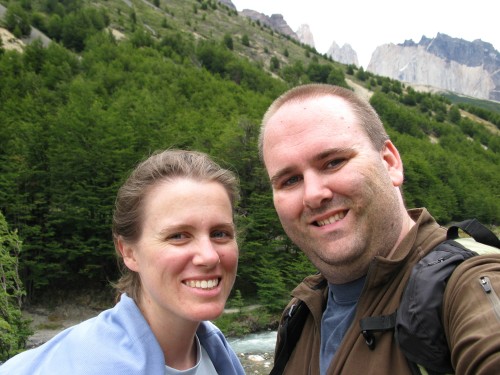 We then headed back up to the pass, not quite as difficult as coming up the other side, but still an effort (my legs cramped up once or twice, but I wasn't pushing as hard now, and it wasn't too bad). At one point we crossed a small stream with a waterfall that came virtually straight down from the small glacier at the top of the mountain – we stopped to fill our water bottles – the water was beautifully sweet and refreshing (very cold too!).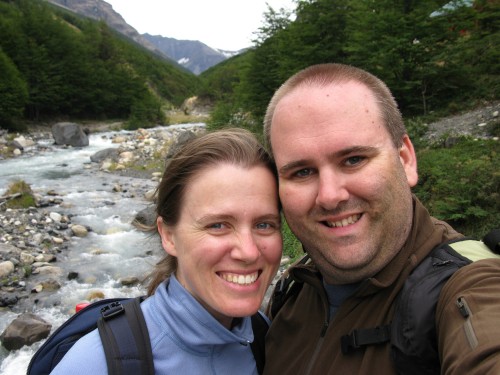 Once across the high point of the pass we headed down the other side – even though it was easier on the lungs and legs, it was much harder on knees and ankles coming down – Leanne struggled quite a bit with her knees.
Our friend Tim from the Navimag caught up to us not far from the bottom, having made the lookout in very good time (the map suggested 4 – 4.5 hours one way, he did it in around 3 I think). He was lucky to get some good visibility and good photos – it had been clouded over most of the morning and became clouded again as we headed back down.
We walked with Tim back to Hosteria Los Torres, where we had to wait for 2 hours until the minibus came back to pick us up. While we were waiting the clouds closed in and it started raining – would have been quite unpleasant up in the mountains. We thought about all the people we met on the Navimag who were treking and camping this week – people have been known to wait a week or more in camp before getting a day clear enough to see the towers!
Eventually the minibus came at around 7:30pm and we got back to Laguna Amarga where the coach was waiting to take us back to Puerto Natales. It was after 10:30pm by the time we got back and the rain meant that we couldn't see anything along the way. It only gets dark around 10pm, so I had been hoping to see some more birds and animals along the way back.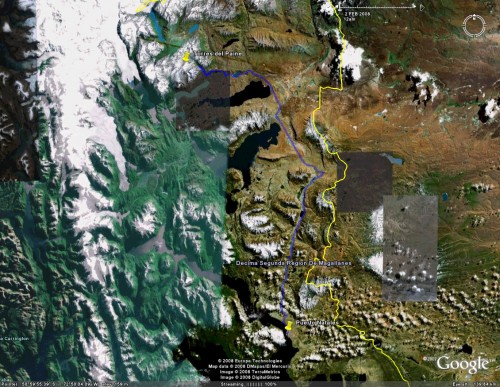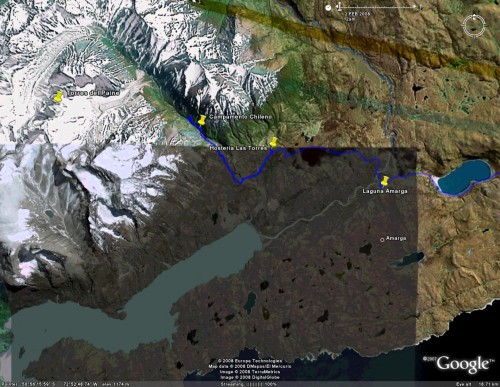 We got back to the hostel, tired sore and dirty – we both had hot showers and collapsed into bed without considering dinner.
It was a very difficult day, but I'm glad we did at least part of the trek, it was spectacular. It made us want to spend more time walking some of the areas around where we live – especially the Royal National Park and the Blue Mountains. We need to build up some climbing fitness so we can tackle treks like this more successfully in the future.