Early start this morning – up at 5:30am ready for our 6:50am taxi to the Terminal de Autobus (bus terminal), where we joined the Cruce de Lagos tour across the Andes to Puerto Varas.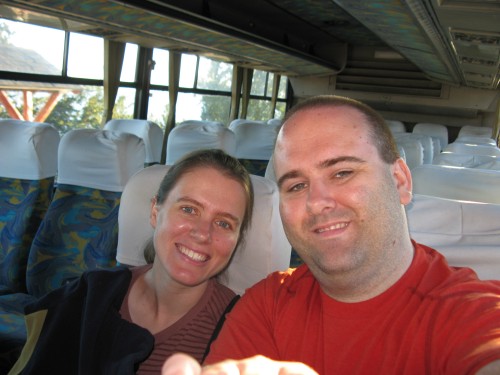 After tagging our bags and loading them onto the bus, we eventually set off, heading west following the road along the lake shore to Llao Llao – a small resort area about 30 minutes from Bariloche. Here we boarded our first boat on Lago Nahuel Huapi, which loaded a lot more people (several hundred all up) and eventually set off around 10am.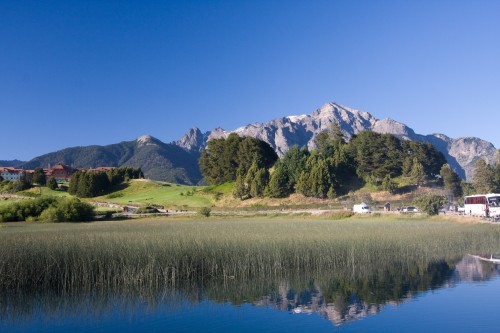 We enjoyed amazing scenery along the way – spectacular mountains and lush forests, with perfect clear skies which apparently is a bit unusual, especially early in the morning … often there is cloud cover over the mountain peaks and early morning fog on the lakes. The tour guides kept telling us how wonderful the day was and how lucky we were (over and over and over again!).
[table1]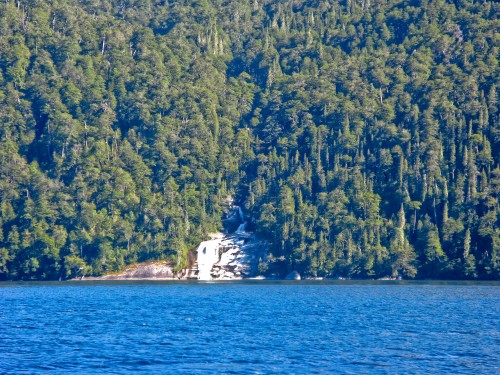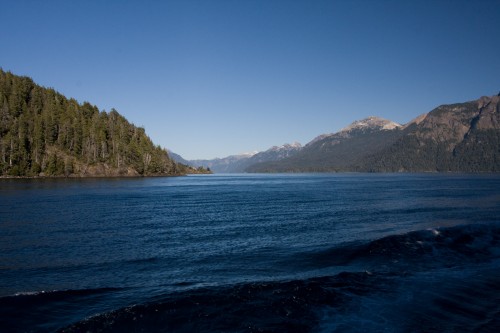 At one point, the lake suddenly changed in colour from a deep blue to an emerald green. It made for an interesting contrast, and it wasn't until we later got to Puerto Blest that we understood what caused the change.
[table1]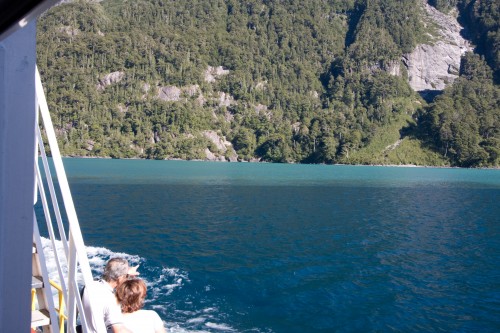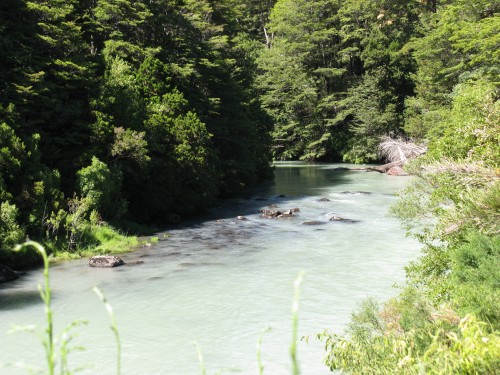 After just over an hour of sailing, we arrived in Puerto Blest – a remote hotel and restaurant which I think is set up mostly to cater for tourists on the Cruce de Lagos tour. We had about 90 minutes for lunch, which we could eat at the restaurant (not included in the price – and very expensive!), or we discovered a small kiosk about 200m down the road, which served fast food – and was by far the more popular choice for lunch. Jamon y Queso Tostados (toasted ham and cheese sandwich – a staple food in this part of South America!) hit the spot nicely. Unfortunately the Heladoria (icecream shop) was closed – that would have been nice too.
[table1]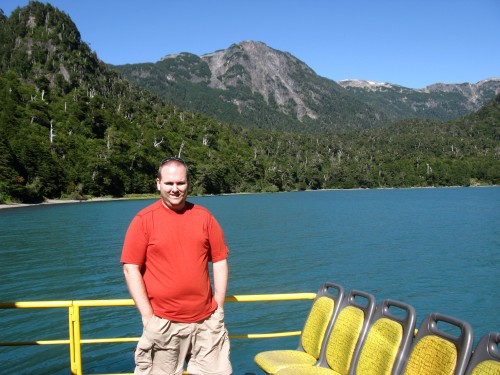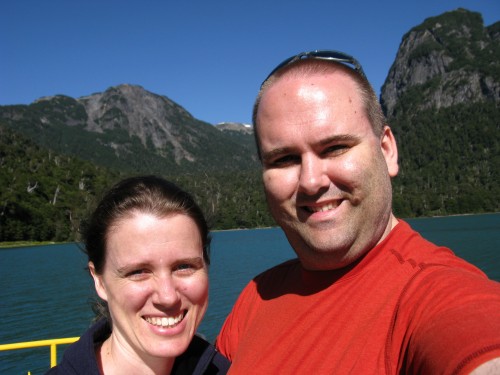 [table1]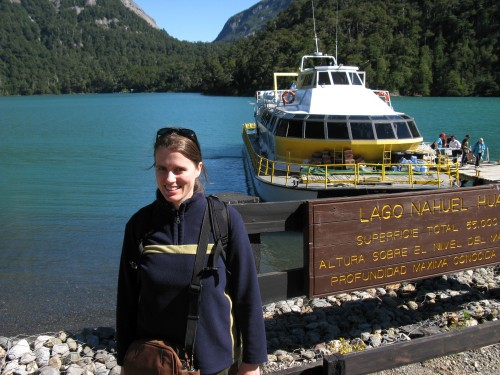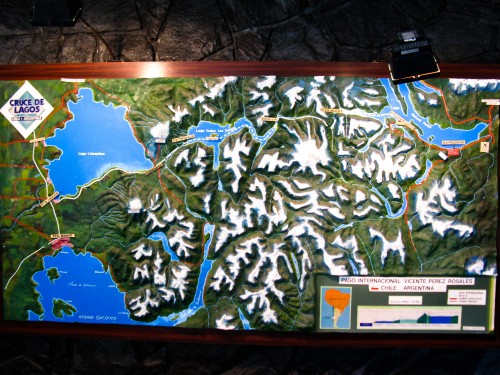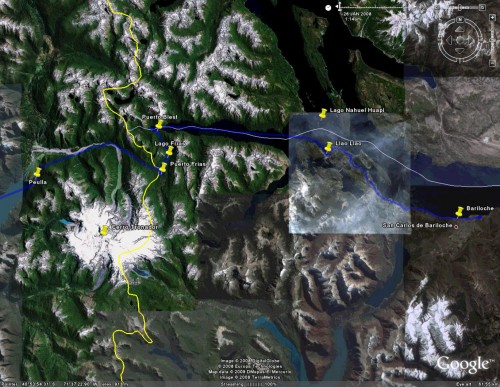 We boarded a bus at 1pm and were driven several kilometres down the road to Puerto Alegre, where we boarded a much smaller boat to cross Lago Frias.
[table1]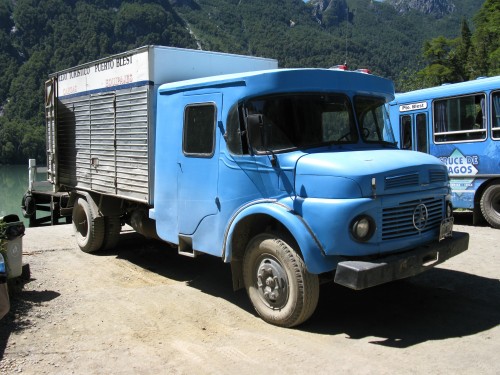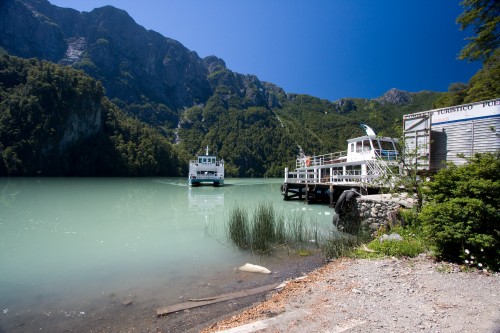 The trip across Lago Frias was fairly short – less than half an hour, but no less spectacular. They did tell us this was Condor country, with nests along the mountain tops – and I kept a close watch out, but unfortunately did not see any.
[table1]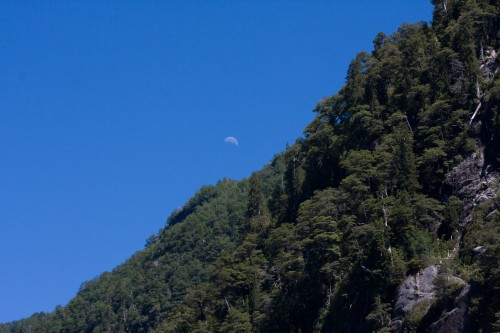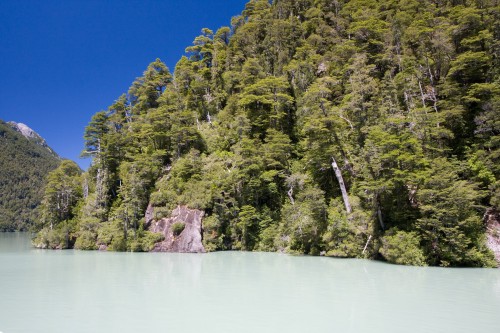 As we crossed the lake, we got spectacular views of Cerro Tronador, 3491m high. Apparently this mountain is named for the avalanches that thunder down the mountain sides and are loud enough to be heard miles away. This is the highest peak in the Nahuel Huapi National Park.
[table1]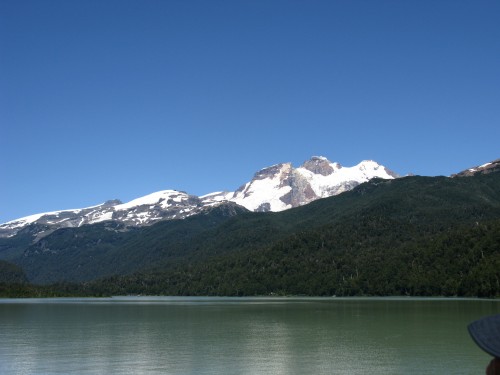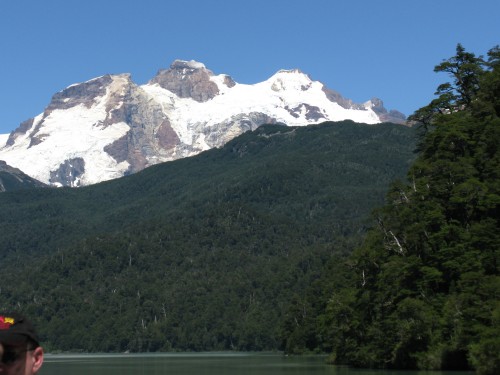 [table1]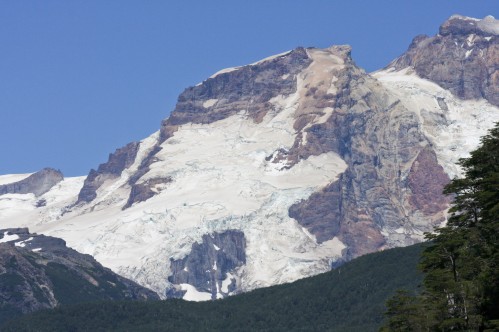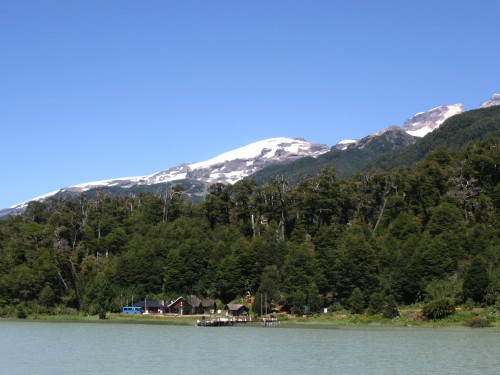 We arrived at Puerto Frias and the Argentinian immigration point, where we had to line up to be processed for leaving the country. This was a very remote outpost serviced by a single immigration officer (although other people were around), with no mobile phone reception – just a couple of satellite dishes. It would have been a long commute for him to get to work, but spectacular every day! After about an hour of waiting we boarded another bus to drive through the mountains to the border.
[table1]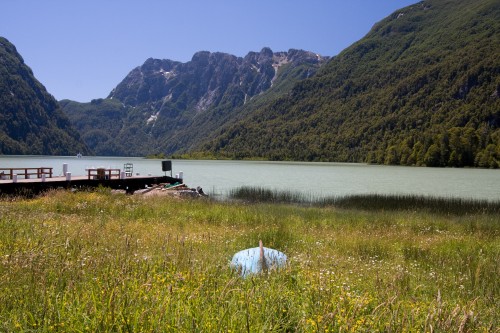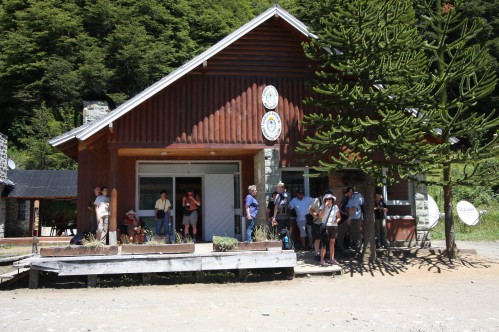 We had driven several kilometres up a very steep road (multiple switchbacks up the side of the mountain), when someone started calling the bus driver on the radio and we came to a sudden stop. After a bit of heated debate on the radio, he started reversing down the hill (it was only just wide enough for the bus – no way it could turn around!). He actually reversed the entire way down the mountain – at speed – down the switchbacks and all the way back to the immigration processing station – it was rather scary, but we were impressed with the skill of the driver, and all applauded once we arrived back. Apparently there were some papers that we had to collect to take to the Chilean side of the border.
[table1]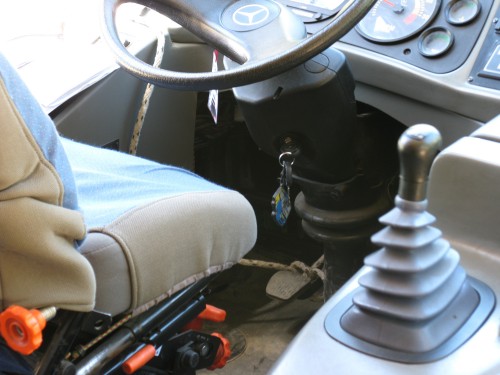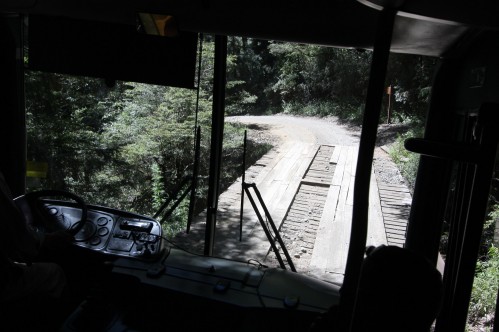 After a brief wait, we headed off again, and this time we were able to continue - along the very narrow winding road through the mountains … quite spectacular views along the way and ever changing vegetation and we went up and down. We were actually driving through rainforest that receives over 4000mm (4m !!) of rainfall each year. Lago Frias is about 760m above sea level, while the next lake on our trip is down at only 150m above sea level, so there was quite a drop in altitude along the bus ride in between. We passed the Chilean border somewhere near the high-point of the pass.
[table1]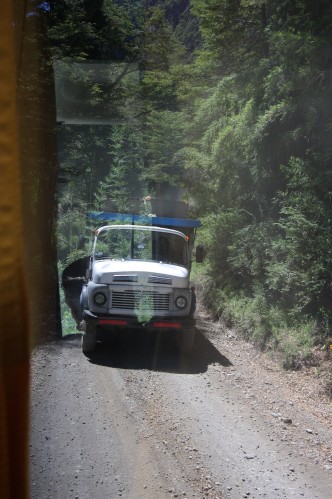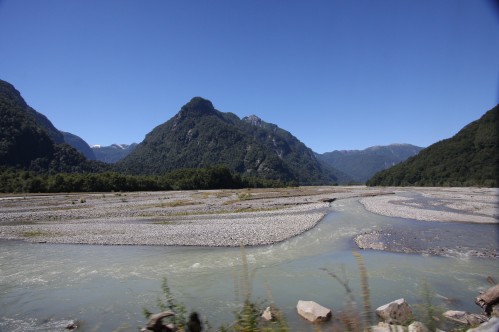 After about an hour on the bus, we arrived at Peulla and the Chilean immigration and customs post. Chile is fairly strict with their customs – like Australia, no fruit and vegetables or plants and animal based products may be brought into the country to help protect their local agricultural industry. We had to wait for the previous busload of people to finish processing before we could line up, and we were subject to random bag searches for prohibited goods – just like at the airport (for such a remote place, they were pretty well organised!).
[table1]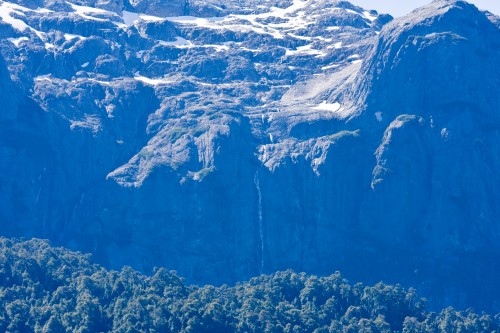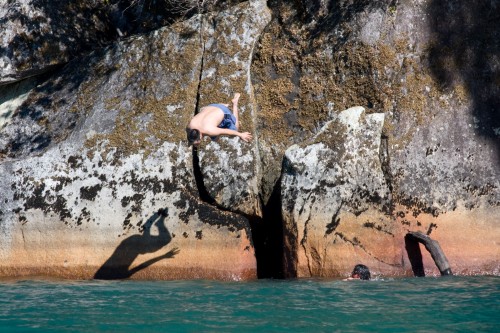 At Peulla, some people got off the bus to stay at the hotel overnight before continuing the trip the following day (which in retrospect was probably a good idea – break up the long day into two parts). We continued on a short distance to the pier where we boarded our third and final boat to cross Lago Todos Los Santos. This was another large boat and was very full (uncomfortably full in our opinion), and we set off on a 2 hour trip across the lake.
[table1]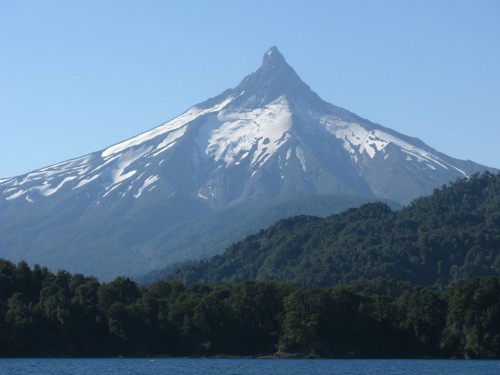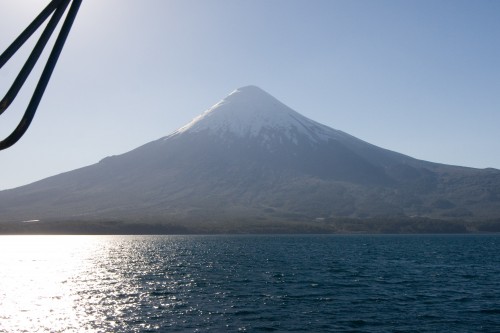 In many ways, this third boat trip was possibly the most spectacular, as we passed Volcano Puntiagudo (2493m) and headed directly towards the famous Volcano Osorno (2652m) – with this latter volcano being an almost perfect cone-shaped specimen, their "postcard" mountain. Pity we were heading right into the setting sun, which made photography a bit difficult.
[table1]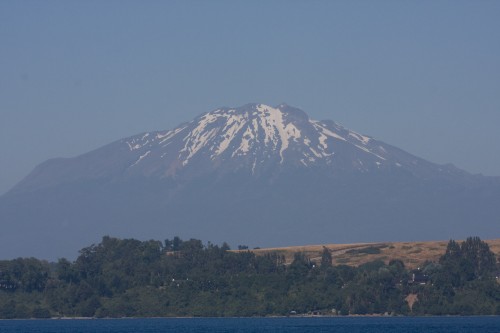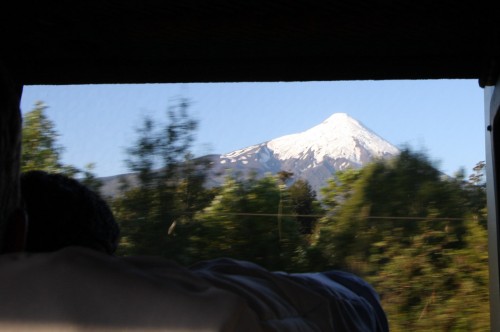 We ended the lake crossing at Petrohue, at the base of Osorno, where we had to collect our bags and take them to our assigned bus for the final leg of the trip. My bag was literally the last one off the boat – so there were a few nervous moments as we waited for them!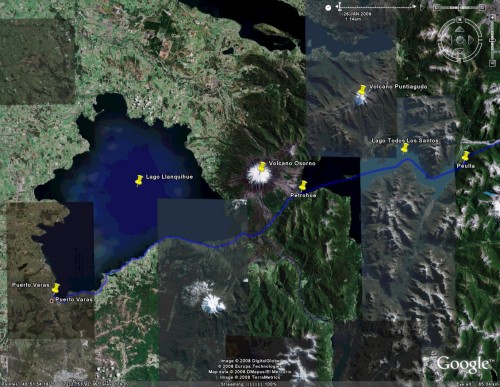 The final leg of the journey was by bus from Petrohue to our destination of Puerto Varas – a 2 hour trip along well paved roads along the shores of Lago Llanquihue. We arrived in Puerto Varas after 9pm (a lot later than we thought we would) and were dropped off at the town square, which fortunately was only a short walk from our hostel.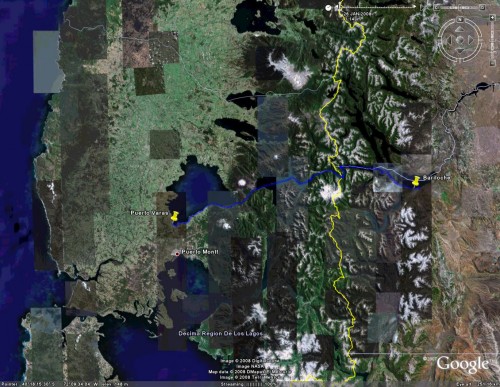 We are staying at Hostel Casa Margouya, a small place right in the middle of the downtown area of Puerto Varas – which is very convenient, and being a smallish town (25,000 people), means that it isn't actually all that noisy either.
I had forgotten that this hostel only had shared bathrooms (two bathrooms shared between about 18 beds). We were a little nervous about this at first, given our previous problems in Bariloche, but with a lack of choice here (other hostels are quite a distance from the town centre), we decided to give it a go.
Our room is quite small, just enough room for the double bed – fortunately there is room to slide our packs under the bed! All the rooms open to a common area which has a dining table and lounge chairs in it – which makes it a bit noisy.
We were too tired to bother about dinner (we had been snacking on biscuits all day) or to go out and see the town, so we got an early night sleep (if you can call nearly midnight early!). Fortunately their WiFi works well here – so I have been able to catch up with a few emails and such.
Tweets from today
On a bus to puerto varas
at Puerto Blest – amazing scenery

30th January, 2008 10:57 AM from web
Waiting for bus to puerto varas, chile