After our late start yesterday, we got up earlier this morning – 6am. That worked well and we were all packed and ready to go by 9am.
Before we left, we went for a short walk along the banks of the Murrumbidgee – the motel we stayed at was just across the road from the river.
We stopped to fill up with fuel and then headed out of town. Our first stop was at Narrandera where we stopped in a lovely park for morning tea. We then headed towards Griffith and on the way we drove through a town called Leeton – which we had never heard of before! We were surprised to find this thriving, pretty little town when I thought we would be just passing some tiny one-pub towns.
We arrived in Griffith at lunchtime and drove around checking out the town. We stopped for some lunch and ate in a nice little park at one end of the main street. It was very hot – around 40 degrees or so, but there was a gentle breeze which made things a bit more pleasant.
After lunch we continued on, back to the main highway and on to Hay. After a quick drive around the town, we checked in to the cabin we had booked at one of the caravan parks. By this time, their temperature gauge was showing 41 degrees, and it felt even hotter in the cabin – it was like an oven. We turned the small air conditioner on, but didn't hold out much hope that it would make much difference.
We were right next door to their swimming pool, so we decided to go for a swim to cool off. Andres has never been swimming before – we tried to get him to wade in the water at the beach in Cartagena while we were in Colombia, but he was too scared, so we ended up just playing on the sand instead. We changed him into his swimming nappies and slowly introduced him to the swimming pool water. After some uncertainty, we eventually got him all the way in and he enjoyed splashing around and being carried through the water by us. We think he really enjoyed himself, so will have to make an effort to take him swimming again.
We eventually made our way back to our cabin and arranged dinner – some steamed vegetables for Andres and spaghetti on toast for us. It was a two bedroom cabin with a double bed in one room and bunks in the other. We had planned to put Andres in the second bedroom on the floor in his KinderKot, but there was no fan in that room and it was particularly hot – and there was no room for the cot in our room. Then I discovered that the couch in the lounge area was actually a fold-out bed, so after a bit of experimenting we discovered that if we spun the couch around 180 degrees we could position it directly in front of the airconditioner and get some cool air directly on to us.
So after dinner, we set up the cot on top of the bed in the main bedroom with the ceiling fan blowing to make it a bit more pleasant. We positioned the cot up against the wall at the head of the bed and there was very little chance of him being able to roll the cot over at least twice such that it might fall off the end of the bed. We could also see the cot from where we were sleeping in the lounge, so we were okay with the arrangement. It was far more pleasant with the air conditioner blowing directly on us and after watching another episode of MacGyver on DVD, we went to sleep early – exhausted from the long day and hot weather.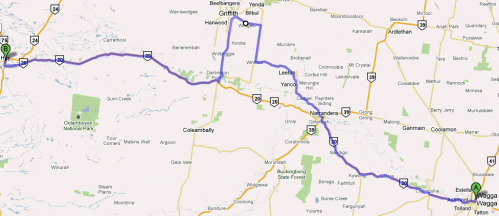 Tweets from today
Just arrived in Hay. It is HOT. Our self-contained cabin at the caravan park here is an oven. Will be at the pool next door if you need me.
spent well over an hour at the caravan park pool with our son, his first time in a pool. Took a while to get used to it, but then loved it.