Andres woke during the night and so Leanne got up to sit with him. He seemed a bit uncomfortable and irritable (like perhaps his teeth were giving him problems), so Leanne ended up spending the rest of the night with him on one of the beds in the second bedroom.
We got up just after 7am and I headed out again to buy some milk for breakfast, which I had forgotten to do the night before. I also stopped at the servo to see if there were any decent sunglasses there and found a pair which should do the job until I can find something better. At least they are fairly comfortable, even if I'm not that fond of the design.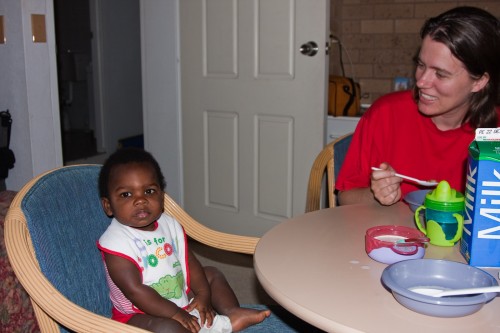 After breakfast we packed up, loaded the car (had to think about that for a bit – couldn't remember exactly how I had packed it the day before) … and stopped to top up the tank with fuel. We then headed back out to the Hume highway and continued down past Gundagai before turning off towards Wagga Wagga.
We arrived in Wagga Wagga around lunchtime and drove around the town a bit familiarising ourselves with the layout. We stopped to buy some lunch from a bakery and then drove down to the botanic gardens where we sat in the shade on the grass and ate our lunch. It was a lovely spot, and I was surprised at the wide variety of birds we saw while sitting there.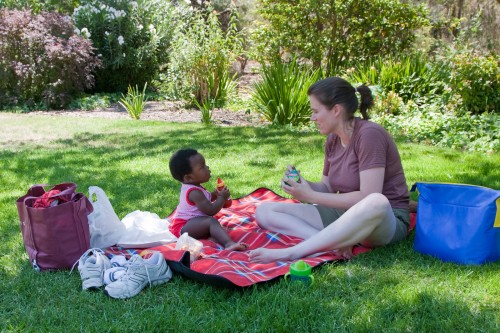 It was already quite hot, but I wanted to look at the small zoo they had next to the botanic gardens, so we set up the pram, grabbed the cameras and walked through the gardens to find the zoo. Since it is a free zoo, I was expecting a couple of small enclosures with some kangaroos and such, but was pleasantly surprised when I saw how extensive the grounds were. It is still not huge, but larger than I was expecting.
The highlight of the zoo was their walk-in bird aviary which seemed to be teeming with finches and had a good selection of parrots, lorikeets and cockatiels. I was able to take some photos and then did another quick lap of the zoo taking photos for my ZooChat website.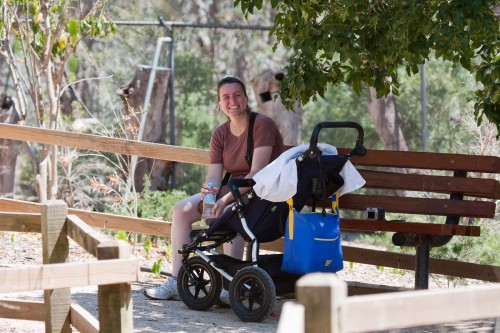 We then headed back to the car and drove to find our motel – which is just one block away from the main shopping street and quite close to the river too. Once again they gave us an upstairs unit, so I had to lug everything up the stairs again – this time it was 35+ degrees, so I was quite hot by the time I was finished.
After getting settled in and cooling down a bit, we decided to go for a walk around to one of the supermarkets and buy something to cook for dinner – we had full cooking facilities in our room this time. I ended up cooking a bolognaise with onion, carrot, broccoli and mushrooms in it, which we had on toast with grated cheese on top. Andres loved it and I actually had to go back to the saucepan and get some more for him – good thing there was plenty of left-overs!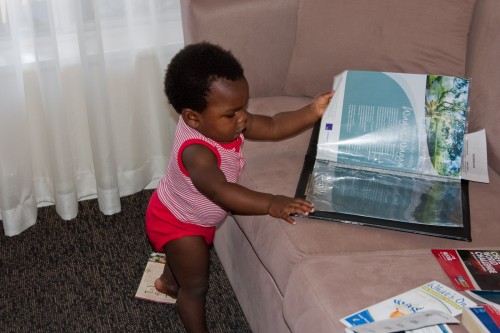 After dinner, we gave Andres a shower and then got him ready for bed – he was nearly falling asleep while drinking his bottle, so we had no difficulty getting him settled into his cot. This unit has only one bedroom, so we set up the cot in the corner of that room, which meant we could then use the lounge area before we go to bed ourselves. We sat and watched another episode of MacGyver on the laptop before heading to bed.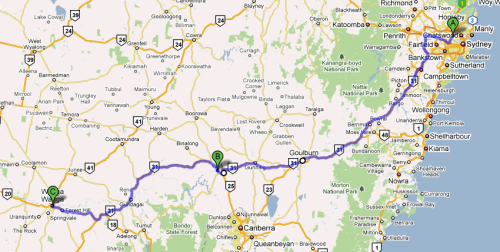 Tweets from today
arrived in Wagga Wagga – is very hot. Might have to go down to the river and sit in the water. Picnic lunch at the botanic gardens was nice.