We are heading back to South Australia to visit family over Christmas, and instead of flying, we decided to do a road trip this time.
We decided rather quickly not to take the Charade – especially given that we can't take the pram and have me drive at the same time. The only place the pram fits is between the front and back seats, but the driver's seat needs to be too far forward for me to be able to drive the car, so Leanne has to drive us whenever we go somewhere with the pram! She was not particularly keen to be doing all the driving on a trip to Adelaide … and we would not have fit all our luggage in anyway – so there was never any suggestion that we would take the Charade.
Instead we've hired a car (Toyota Aurion) – much cheaper than buying one! We will probably need to buy a new car some time within the next year, especially if we end up with more children, but given how little we drive in Sydney, we've been holding off spending the money on a car we won't use much!
Anyway, given this is the first time we've travelled long distances with Andres and we don't know how well he will cope – we decided to take our time getting there, just travelling a bit of the way each day and taking a more meandering path rather than the most direct.
Andres had his last Gymbaroo class for the year this morning and Leanne was keen to take him, so we decided to leave after the class rather than skip it. We actually stopped at the class on our way out of Sydney – it is held in Ryde, so it was kind of on the way anyway.
That meant a busy morning tidying the house and getting the car packed and ready. We had already done pretty much all of our packing over the weekend, so all I really had to do was to work out how to fit it all in the car.
That turned out to be a bit more easier said than done – because Andres is still eating fairly simple foods, we're going relatively self-contained on the trip and will be preparing his meals as we go. We'll also be staying in self-contained accommodation in most places, so we can cook our own meals too while we're at it. As such, we're taking a bit of food and cooking stuff we wouldn't normally travel with. That, plus the extra bits and pieces for Andres (especially the pram!), means we have far more gear to fit in than we are used to.
It ended up taking me a couple of tries to fit everything in – I had to pull everything out of the boot and try a completely different strategy to make it fit … it turned out the magic solution was to turn the folded pram (with the wheels taken off) … upside down! It might sound simple when I write it like that, but it wasn't intuitive at all and took a bit of lateral thinking and problem-solving before I came up with that solution. It was also raining (that annoying fine misty rain), which just complicated things a bit more.
We finally got everything in and headed off to Gymbaroo just after midday. After the class we drove down the road a short distance to McIlwaine Park, just across the Parramatta River on Concord Road – there was a nice park there with a kids playground where we stopped for something to eat before starting our trip properly.
We eventually headed off around 2:30pm, west on the M4, then south on the M7 before meeting up with the M5 which becomes the Hume Highway as it heads south-west. Traffic was pretty heavy on the M4, but wasn't too bad the further out we got. Traffic on the highway was pretty good – no trouble at all. It was cool and overcast – the outside temperature gauge on the car said it had dropped as low as 17 degrees at one point! The shorts and t-shirt I had been wearing in Sydney started to seem like a poor choice.
After a couple of hours, we pulled in to Goulburn for afternoon tea and to stretch the legs a bit. Unfortunately, while playing with my sunglasses, Andres managed to break them (irreparably), so now I need to find some new sunnies – something I've had trouble doing since I have difficulty finding something comfortable for the shape of my nose. It was especially inconvenient since it was practically 6pm before we left Goulburn and we were driving west, so there was a lot of glare to deal with. The weather was strange in Goulburn – the sun was out while we were there, and when standing in direct sunlight, it was quite hot – shorts and t-shirt hot! … but then there was a strong breeze which was quite cold – long sleeves and pants cold! It was a little uncomfortable, you were either too hot or too cold (or both within a short space of time), depending on what clothing you had chosen to wear.
We arrived in Yass just before 7pm, checked into our motel and started preparing Andres for bed. Of course they had to give us an up-stairs unit, so while Leanne looked after Andres, it was left up to me to cart all the luggage up to the room.
After some dinner and a bottle, Leanne settled Andres into his cot – a fold-up KinderKot which looks rather like one of those instant set-up hiking tents. It has a self-inflating mattress which we wrap a sheet around and fly screens to keep out insects – would be ideal for camping.
The unit we were staying in had two bedrooms, with a both a queen sized bed and a single bed in each of the rooms. We decided to give Andres the larger room it would be more convenient to set up the cot in there. While Leanne sat with Andres waiting for him to go to sleep, I went out for a drive to try and find something for dinner. I ended up stopping at what looked like the only place in town open (other than the pub and the servo), a takeaway shop – as it turned out if I had arrived only a few minutes later it would have been closed too! I grabbed some of the food they had left and took it back to the motel to share with Leanne.
We then sat on the bed and watched an episode of MacGyver on the laptop with our headphones on (we didn't want to risk the noise of watching TV) for a while before going to sleep around 10:30pm.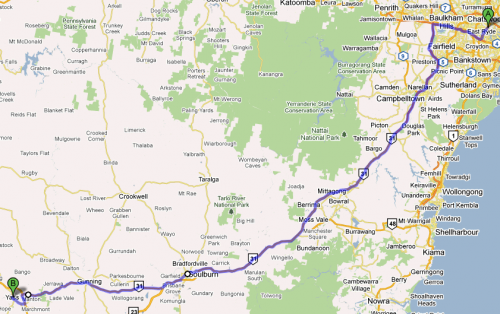 Tweets from today
staying overnight at a motel in Yass on the way to Adelaide – only a half day travel today, left after son's Gymbaroo class.

14th December, 2009 20:39 PM from TweetDeck