We had planned to go to the zoo today – spend the day trialing our gear (boots, pants and day packs), while also practicing with our new cameras (the DSLR and the new digital compact which arrived on Friday). We even packed some of the left-over meat and salad from Christmas lunch so we could have a bit of a picnic.
It was about 11:30am by the time we got underway – a bit later than planned, and the traffic was pretty light until we got off freeway at the Falcon Street ramp – Military Road was bumper-to-bumper. That's not all that unusual – it is often a very busy road at some of the choke-points like Neutral Bay … but unfortunately it didn't seem to ease-up at all.
Half an hour later we were still struggling along through Cremorne and on the way to Mosman. It usually takes us 15 – 20 minutes to get to the zoo, with the worst spot for traffic being the main street of Mosman. It took us nearly an hour to get past the main street of Mosman – a couple of times I tried to do right hand turns across Military Rd so we could take the back streets and avoid the congestion at Mosman Junction and the main street – but each time we got to an intersection, there was too much traffic coming the other direction.
Once we got past the main street of Mosman, the traffic was a bit lighter, which encouraged us a bit, until we got around the corner and came across more bumper-to-bumper traffic – it seemed like everyone in Sydney had decided to go to the zoo today! After another 5 minutes of sitting completely stationary in traffic, I got so frustrated that I just chucked a u-turn and headed back … there were no parks in any of the side streets – and this was still a 15 minute walk away from the zoo.
I thought perhaps we could at least head down to the beach – somewhere like Balmoral, and eat our lunch and perhaps go for a bit of a walk. We got to within a couple of km from the beach before hitting more bumper-to-bumper traffic and people walking with their beach gear … I figured the parking was just as bad there.
So, I headed back up to Military Road, across the Spit, then up to Wakehurst Parkway, Warringah Road, and eventually to Davidson Park, under the Roseville Bridge. I figured we could stop here for lunch and go for a bit of a walk along the river/estuary.
Fortunately there were a few parks left – there were people everywhere, but there was enough grass for us to sit and have our lunch (it was well after 1pm by this time!!) before heading off for a bit of a walk.
Here's Leanne modeling her new pants and boots: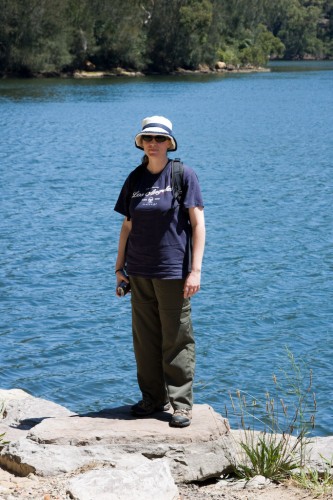 Leanne had a bit of trouble with her new boots rubbing her heals – she was worried about blistering, and couldn't tie her shoes comfortably, so she ended up heading back to the car after only a short walk.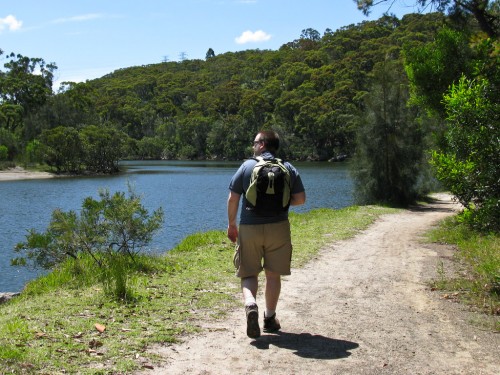 I continued on for a while, trying out my new zoom lens on some bird photography (small, fast moving birds are very difficult to photograph!). Despite the warm, humid weather, I was very comfortable in my pants, top and shoes. The pack wasn't too heavy either – although I only had the camera and second lens, plus some water in it.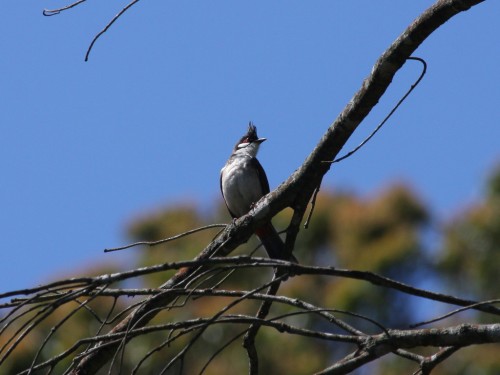 I did get some decent photos. The photo above of a Red-whiskered Bulbul was at maximum zoom with my 70-300mm lens, and I've just cropped it to 1024×768 without resizing or any other touch-up. The image stabilisation makes photos like this a lot easier than with the 70-300mm Sigma lens that I used to use on my old Pentax SLR. The St. Andrews Cross spider below was just sitting on the side of the track – I wouldn't have even noticed if someone else walking past had not spotted it.