We spent the last part of our holiday in Townsville – we got in from Hong Kong first thing Wednesday morning after an overnight flight, managed to catch about 90 mins sleep before getting up, showering and heading off for an appointment with our financial advisor, then back home to pack and head to the airport for our 5pm flight to Brisbane then Townsville.
We hired a car, stayed at the Holiday Inn and basically relaxed and wound down from our hectic trip to Hong Kong.
Since this was my first time in Townsville, we spent most of Thursday either walking around, or driving around the town exploring. We also spent a couple of hours at ReefHQ, an tropical aquarium looking at various aspects of marine life in and around the reef. This is a fairly new attraction, and they still have quite a bit of work to do, but it was pretty interesting.
A nice long walk along The Strand in the evening was good exercise and very pleasant – popular too, with many locals out enjoying the balmy tropical nights.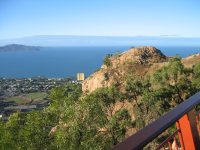 Friday we spent most of the day exploring, and looking around at the local real estate market – not that we were seriously considering buying in Townsville – we were just interested.
Saturday morning after checking out of the hotel, we headed to the Museum of Tropical Queensland, which was quite a well set up and informative museum looking at issues related to the local area. The main exhibit was dedicated to the HMS Pandora, a ship sent out from England to track down and apprehend the mutineers from the Bounty who were believed to be in Tahiti. The ship ran aground on the Great Barrier Reef and sank. The exhibit spent a lot of time describing the voyage of the ship, what life was like on board, who the crew were, and who they were sent to track down. They also detailed what happened when the ship sank and the struggle to survive by the survivors. Finally, they spent some time looking at the process by which the museum collects artefacts and information about the shipwreck, and how they preserve it. Quite interesting really.

Other exhibits included a hands-on science exhibit which is great for kids (including big kids like me), and an exhibit which looks at life in the tropics. Overall, well worth a visit if you are in Townsville for a while.
We finished the day with lunch on The Strand before driving back to the airport to catch our flight home.
You can see some photos from our trip to Townsville in my photo gallery