Went for a walk through Munro Park today, a few birds around (mostly the large family of Superb Fairy Wrens that I always see on this walk), but not much excitement really.
That was until I was heading back to the car, something caught my attention out of the corner of my eye – I looked up to see a large Tawny Frogmouth nestled on a tree branch, looking all fluffy and comfortable. I've always liked these birds – ever since we used to go "hunting" them (with a torch) at night when camping – going only by the sound of their call and then trying to work out whether it was a bird we were looking at or just a tree branch.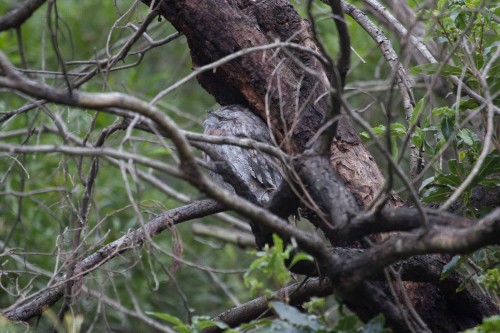 As I got closer to try and get a better shot – he decided he would try and "hide" by turning into a branch – something they generally are very very good at.
Two problems for this guy – I already knew where he was (he didn't actually move), and he chose a dark coloured tree which he stood out against pretty well. If it were a gum tree he probably would have just about disappeared – I've seen them being very tree-like before.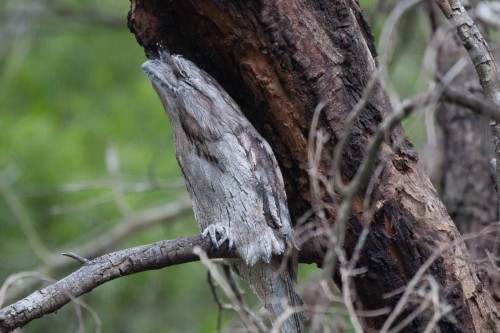 I could see him watching me out of a narrowly slitted eye, and after about five minutes of me wondering around taking photos, he largely gave up trying to be inconspicuous, but didn't actually move. I left him to go back to sleep and headed home.