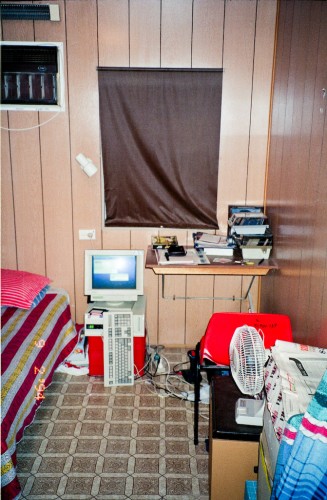 The workers quarters at Olympic Dam Village (the township built to service the Olympic Dam mine before Roxby Downs was built) … was the only place they could accommodate us when I went there for my second stay. Very rudimentary conditions with a shared shower/toilet block and a very noisy airconditioner in each room that shook the wall and bed every time it cut in or out – waking me up!
I had a small bar fridge to keep drinks and snacks cool (it was summertime – temperatures regularly hit 45 degrees celcius, and it was like an oven in the rooms). I also managed to get my computer up there to play some games and keep myself amused on boring weekends. I didn't have the internet back then – heck, I didn't even have a phone … payphones down the road were my only communications mechanism (there was always a line up waiting to use the phones).
We had a TV room where they showed a movie each Sunday night, and a mess hall where meals were served. The bar was a favourite hangout – very cold drinks and several pool tables to keep everyone occupied.