Hong Kong's MTR (or Mass Transit Railway, I think) is one impressive piece of infrastructure. We are staying in Causeway Bay, and in the 3 days we have been here so far, have done a dozen or so trips between here and Wan Chai, Admiralty, Central, Tsim Sha Tsui and Jordan … and this is just the "downtown" area really. It's quick, efficient, and easy to navigate – surprisingly so, as the stations are underground rabbit warrens – but fortunately are well signposted.
The most impressive development seems to be the "Octopus" card, a stored value card which you can charge up with money and which may then be used for MTR trips, buses, ferrys, and I've even seen a McDonalds store which let you pay by Octopus !
The best part is that you can get proximity based Octopus cards, you just swipe the card over a reader, and it autodetects and deducts the relevant fees from your card – we learned this by watching the locals first – always a good practice !!. This actually means you do not need to remove the card from your wallet – which is actually a major bonus, no accidently dropping the HKD$10 coins from your wallet as you open it to remove your card while 5,000 locals push and shove you in their rush to get to the train. It's a very efficient system.
The trains are fast, frequent, airconditioned, smooth, and if you are extremely fortunate you may even get to sit down.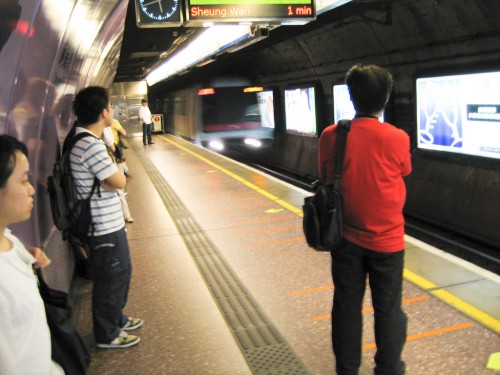 Naturally comparisons can be made between Singapore's MRT (Mass Rapid Transit, I think it stands for), and similar systems in Bangkok and elsewhere, all of which are pretty good, I just wish that certain parties from Australia would come over to one of these countries and discover for themselves just how good a transit system could be – dare I say it, a pleasure to use ! *sigh*, I guess we're stuck with our beloved Millenium trains in Sydney (although we all want to know in which Millenium will we get to actually use them ?) I can't believe that the politicians in Australia could be so short sighted about our infrastructure.