Our last day in Hong Kong today – we've had a wonderful time all week.
It actually rained here last night – a big thunderstorm came through after dark. We have been very fortunate with the weather all week – bright and clear sunny days, which has made the views look great, at the price of a searing heat though. Today was overcast, a little cooler, but still just as sticky – up to 90% humidity this last week.
We slept in a little before getting up to finish our packing and heading over to our regular haunt for breakfast – Oliver's Super Sandwiches… the girls know us well now and know what how we like our cornflakes and toast !
After finishing packing back in our room, we found the underground walkway across the road from the hotel to the famous Noonday Gun, a daily ceremony dating back to 1901. They fire a gun (originally a 6″ cannon, but more recently a 3″ cannon after complaints about the noise were received) – every day on the dot of noon. This tradition was even recorded in Noel Coward's 1924 song "Mad Dogs and Englishmen":
"In Hong Kong they strike a gong, and fire off a noonday gun, to reprimand each inmate, who's in late."
It's a small affair, but carried out with strict discipline, and actually startingly loud when you're standing only 5m away and expecting a bit of a pop. So after that we headed back to the hotel to check out, with ringing still in our ears.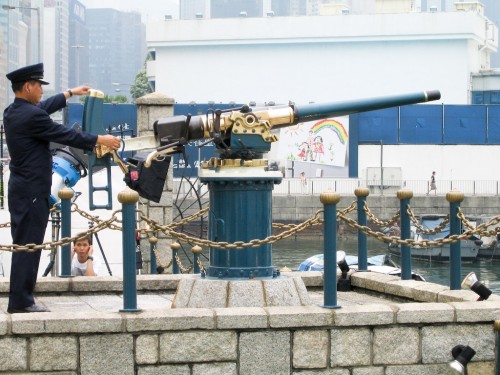 We decided to catch one of Hong Kong's famous double decker trams all the way from Causeway Bay down to Sheung Wan – which was a great ride, although scary when you consider how high the centre of gravity on these things would be, and how tight those corners are they take at considerable speed.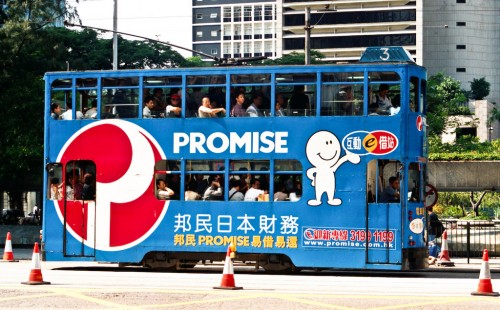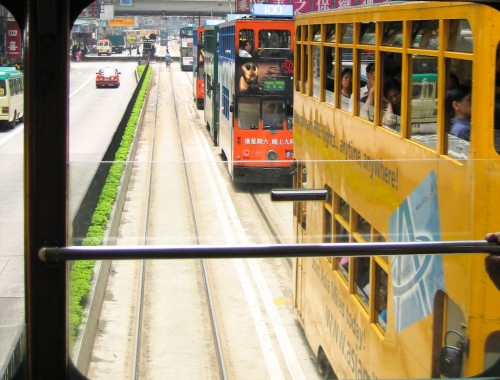 We walked across to the Western Markets – which was a bit of a disappointment, just an old building with some shops inside, however they did have a shop which was completely dedicated to model buses ! If you are a model bus collector (particularly of Hong Kong buses), you really need to check this place out. There was an exhibition on showing some of the history of Hong Kong's buses as well which was kind of cute too.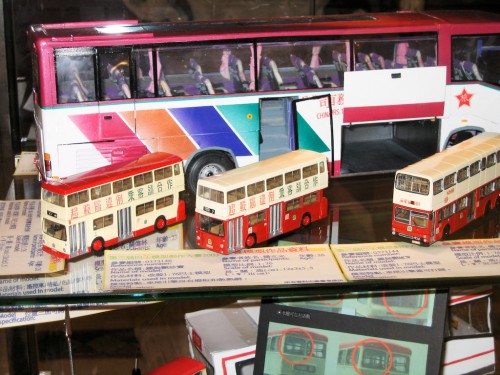 We got back on the MTR to Admiralty and walked over to Pacific Place shopping centre, where we window shopped amongst all the exclusive label shops before sharing a plate of Singapore Noodles for lunch. Back on the MTR to Causeway Bay, and wandering around some of the shopping areas.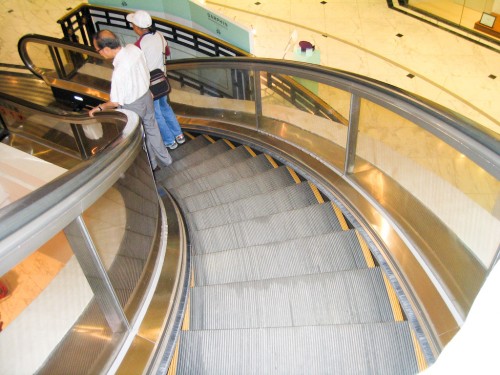 Finally, we killed some time with a lovely walk through Victoria Park – a quiet oasis in the middle of all the hustle and bustle. The foot massage tracks – smooth round stones set in concrete in a 100m or so long circuit for you to carefully walk on – were popular with the locals – although I think it would take a bit of getting used to for the rest of us.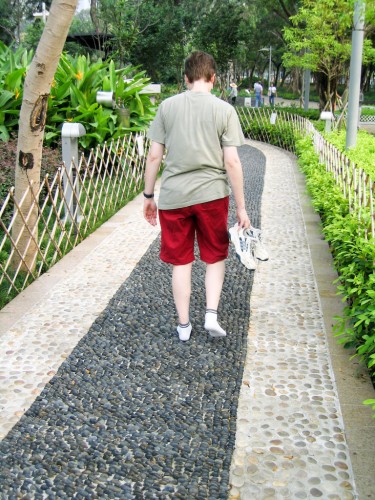 Got back to the hotel in time to catch the Airport Express Hotel bus to Hong Kong station and then onto the Airport Express to the airport. So here we are now waiting for our plane back home.
Actually it's just been called, so I have to go now – bye for now !
You can see some photos from day 9 in my photo gallery