An early rise this morning to get our flight to Bariloche – although a bit later than we intended … the alarm on our clock didn't go off for some reason and I woke up 45 minutes late! Normally I would set an additional alarm on my phone to make sure – but for some reason I forgot. So we had a rather rushed morning – fortunately most things were packed the night before.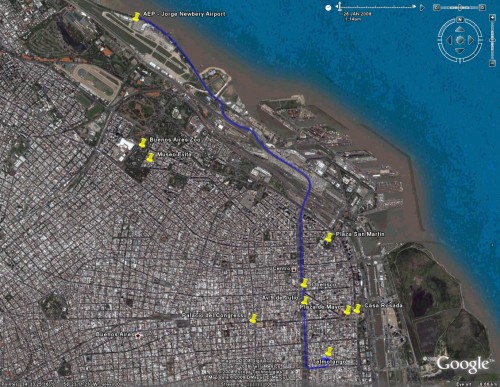 Anyway, we got our ride on time – the same guy who picked us up from the international airport dropped us off at the Buenos Aires Jorge Newbery domestic airport – a smaller airport much closer to town, so it didn't take that long to get there. We had no trouble checking in and settled down to wait for our flight.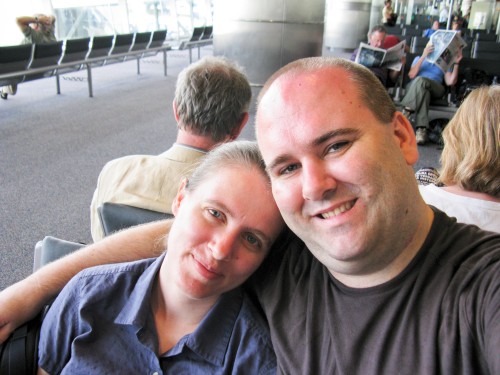 We started to get a bit of a feel for what Bariloche would be like when we observed large groups of North American tourists waiting for various flights heading that way. It seemed most of them were on fishing trips – seems to be the thing to do, fly from the US to BA and then on to Bariloche for a week of fly fishing or something.
The flight was just over 2 hours – and we arrived at a very cute little airport built like a Swiss chalet with stone blocks and wood trimmings … I'm disappointed I wasn't more prepared with the camera – we won't be leaving that way, so I won't get a chance to take a photo. Once we had collected our bags we wandered around trying to work out the best way in to town – it wasn't obvious where the buses left from. Someone pointed us in the right direction, but then a guy with a small shuttle bus asked if we were headed to central – he had two spare seats … it was a bit more expensive than the regular bus, but it would save us about 20 minute wait.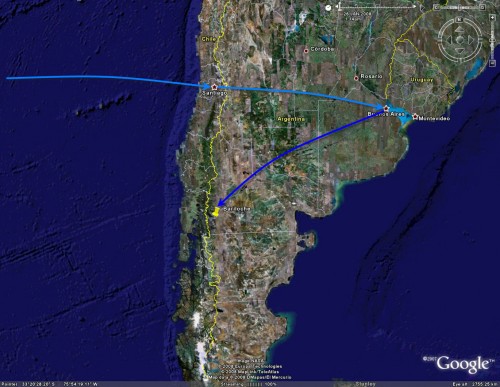 It turned out to be a good choice – the shuttle dropped us right off at our hostel. What the instructions from the hostel about how to get there from the bus stop don't mention is that the start of the street is a very steep hill (reasonably short fortunately) … we saw several backpackers struggling up the hill with their packs – glad we weren't doing that.
[table1]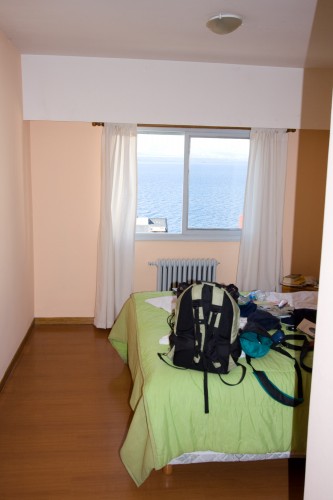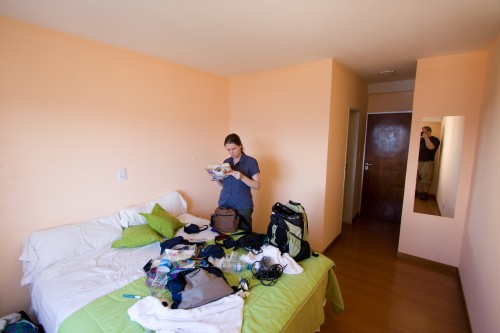 We are staying at the TangoInn Hostel Downtown – about 15 minutes walk from the main shopping strip, which wouldn't be too bad if it weren't for the hill! We checked in and headed up to our room – didn't bother to unpack much since they told us we would have to change rooms after the first night.
[table1]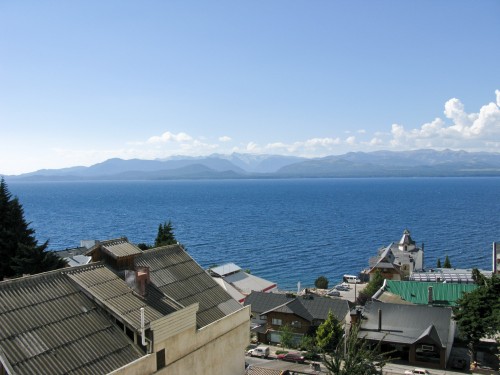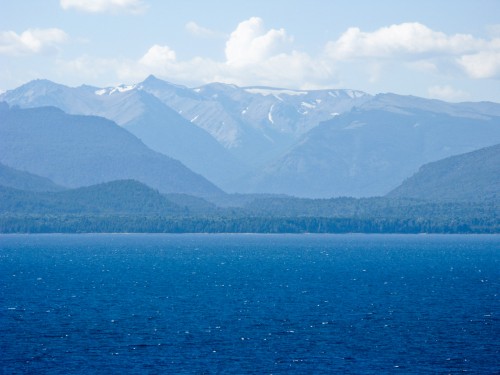 We were surprised it was so hot in the room – the weather is a bit cooler here than in Buenos Aires. Perhaps the sun had been shining on the window all day ? The bathroom was worse – it was like a sauna … and then we discovered why: the heaters were on! They have centrally ducted oil heaters in the rooms and bathrooms – which would be ideal for winter (it snows here) – but doesn't make much sense in summer. When we headed downstairs later we asked and they explained that the hot water service and the heaters are linked to the same system – they turn the heaters on overnight so that there is enough hot water in the morning for showers. Apparently they forgot to turn the heaters off today – hence the heat in the rooms. All a bit silly really.
[table1]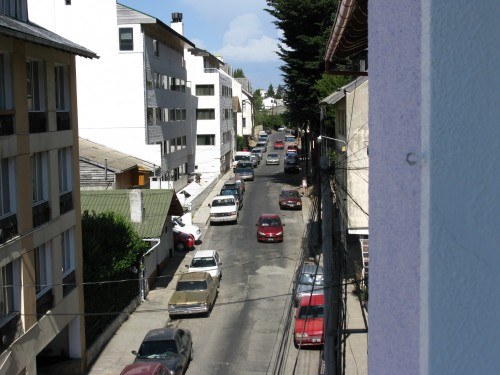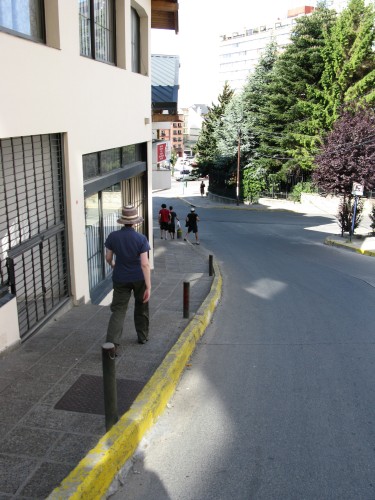 Anyway, we went out for a walk to explore the town and get something to eat for lunch. Found a nice little cafe and had some delicious baguettes. Was tempted to try some of their cakes and desserts, but decided not to – we haven't really had any desserts since we've been in South America – always seem to be full after main course. We kept walking, found the main shopping area and wandered along looking at all the shops.
[table1]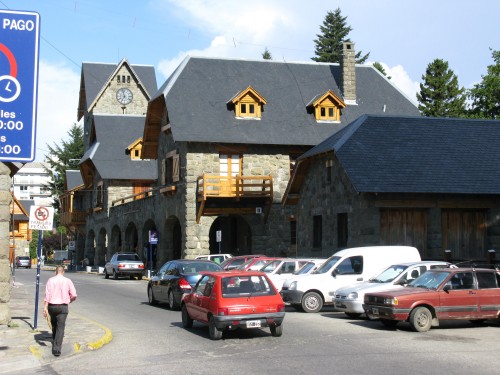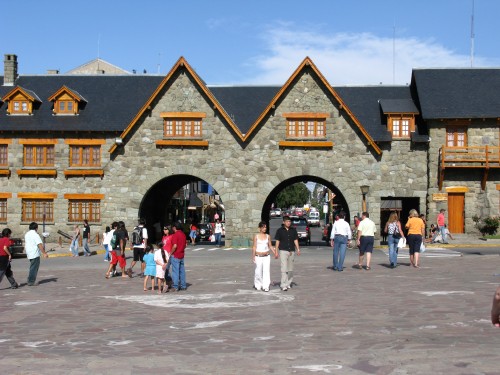 Bariloche was once a quiet little holiday village, popular in both summer and winter. Unfortunately, most "nice places" quickly tend to become overcrowded and over-developed, and this is definitely the case here – very tourist oriented and crowded now. It's a pity, since the town has a lot of character – very much like what you see on postcards from the Swiss alps. Set on a large lake with stunning mountain views in all directions – it is a very picturesque place.
[table1][_thumb;1638;620;2008-01-27_-_A650_0843.jpg]Bariloche, Argentina[/thumb]
Very popular with backpackers and hikers/campers – indeed every second person walking down the street either looked like a backpacker, or was actually lugging a pack on their back. Interestingly, many of them seem to be South American – mostly Argentinian I'm guessing. I would have expected a higher proportion of Europeans than I've seen. Even at the hostel, the majority of conversations I've heard seem to be in Spanish.
We eventually got back to our room after doing a bit of grocery shopping – which involved me lugging a 5L and a 1.5L bottle of water up that hill! We had a bit of a snooze and relaxed for a bit. Unfortunately our room is too far from the lobby to pick up the WiFi connection – but their connection is nice and fast, so when I can get online (usually by sitting on the lounge in the lobby), it works well.
After our rest, we walked back into town to check out some bus timetables and look at booking our boat/bus cruise out on Wednesday. After sorting that out we decided to stick around and have dinner – the streets were really starting to get busy now. We found a cafe that seemed to be popular and Leanne had the vegetarian lasagne, while I had a ham, cheese, tomato and oregano pizza (which was actually very nice!). Their fresh squeezed orange juice wasn't watered down either, which was nice.
We headed back to the hostel – it was still very light even though it was getting late (after 9pm) … the sun didn't actually go down until well after 10pm – which is one of the problems of having daylight savings in such a southern location … possibly one of the reasons Argentina haven't had it until this year! We were able to watch the mountains across the lake change colour in the setting sun from our hostel room window – very pretty.
Before going to bed I spent a bit of time in the lobby catching up on some emails and blogging and photos.
Unfortunately having to leave the window open to cool the room a little meant that we got all the street noise – and Saturday night is usually bad – especially near a hostel. Fortunately our hostel doesn't have a bar, but people still make noise as they come back. Coupled with being uncomfortably hot, it lead to a restless night of sleep. Hopefully it will be a bit quieter tomorrow night.
Tweets from today
at AEP waiting for flight to BRC