After we got up and had showers (which were only luke warm), we headed to breakfast – supplied by the hostel. A bowl of frosted flakes, some yoghurt, a hot cheese toasted sandwich, some apple juice, a thin slice of what looked and tasted like sponge cake. We also shared an orange from their fruit bowl. Not my ideal breakfast – but tasty enough and filled us up ready for the day.
After spending some time preparing to go out, we walked down to Ricardo Cumming metro station one block away and caught the train two stops to Plaza de Armas in the Central district (downtown). The interesting thing about the trains is that they don't run on normal steel wheels – instead they use what look to be solid rubber tyres! They are guided along a track – in a similar (but much more robust) way to how the Adelaide O-Bahn bus system works. The trains are also fairly narrow and boxy too – but they are fast and convenient and very cheap (off peak 380 pesos – around AU$0.90, and peak time around AU$1).
[table1]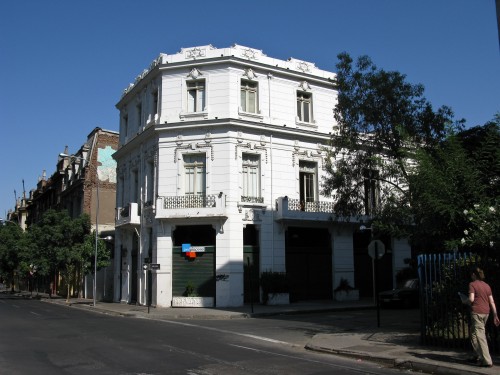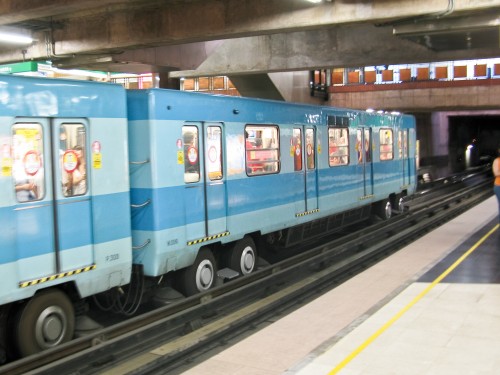 We exited the metro right near the actual plaza – a large open space with some trees, a rotunda and various statues and other works of art. Surrounded by historic buildings, it seems to be the central meeting place for people in Santiago – there were quite a few people including families sitting around enjoying the warm weather (although shade was at a premium and the sun was quite hot – it's around 30 degrees with low humidity here at the moment).
[table1]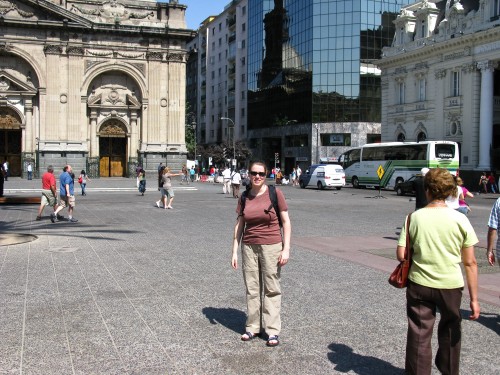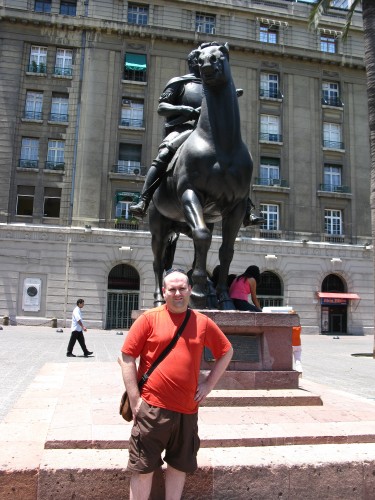 After sitting and people watching for a while, we headed to the Museo Chileno de Arte Precolombino (Chilean Museum of pre-Colombian art), which contained a collection of ancient artwork from 4500 years of pre-Colombian civilisation – significantly more ancient than the Egyptian equivalent.
Next, we walked a few blocks to the Mercado Central – Santiago's central markets, which mostly seemed to sell fish – not unlike the Sydney Fish Markets (although a lot smellier!) … lots of fish retailers surrounded by resaurants who will gladly cook some fish for you. That was originally a plan for lunch, but it was too hot and smelly for us, so we wandered off and had a look at the polluted and fast flowing Rio Mapocho – the river which runs through the city. We then headed back the way we came and discovered a shopping mall (which was nice and cool), wandered around for a bit looking at the shops and found the food court on the upper levels where we stopped for lunch. Parfait seems to be popular here – which is good … 'cause there ain't nobody who don't like parfait (said in best Eddie Murphy / Donkey from Shrek voice).
[table1]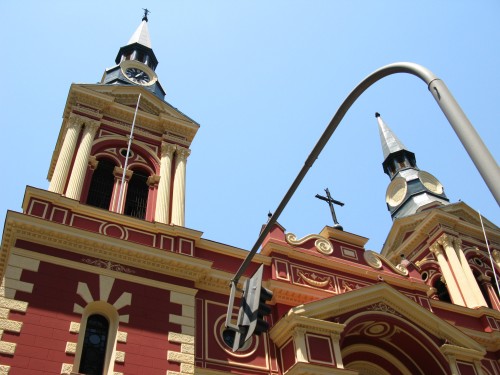 After a nice simple lunch, we walked a few blocks to the Cerro Santa Lucia, a hill that was transformed into a lovely park by the mayor of Santiago (using forced labour) sometime around 1872. It was a very pleasant way to spend the afternoon, with a nice breeze keeping us cool when we could find some shade. We climbed to the top of the hill for the views of the city and the Andes, which was well worthwhile.
[table1]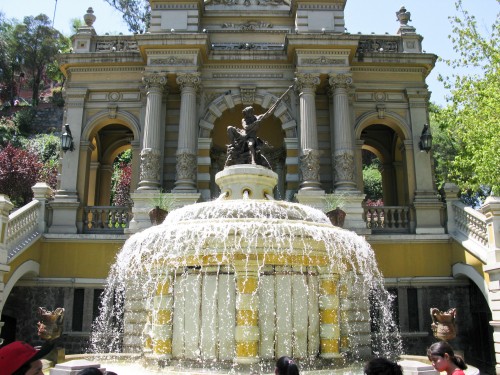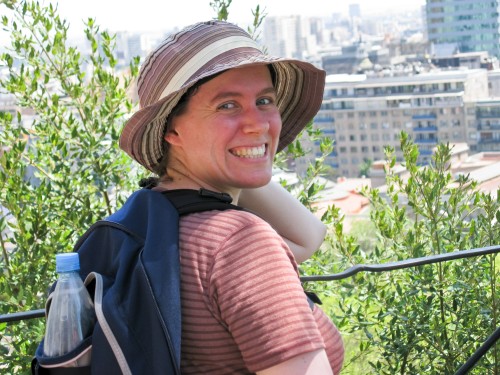 [table1]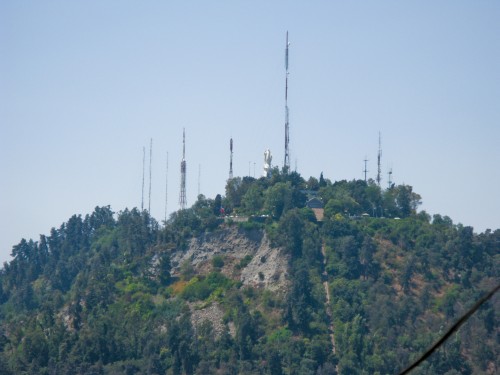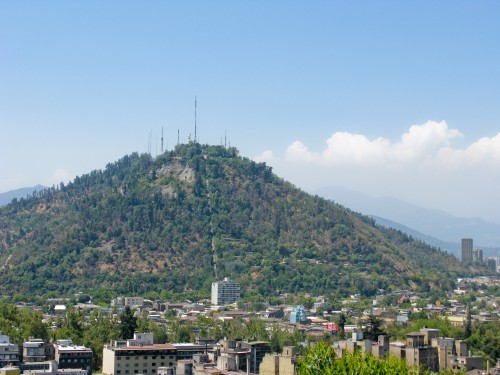 We then walked to the Santa Lucia metro station, and caught a couple of trains back to Recardo Cumming, at which point we walked down to the local supermarket to get ourselves some dinner. I bought makings for a simple but very tasty penne bolognaise, which I later cooked in the hostel kitchen (after a snooze!).
We were joined at the dinner table by some of the other guests – most of whom were on the last legs of their journeys and had already been through the Patagonia region, and some even to Antarctica. It was fascinating talking to them about their experiences and their favourite (and not-so-favourite) places to visit. We ended up talking about many things until after midnight, at which time we pretty much collapsed into bed exhausted from our day. Didn't have time to update the blog – sorry! (I'm writing this Tuesday evening).
I'll write some more observations about Santiago later and add some photos too.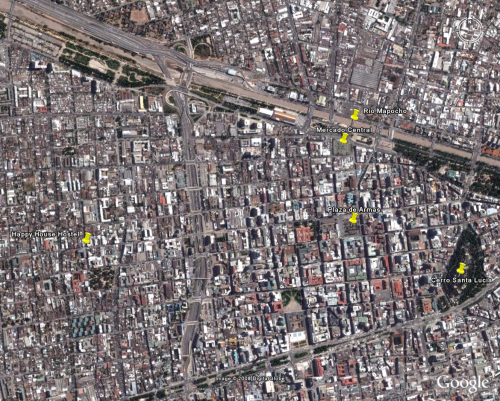 Tweets from today
trying to get WiFi working at Happy House Hostel, Santiago, Chile

19th January, 2008 4:05 PM from web
Waiting for our bags at Santiago airport