Power was back on this morning – I was worried that the lights were all on and we would be rudely woken when the power came on, but it was okay. Got a good sleep. Finished packing and ate the last of the cereal we had bought for breakfast – also got a bit of blogging done too.
Checked out at around 10:30am and headed down the road to the bus stop with our packs on our backs – at last we're using them the way we had intended! An American girl who had been staying at the hostel and was also catching the Navimag today accompanied us down to Puerto Montt. Originally we had considered catching a taxi, but it was over 14,000 pesos, while the bus was only 700. We only had a short wait for one of the little mini-buses heading to Puerto Montt, but unfortunately it was already mostly full – so it was very squeezy and we had to stand the whole way down (only 20 mins). We later discovered several of the people on the bus were also heading down to catch the Navimag.
We managed to get the driver to stop where we needed to get off – down the bottom of the hill near the port. We then had a 10-15 minute walk with our packs on to reach the Navimag offices. Checkin was surprisingly quick – and we were able to leave our packs with them – they would arrange to transport them to our room, which was good, since it meant we didn't have to look after them while we waited for boarding. They told us to be back at 2:30pm for boarding – so we had 3 hours to kill. They also suggested we go get some lunch, since we would not be fed until after 7:30pm for dinner.
We walked to Puerto Montt downtown (about 45 minutes) with our daypacks (unfortunately mine is really heavy with all my camera gear and laptop!). We ended up back at the food court in the shopping mall and sat around for a while relaxing and chatting.
[table1]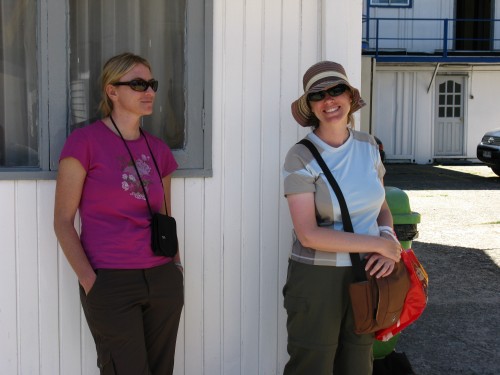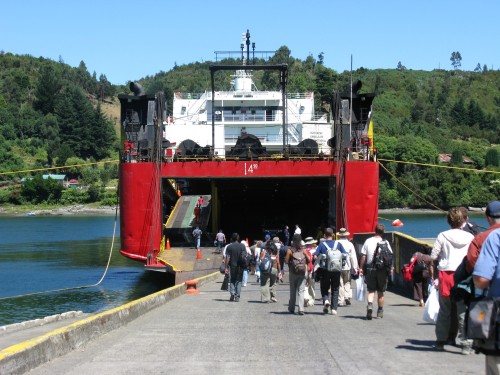 We got back to the Navimag offices and ended up waiting until well after 3pm before they started boarding, but eventually we got to our cabin – an external cabin with a small window which unfortunately could not be opened – the room was extremely hot – I think there was a problem with the air conditioning on our level – and it was made worse by the fact that we were directly below the upper deck, which is a large metal area (originally a helipad – now an observation deck), and the boat had been sitting in the hot sun for the past few days.
[table1]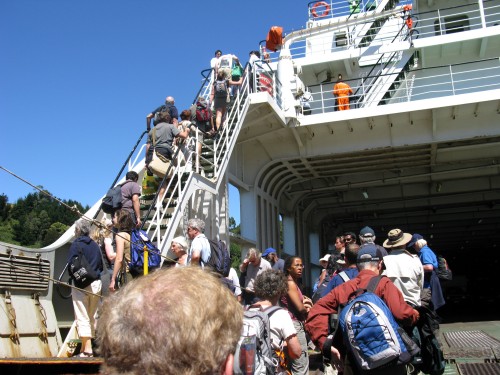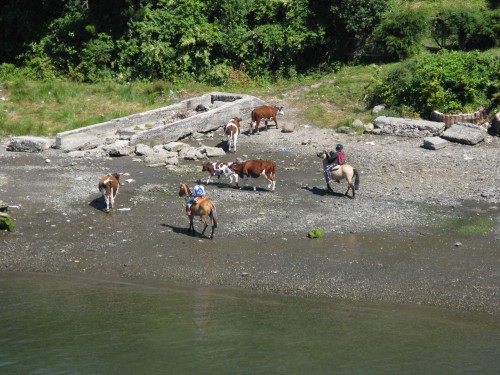 We have two double bunks in the room, a AA class cabin – we couldn't get the AAA class cabin we wanted which only had a single double bunk but had a desk and chair – which would have been convenient (they were sold out when we booked back in November). The cabin does have a private ensuite – the A class cabins have an external private bathroom and the C class cabins are shared dormitories with shared bathrooms.
We decided to pull our gear out onto the lower beds and sleep on the upper beds – there were lockers too, but we would have had to completely unpack everything to fit our gear into them … I just used them for the important stuff we wanted to keep more secure. We went for a wander around the boat – the dining room is just down the hall and the pub is upstairs – we are near the back of the boat with a deck looking out over the rear cargo area (smells like diesel).
[table1]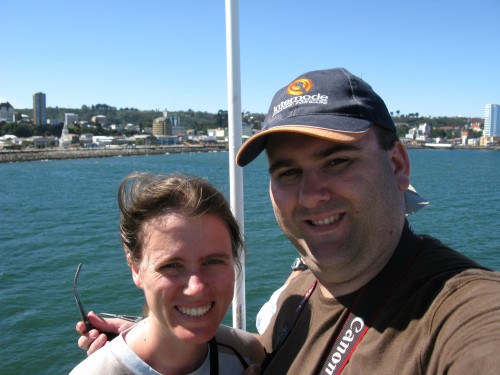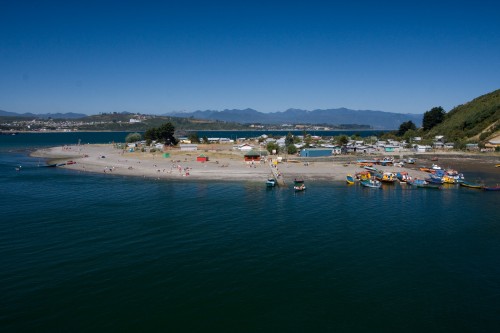 Once the boat was ready to leave, we headed upstairs to watch the departure from Puerto Montt, from where we started heading south.
It had been quite hot during the day (apparently the local Chileans had been commenting that this was the best summer they had ever had – nice sunny days), but up on deck once we got into the more open water, the stiff southerly wind made it a lot cooler.
[table1]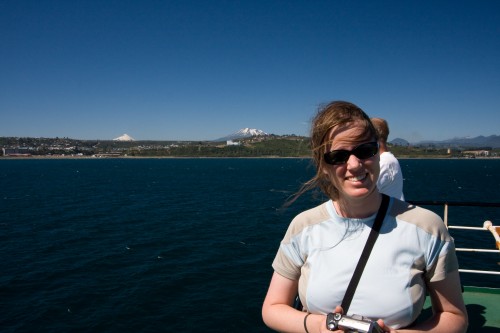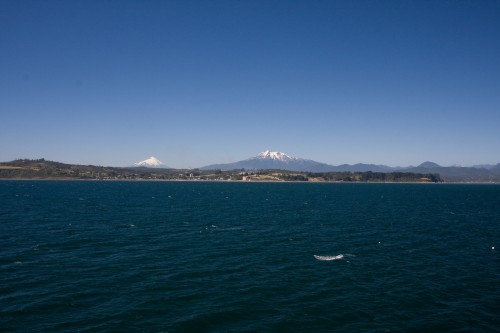 We were quite excited by the colder conditions – it meant we had a chance to break out our cold weather gear and see how it went. I tried by fleece over my t-shirt, but found it still allowed the wind through – I put on my rain jacket and beanie and gloves and it helped. Leanne had similar on – and while we were still a bit cold, we weren't too uncomfortable.
We ended up having a snooze in the afternoon before dinner – was nice to be able to relax a bit during the day!
Dinner started at 7:30pm, the boat was nearly full so we have to eat in shifts – we got to eat with the first sitting. The choice was lasagne or meatloaf – it wasn't bad. After dinner we watched more of the view for a while before heading inside to watch a movie they put on in the dining room.
We were exhausted after the movie, so we headed to bed by about 11pm.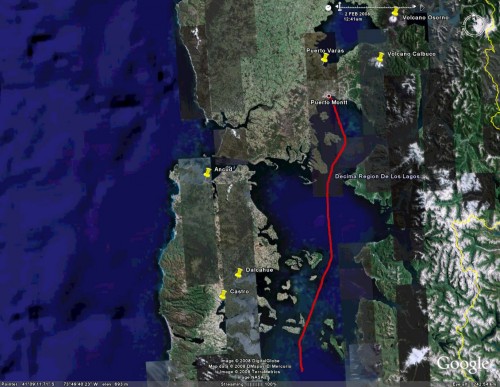 Tweets from today
going offline now while on a boat – back on Thursday or Friday (hopefully)
having some lunch at the mall in Puerto Montt while waiting to board the Navimag to Puerto Natales