Day 1 was a very long day – up at 6:30am after being up late the previous night packing and preparing for the trip.
Called a cab just after 8am and checked in once we got to the airport. We were originally planning on taking the train to the airport – we've done that before … but there were several reasons we decided not to – primarily because it was still raining (rained all day non-stop on Friday too), and because we didn't really want to be arriving for our flight all hot and sweaty. Leanne also injured her shoulder a couple of months back, and wanted to take it easy – give it a chance for a rest before we try carrying the packs any great distance.
After checkin and passing through immigration and security, we headed to the TRS (Tourist Refund Scheme) office to claim back the GST on the camera gear I purchased. I wasn't able to claim the entire amount – I bought the camera and one of the lenses more than 30 days before departure (which was deliberate – I wanted more time to verify there were no problems, and to learn how to use it) … but I was able to get 10% back for the other two lenses, and the A650 compact camera.
We headed to the business class club lounge (Qantas has given me Gold Frequent Flyer status – which gets me into the business class lounge) to have something to eat and wait for our flight. This is where I discovered my first potential disaster for the trip – my WiFi didn't seem to be working at all – drivers were not even loading! This was not good – I've been planning on using WiFi just about everywhere … otherwise there was not much point lugging the laptop all over South America!!
I headed down to the PCs that Qantas supply in the club lounge to do a Google search on what the errors meant … and discovered that this is a known problem for people who have installed Quicken 2008 on their ThinkPads – something I had done on Thursday night!! I tried their suggested fix, but it didn't help – although I thought they were on the right path, since the error messages fit with the suggested problem.
I discovered that Windows XP has a System Restore feature – something I've never used before, which allows you to revert to a configuration on the computer from a few days earlier (depending on how much disk space you have allocated to tracking changes). I tried a couple of things, and eventually found a restore point from a few days ago which seemed to have the correct settings and the wireless drivers started loading and I was no longer getting the errors. However, by this time we were at the hostel in Santiago, and when I tried to connect to their WiFi network, I found that it would not assign me an IP address – I couldn't get onto the network. I tried copying all the settings from their PCs in the lobby, but there's something missing – either their router configuration isn't quite right, or else my WiFi is still broken. I was able to connect briefly by plugging my computer into their router (while standing at the reception desk – not conducive to getting any work done) … I was able to download some emails, but that was about it. There's nobody else here with a laptop that I know of, so I can't check to see if they are having problems connecting either.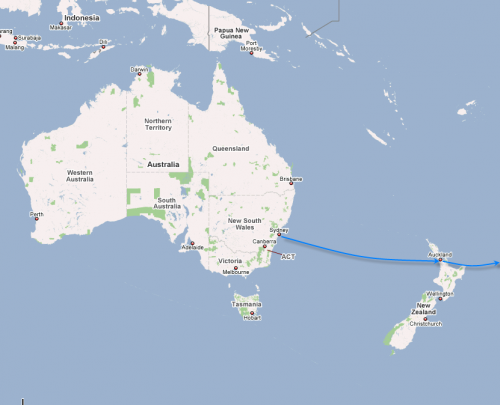 Anyway, back to the trip, we were flying on LAN airlines (one of the main South American airlines) – who operate a codeshare flight with Qantas (we were travelling on a Qantas ticket). The flight was uneventful – first leg was Sydney to Auckland, just enough time to start getting uncomfortable (I prefer flights of no more than 2 hours – Sydney to Adelaide is okay). We had an hour stopover in Auckland, during which time we got off the plane, had a bit of a stretch and bought something to eat. The mince beef pie was very nice! We also bought about 3L of water – something I'm glad we did now, since LAN basically didn't supply any water other than with meals (and the onboard water on a plane is generally just tap water and pretty yucky). Most people had a dry cough by the end of the flight – we would have too if we hadn't had our water.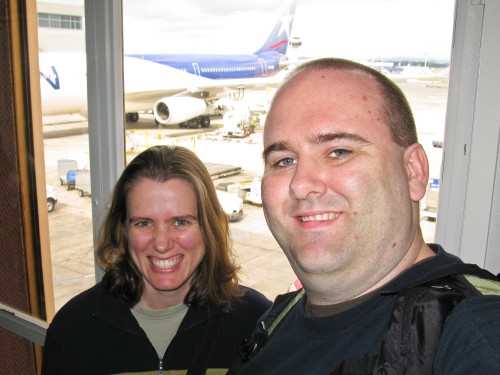 The flight from Auckland to Santiago was about 9 hours or so, and being an overnight flight, meant that we had to try and sleep. I've always had trouble sleeping on planes – I like to stretch out while lying on my side when I sleep, and I have a lot of difficulty sleeping sitting up – especially without anything to lean on. I had resigned myself to not getting much sleep on the flight – and I didn't … probably less than an hour all up – the pain in my backside from sitting down too long was too annoying. Leanne managed a couple of hours sleep, and was actually feeling pretty good when we finally arrived in Santiago.

First thing we had to do after arriving was to pay the "Reciprocity Fee", which Chile charges to people from the US, Canada and Australia (amongst other countries) … I'm not completely sure why – although it may well be related to the VISA waiver program (we do not need a VISA to enter Chile). Immigration was easy - although baggage claim took nearly 45 minutes. After collecting our bags and clearing customs, we headed out to find where we could book a shuttle bus to our hostel … we had considered catching a regular bus to one of the big metro stations, then a train to the station near the hostel – but decided since we were tired and this was our first time here, it would just be easier to catch a door-to-door shuttle – despite the high price - US$10 each!
We went and found an ATM first – our hostel would need us to pay in cash up front, and we needed some local currency anyway. No problems getting money out of our Commonwealth Bank Travellers Cash card … once I worked out how to get the ATM machine to speak english!!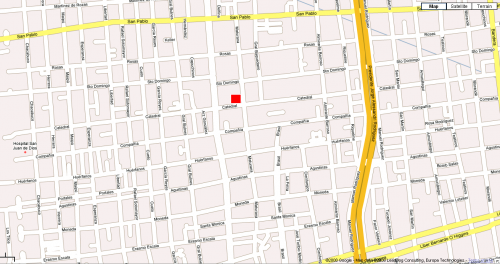 The trip to the hostel took under half an hour – interesting seeing a new city for the first time – it is very dry here … almost desert-like … reminded me somewhat of Las Vegas and Phoenix in the US. It was around 1:30pm by the time we arrived at the hostel.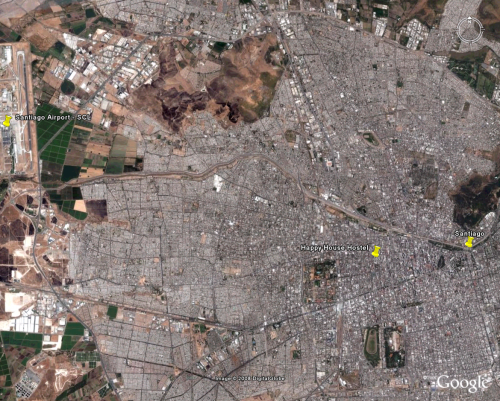 We are staying at the Happy House Hostel in Barrio Brasil – a fairly old part of town, predominantly medium density housing (with a few high density blocks in places), old style buildings built right up to the footpath – all the windows and doors have steel bars, and some blocks have security as well. The hostel is built in a converted old house, upstairs from a small pub on a street corner. It has very high ceilings (at least 15′) and very old wooden floor boards that creak with every step … and some were sagging a little too much for my liking! It has character though – clean and comfortable.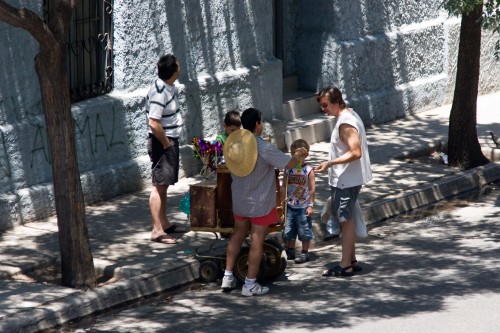 Our room is at the front of the hostel – right on the corner of the building above the pub, with windows on two sides (the windows open directly over the street and so when open, we get all the street noise … and when closed – it's not much better!). We have our own private ensuite, and the room is quite spacious. The main downside is that despite the high ceilings, our room is quite hot – they really need a fan in here.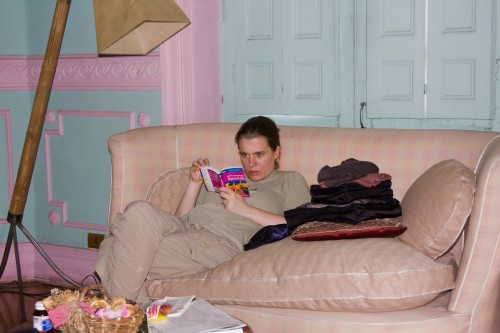 After settling in a bit and having showers and a snooze (and spending some time working on trying to get my WiFi working!), we headed out for a walk around the area to find the local metro station and some food. We found the station right where it was supposed to be – one block away. Plenty of little corner stores selling snacks and drinks too. We continued walking, discovered the local park and a restaurant/bar strip (there seemed to be more bars than restaurants!). We also found a beautiful old cathedral in the process of being restored (much of it was crumbling).
On the way back to the hostel, we stopped at a small supermarket (supermercado) and bought some food for dinner – since we were tired and didn't really want to be bothered with a restaurant, we decided on something simple for dinner and bought some instant noodles and some biscuits that looked and tasted like Sao's. The hostel has full kitchen facilities – and I discovered many of the people staying were cooking their own meals – which is certainly a good way of saving money and getting something decent to eat. We might have to do that ourselves I think – dining out every night for 6 weeks can get a bit tiresome! Although I am looking forward to the steak that this part of the world is famous for!
By about 9pm we were feeling very tired, so decided to hit the sack early. It was still noisy out – the bar downstairs was playing music and the hostel residents were all returning from their day of sightseeing and the hostel bar/pool table is just down the corridor from our room. With the floorboards, the music and the traffic, we new it was going to be noisy – fortunately we listened to someone's advice about staying in hostels and packed earplugs – which do a reasonable job of dulling the noise enough to be just a little annoying, rather than completely sleep-depriving like it was without them!
I managed to sleep for a couple of hours until just past midnight, then read my book for a couple of hours before trying to get some more sleep – mostly unsuccessfully (the bar down the corridor was still going strong – it was Saturday night after all … and it was a bit hot and uncomfortable in the room).
I gave up just before 6am (jetlag was always going to win this battle and not let me get a good night of sleep!) and got up to start writing this … it's now just after 7am Sunday morning and the sun is nearly up … it sounds like all the local uni students are out on the streets heading home after their night of partying – lots of noise out there! Hmm … now their are hundreds of what look like students walking past making a lot of noise … I reckon one of the local nightclubs has just closed and they are all heading home. One of the problems of staying near universities I guess!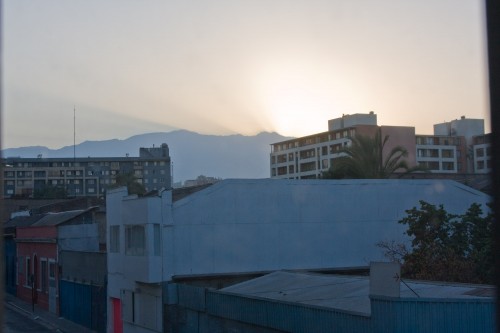 I'll leave it there for now … might have to spend some time going through all the photos I've taken over the past few weeks and preparing them for upload to the gallery. Breakfast isn't for another half hour or so.
Lessons learned: take lots of water on LAN flights – they don't supply any. Don't stay in university areas on weekends if you want some sleep.
Tweets from today