After a late night finishing off some last minute preparation for the trip (computer stuff mostly), we were up early to catch the airport shuttle to the airport.
We had re-arranged the packing slightly yesterday so that we had no more than 20kg in each of the bags. That's still close to 80kg across the four bags, more than I've ever travelled with before. On our trip to South America last year we had something like 16kg and 12kg in our packs, although we did try to pack light – we had no shoes in the packs, only Teva sandals.
One of the bags is full of stuff for Andres (clothes, blankets, carry pouch, etc) and we also have all his feeding gear (bottles, sterilising, cleaning, etc) in another bag with the rest of our bits and pieces. We need to be pretty much self-contained for parts of the trip, so there is quite a bit to take.
We decided to use our travel backpacks for our own clothes – we know from experience that we can fit enough in them for at least 6 weeks worth of travel and still have plenty of space to spare. It's nice to know that we're actually getting more than one trip worth of use out of those expensive packs. We have no intention of trying to carry them on our backs though!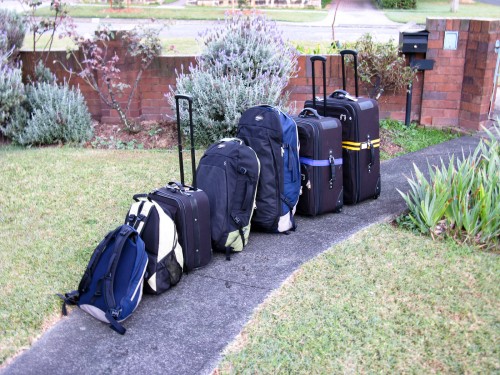 Shuttle pickup was at 6:30am, and they got us to the airport before 7:30am. We had to pick up some paper tickets at the airport for Andres for the return leg of the journey, and then checkin was pretty quick – I didn't even use the Silver FF queue, it was longer than the LAN economy checkin queue.
Now that I've lost my Platinum and Gold FF status (I have lifetime Silver), we no longer get access to the club lounges, which is a pity – it is nice to stop and have some more breakfast and fill our bags with bottled water for the flight out of their fridges, plus they have a good selection of magazines and newspapers to read while we are waiting for the flight. I've been spoilt all these years of travel for work.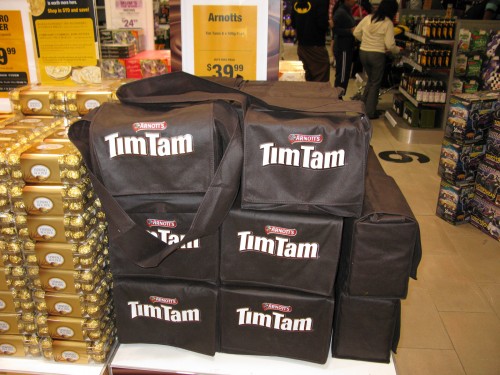 Just over 3 hours to Auckland, turned out to be a much shorter stop than I thought we had – only about 45 minutes before we had to reboard. Just enough time to grab a muffin, and find some WiFi to check my emails and websites. Good thing I did as well – two of my sites were down, so I had some quick work to do to get them fixed before we boarded again.
Flight to Santiago was long and uncomfortable – although LAN have a really good in-flight entertainment system with a large collection of movies on demand, including a lot of older movies. We were able to watch a couple of movies together that we hadn't seen, which did keep us occupied for a while. I didn't really sleep much – only dozed a bit, which meant that by the time we landed I was really tired.
Immigration at Santiago airport took a while, but once we got through and collected our bags we were able to head to our airport – which took all of about 60 seconds. Since we have an early flight to Bogota in the morning, we are staying at the Holiday Inn right here at the airport – it is literally just across the road from the terminal.
It was about midday local time when we got here, and we were both very hungry, so stopped down at the restaurant for some lunch – trying to keep each other awake. Got back to the room and I tried to get some more work done but failed miserably, not being able to concentrate with tiredness, so I lay down for a sleep as well.
After about 3 hours sleep (we were aiming for only 2, but just needed a bit more), we managed to force ourselves up and start getting a bit more organised for the next leg of our trip.
We won't be doing much else tonight – will try and stay awake as late as possible to try and get our bodies clocks back into line and get ready for our flight tomorrow morning. At least the internet connection here is good – I have a heap of emails to catch up on.
Tweets from today