My parents and sister drove over from South Australia and stayed with us for Christmas this year, and Leanne's parents also came over but stayed with Leanne's sister (who also lives in Sydney). We had all of them over for Christmas lunch, along with Leanne's cousin and her husband and three kids – so all up there were 14 of us for Christmas lunch – the largest single gathering we have catered for.
To complicate things, Leanne insisted on doing a sit-down cooked meal – so we needed to plan pretty carefully what we were going to cook, how we were going to cook it, and more importantly, where everyone was going to sit! After much experimentation (and one or two arguments) in the weeks leading up to Christmas, we had decided to try extending our dining room table out and adding a picnic table at either end, with the whole lot in one line diagonally across the room.
It was a tight fit, but on the day we managed to fit everyone in (would not have worked had there not been two doors into the room). The meal consisted of roasted chicken, turkey and pork, along with roast vegetables, freshly baked bread (and bread rolls) and a few salads too. There was no way we could have cooked everything in the oven, so I used to BBQ (which has a hood) and roasted the meats in there while my mum and sister helped by baking the vegetables in the oven.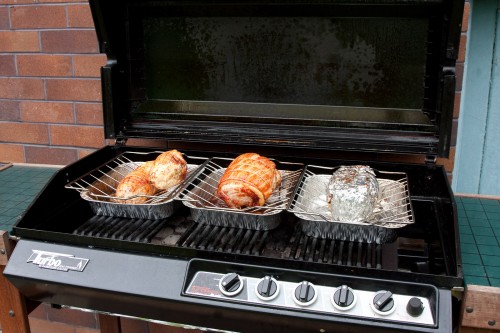 It all turned out really well – the pork was superb and the turkey was really nice too. After lunch, we sat around out in the back yard and enjoyed the lovely weather.
Late in the afternoon we had a surprise visit from a rather pregnant looking blue tongue lizard which popped out from under one of Leanne's pot plants. It crawled past and then around into the front yard. Beautiful colourings on its side – haven't seen that on a Blue Tongue before.