The Chaiten Volcano has errupted in Chile after being dormant for thousands of years.
We were in this vicinity back in February when we sailed on the Navimag ferry from Puerto Montt to Puerto Natales. I don't think we got any photos of the volcano – I'm not sure you can see it from the water and it was late at night when we passed that area anyway.
This photo is a satellite image showing our GPS track from the Navimag and I've added a marker showing where the Chaiten Volcano is. Click on the image to see a larger version.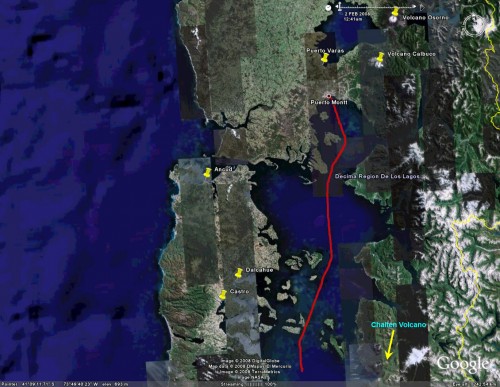 Lots of media coverage with photos of the volcano erupting:
In pictures: Chile volcano erupts
Thousands flee as Chilean volcano erupts
Tourists and locals flee Chaiten volcano
You can read more about our trip in our travel journals: South America 2008 … day 17 is when the Navimag trip starts.