Woke up early again to feed the hungry boy. He's still sleeping pretty well, although he is very restless – moving around a lot as he sleeps, which sometimes wakes us up as he bangs against the side of the cot when he rolls over.
After breakfast we got ourselves organsised and went out for a walk along the Rio Cali (Cali River) near the hotel. We wandered along enjoying the exercise and watching life in Cali. Andres seems to like the Ergo carrier – he sat quietly watching the world go by and even fell asleep for a while.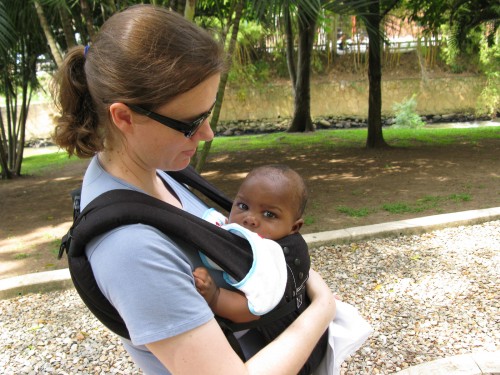 On the way back, we stopped at a little supermarket to get some supplies before returning to the hotel and sitting on the front porch of the hotel to relax and play with Andres.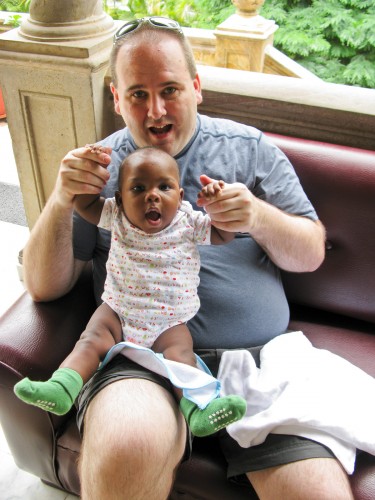 The afternoon was quiet – spent napping, reading, playing and writing blog entries. We did try feeding Andres a little banana baby food, he hasn't quite got the eating action right yet, but he did eat a bit of it. We'll try some cereal tomorrow.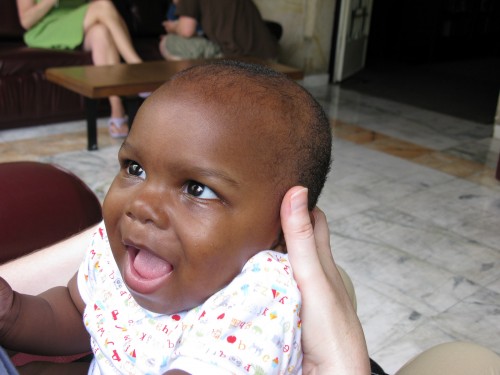 He is getting very good at vocalising his hunger. The first couple of days he only really cried first thing in the morning, so we weren't really sure when to feed him. Now though, he cries pretty much right on queue every four to five hours during the day, wanting to be fed – and once we've got the bottle into him, he's very happy. He's finishing off his bottles now, where the first couple of days he would only drink about three quarters of it – I think he's over the stress from those first couple of days. After feeding, we make sure to keep Andres upright (I usually hold him over my shoulder) for at least half an hour until we get a few good burps out of him – if we try to lie him down before then, he gets a bit grizzly with discomfort.
Late afternoon, Magnolia came and picked us up to take us to the Notario to get a power of attorney notarised ready for our lawyer to take our file to court. This was a simple process which involved lining up for 2 minutes, then spending 5 minutes smiling at all the ladies in the office who left their posts to come and coo over Andres and tell us how cute and how chubby he is (just like his papa – chubby that is, not cute). I felt a bit sorry for the other people waiting to get documents notarised, nobody got any work done while we were there. Eventually we paid the fee and got the documents (which we signed and put a finger print on).
Before heading back to the hotel, Magnolia took us to some shops so we could buy a little rattle for Andres – he liked playing with the room keys, but they are a bit sharp and I didn't want him stabbing himself in the eye. It was an instant hit (literally) – he loves banging the rattle on anything including us.
After dinner we ended up sitting downstairs with the other couple from Australia and the couple from Finland and chatting for a couple of hours before bed. It was nice to be able to share with other people and see that we are not alone going through this. The Finnish couple adopted a little girl from Chiquitines the same day as we did, so we are pretty much going through the process together. The Australian couple adopted a little boy from Chiquitines a week before we did.
Tweets from today
fun way to make (or lose) friends while travelling OS – take a jar of vegemite and have the locals taste it