We slept in this morning for the first time this trip. I was supposed to set an alarm to make sure we got up in time for breakfast, but I forgot. Fortunately I did wake up in time, even if it was much later than we had planned. I think we all needed the sleep.
After breakfast, I sat with Andres on the front porch while he played with the Danish boy and Leanne did some ironing in our room in preparation for our meetings today and tomorrow.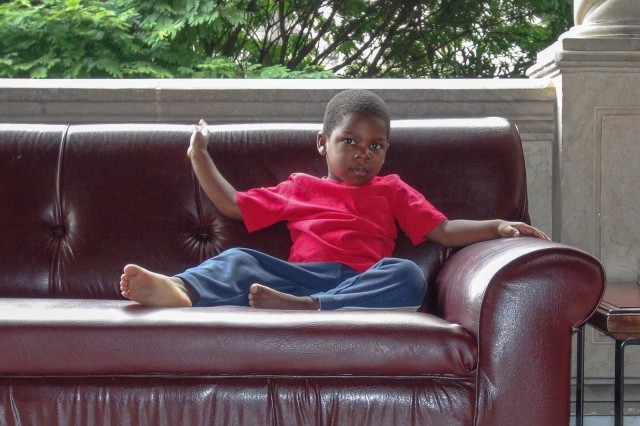 We had a 4pm meeting at Chiquitines with the social worker and doctor to go over Nicol's social and medical history. With Andres, this meeting happened the week after we took custody of him – it was first thing on Monday morning that we met him and so having to travel to Chiquitines, wait through a meeting and then not getting to meet Nicol until the following day is a bit difficult. We do understand the reasons for the change – while Andres was excellent for us during his meeting, I can imagine that if you have a child who is unwell or not very settled, it would be quite difficult to sit through such an important meeting and absorb what they have to say. This way, the details are out of the way and then the following day we can concentrate on enjoying our meeting with Nicol.
The Danish family had their meeting directly before us, so our interpreter, Magnolia took them in a hire car to Chiquitines at 2pm and then sent the car back to pick us up by 3pm while they had their meeting so that we could get there by 4pm. The car would then take the Danish family back to the hotel and come back for us. Unfortunately, Magnolia forgot about the 3pm school-rush and the traffic was so bad, the car didn't make it back to us until around 3:40pm and we were getting pretty stressed by this stage. Fortunately, we made pretty good time and were there only about 15 minutes late for our meeting, and rather than have the hire car come back for us, she told the driver we would get a taxi back instead.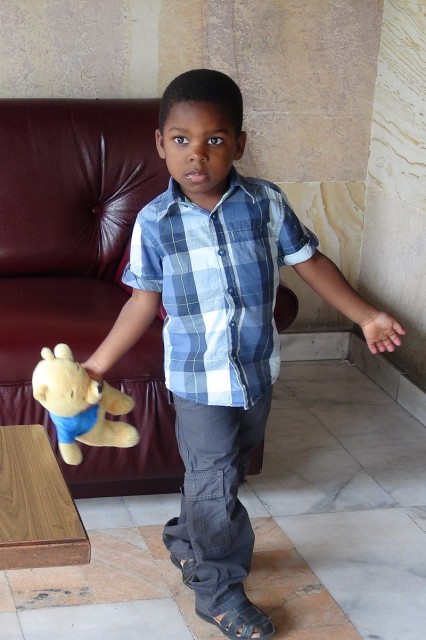 Our meeting went well – it was so nice to be back at Chiquitines, we have fond memories of our previous visits there and they were so excited to see Andres and how much he has grown. Unfortunately, he was really tired and not feeling like interacting with anyone, but he sat on my lap quietly and was excellent during the meeting.
We did ask if we could go and see Nicol before we went home, but they just smiled and told us to have a good night's sleep and come back tomorrow. Somehow I knew they were going to say that!
It was a good thing that Magnolia told the hire car not to come back for us. When we finally made it back to the hotel (in record time for peak hour traffic thanks to Magnolio directing our taxi driver through winding back-streets to avoid the traffic), we discovered that it had taken the Danish family over an hour and 10 minutes to get back. It took us less than 45 minutes, so we arrived home not all that long after they did!
Before dinner, we did a quick trip to the supermarket at the local shopping centre to buy nappies and formula, now that we know how big Nicol currently is and what formula they have been giving her.
At dinner time, Leanne asked me if we should put Andres in a "s-h-o-w-e-r", to which he piped up "you mean a shower?". Oops – looks like we are going to need to come up with some kind of code if he has already worked out what those words mean when spelled out!
I did manage to get Andres into a shower, and then once in bed, he was asleep pretty quickly.
This is the last night we will spend as a family of three – tomorrow we become a family of four!
Here is a 3 minute time-lapse video of our 35 minute drive from the Hotel Pension Stein to Chiquitines, camera mounted on windscreen of our hire car:
… and here's another almost 4 minutes long of the drive back to the Hotel Pension Stein, this time the camera is mounted out the side window:
… both videos are best watched full screen and in full HD (if your link and computer are fast enough for it).