We were up early this morning to finish packing – our driver was arriving at 11am. Rather than flying back to Bogota, we decided to visit the Coffee Region north of Cali for a few days and fly to Bogota from a city nearby rather than driving all the way back to Cali. Magnolia had organised a driver and an air-conditioned car for us … for just over $200 to drive us nearly 4 hours (and then return back to Cali himself), it was pretty good value.
The power went out just after breakfast – it has been a bit unreliable since the large storm which took out the power for 24 hours. However, on most occasions the outage was short. This time though, it didn't come back on. I figured that perhaps the power company were making repairs to the transformers or something. It was bright enough to not need power, so we didn't think much more of it while we finished our packing.
We were ready to leave at 10:30am and the power was still not on – so when I went to pay our hotel bill, they were not able to process electronic payments. They did have offline vouchers they could use, but had to call the bank for authorisation. Half an hour later, the response from the bank was that the bill was higher than their limit for offline payments – they would not honour the transaction!
The hotel staff asked if I could pay using another card – but the amount of the bill was larger than my entire credit limit on my VISA card – so there was no way that was going to happen. Even if we were able to split the bill between cards, I did not have enough credit currently available on my card – and without power, we had no internet, which meant I couldn't just log on and transfer some money across to my credit card account. Of course, if we had power (and internet) for me to do that, we wouldn't need to do it anyway, since we could process the transactions electronically.
The staff called Enrique to try and sort something out – but his only suggestion was to ask us to wait until midday when the power company had said the power should be back on. That was an hour past the time we were due to leave – we had a driver booked to drive us nearly 4 hours north of Cali, so we didn't really want to be hanging around the hotel. Unfortunately right now we couldn't find a better solution, so we asked the driver to wait and we sat around the hotel impatiently waiting to see if the power came back. I figured it was a futile exercise, since the last time the power company promised the power would be back on by a certain time, it ended up being more than 3 hours later before it finally came back.
When we got past 11:30am with no power still, I decided to call Magnolia and check that everything would be okay with the driver. She assured us that everything would be okay, but was horrified that they were keeping us there. She promised to make some calls and see what she could work out. When she called back about 10 minutes later, she said that Enrique was not answering his phone and she couldn't get hold of anyone else – her advice was to just leave and we'll sort out the payment remotely once the power came back on. She told the staff that she would take responsibility for letting us leave so that they would not get into trouble. We had already signed the offline voucher for half the bill – with authorisation from the bank, so at least they had half the payment.
So we got ready to leave – which actually took quite some time with nappy changes, toilet visits, and such – and we were just loading the last of our bags into the car when the power came back on! About 10 minutes before midday – so the power company was actually on schedule for once. I went back to reception and paid the remainder of the bill electronically and said goodbye.
We jumped in the car, thankful for some air-conditioning – it was a hot day already and headed out. We were an hour behind schedule, so I didn't know if we were going to stop for lunch somewhere or try and drive straight through. We had plenty of biscuits and milk and Andres and bottles for Nicol, so we should be okay.
Our driver seemed to be trying to make up for lost time, not exactly speeding, but not taking a leisurely pace either – especially on the corners!
The kids ended up sleeping most of the first few hours – they are both quite good travellers. They didn't miss much anyway, other than sugar cane, a few cows, and a lot more sugar cane.
We eventually stopped at a roadside restaurant for a very late lunch, before continuing on our journey. We soon headed into the hills – the vegetation changed, the farms and crops changed, and the scenery became much more interesting.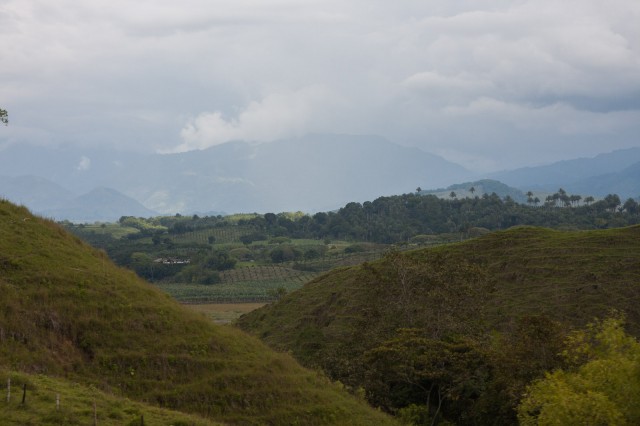 Finally, we turned off the main road and drove down a narrow, winding road through mile after mile of banana plantations. We thought we were going to the "Coffee Region", but so far had not seen any coffee plants!
It was late afternoon when we arrived at our destination – Hosteria Mi Monaco, a small farm which had been set up as a hotel with 22 rooms and capacity for up to 84 people. Set on the side of a hill in the countryside amongst banana palms, with a small stream running past surrounded by tall bamboo, we were immediately struck by how peaceful it was here. Indeed, the only noise we heard (other than the occasional car driving past on the road), was birds, chooks, a couple of dogs and some pet parrots kept by the staff.
There didn't seem to be many people around – but we figured most of them were probably out sightseeing during the day. We knew the owner was going to be away, but it seemed that when we arrived, it was just us, the cook/cleaner and her family – they lived in a small house on the property.
When we came to the dining room (open-air, as most of them in Colombia seem to be) for dinner, we were greeted by two girls from a local travel agency. Magnolia had arranged for them to organise tours for us while we were in the region. They both spoke English, which helped a lot, and they explained that they were working hard to encourage all of the major tourist destinations in the area to provide English speaking guides or staff – to make it more attractive for foreign tourists with limited Spanish skills to visit.
They described the best of what the region had to offer to us, and wrote us a short-list of places we should visit and how much each would cost. We arranged to visit the Coffee National Park the next day, since it was close to the hosteria and considered a must-visit. We agreed to think about the other options and let them know tomorrow night what we wanted to do for the rest of our stay.
We all went to bed early, exhausted from the long day.