Today Magnolia picked us and the American family up with a minivan at 11am to take us all to AcuaParque de la Caña – a water park.
We were worried about the weather early on, but we needn't have been concerned – the weather in the east of the city is usually warmer and drier than where the hotel is, plus it ended up being a warm sunny day anyway- indeed I think most of us ended up getting sunburned if we hadn't been careful enough with the sunscreen.
Andres had a great time going down the small water slides, but he also really enjoyed the huge wave pool which generated waves almost large enough to surf on. He stayed near the far edge where the water and waves weren't so high, but he still ventured out far enough to dive over the incoming waves.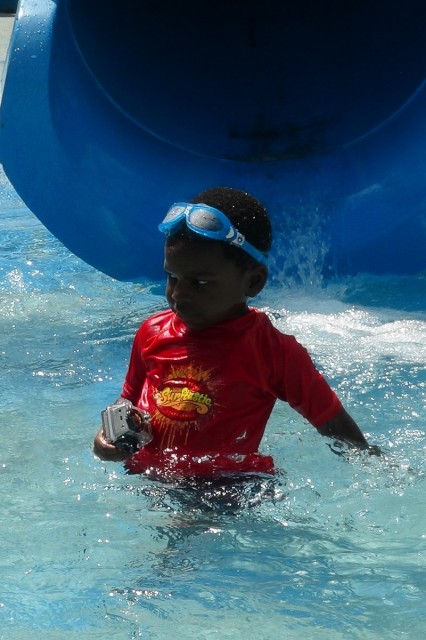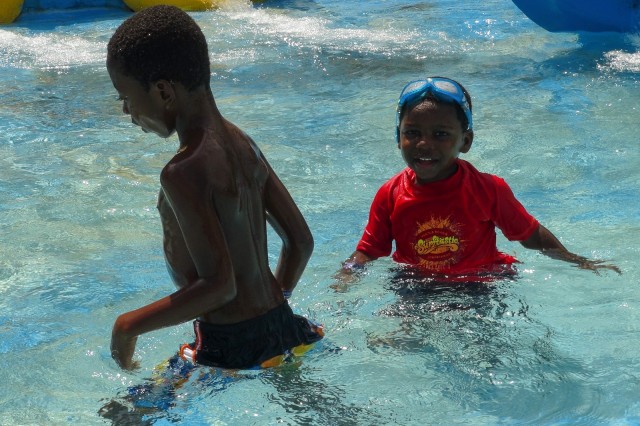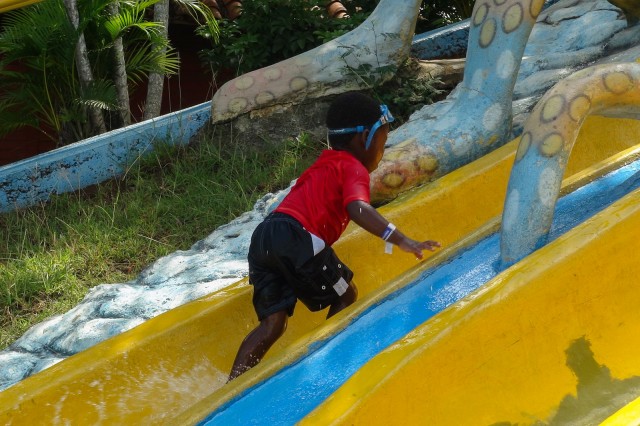 Leanne did take him on one of the larger water slides a couple of times, but he got a bit upset at the fast entry into the water at the end, so we didn't hang around there too long. The small water slides were much more his style and he was quite content to play there.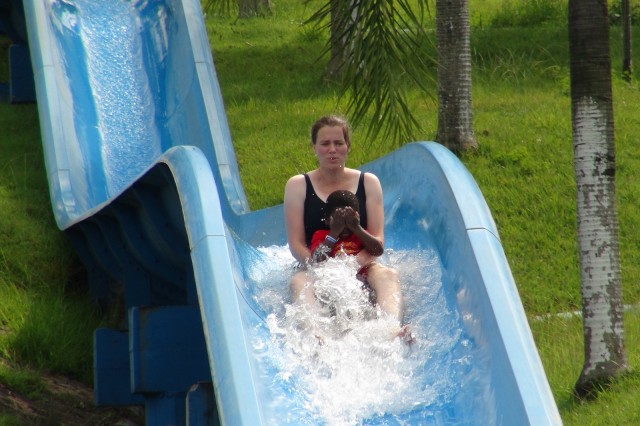 Leanne managed to get a few laps in over at the boring old lap-pool, which she said was quite refreshing to be able to swim properly – she swims regularly at home, and none of the pools we have visited so far in Cali have been really suitable for swimming laps.
Nicol really enjoyed sitting in the shallow water near the small water slides and splashing around. We had to stop her a couple of times from diving into the deeper water – definitely going to need swimming lessons as soon as possible!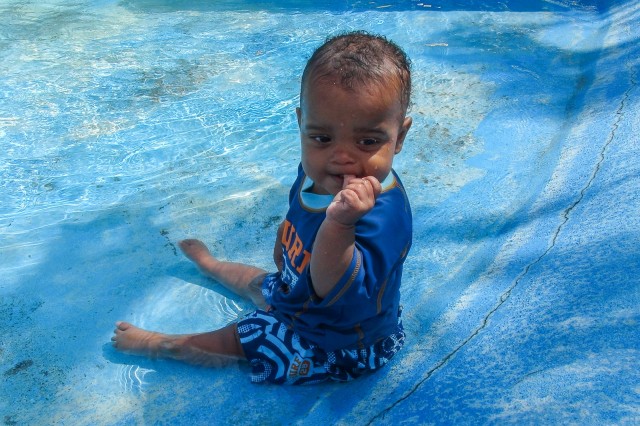 We got back to the hotel around 3pm, very tired.
Magnolia arranged a taxi so she could take me back to the LAN office to try and sort out changing our flights out of Cali.
After a few minutes chatting about what we had decided to do, the girl from LAN disappeared upstairs and we heard nothing more from her for nearly an hour. While we waited, Magnolia and I chatted and made jokes about the staff in the office who were trying to get their boarding pass printer to work. I suggested all sorts of typical IT support techniques (including using a sledge hammer)  – but they didn't seem interested in my help. Either that, or they didn't understand English.
Eventually, the girl came back and explained that they had not been able to sort out the changes themselves and had sent the information to head office in Santiago (Chile) to be processed. I would have thought that cancelling a single flight would have been rather simple – but I think the complication was in dealing with the "unique" nature of our tickets where we had an infant travelling with us one way (from Colombia) which was causing problems. I know they took a long time to originally ticket the flights when we first booked them.
We might have been tempted to just try not turning up for our flight – but I believe that if that had happened, our flights from Bogota to Santiago and then Santiago to Sydney may have been cancelled too! That would not be good.
I think next time, if we have the time – I'll get our travel agent back in Sydney to try and make the change, let them chase things up for hours, instead of me needing to spend so much time sitting in an office, staring at the wall.
Perhaps it would have been better to spend the extra money to fly Avianca for the domestic legs within Colombia – they have a better flight schedule (dozens of daily flights rather than 4 or 5 on LAN), and are probably going to be easier to deal with changes – we certainly had no trouble last time, although we were only changing the date of our flight, not trying to cancel one leg. Avianca was significantly more expensive as an alternative when we booked though – and we also would have needed to factor in some hefty excess baggage fees as well, since they would not be honouring our international allowances. At least the LAN offices are nice and airconditioned!
We headed back to the hotel feeling tired from the long day, and a little dejected. Since we are due to leave on Saturday, I was a bit worried that we wouldn't get this sorted out in time.
We all ended up going to bed early after dinner.