Today's activity was somewhat dictated by the lack of power at the hotel from last night's storm.
We had been told that the power was expected back on some time this morning. I was planning on getting some work done, so it was a bit frustrating without internet access.
There was a lot of activity on the streets around the hotel, with various work crews cleaning up after the storm. A large branch from a tree fell near the entrance to the hotel – they were able to remove it from the road the night before, but someone decided that the entire tree was a bit rotten and posed a risk. It leaned directly over the front gate and security guard's hut, so they were worried that it might fall and damage the fence – or worse, injure someone.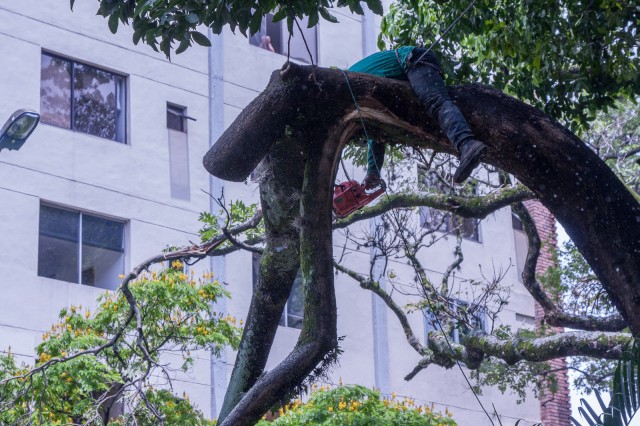 We faced almost constant chainsaw noise most of the morning and part of the afternoon too as they worked to clean up.
While watching them work just before lunch, I asked one of the staff if they had heard when the power was due on. They replied between 12 and 1pm – which had me hoping it might be back by the time we had finished lunch.
I spent time on front porch with kids. Andres is enjoying having the ASUS Transformer tablet with his favourite TV shows on. We have to limit his viewing, but we also get to use it as leverage to encourage cooperation from him!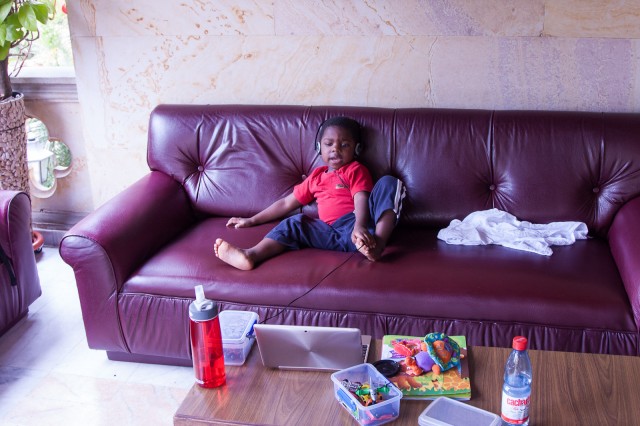 Later in the afternoon, we headed to the nearby shopping mall to do some grocery shopping. When we arrived home, we found that the power had been restored – so I was finally able to start catching up on some work stuff. The power had been off for nearly 24 hours, which was a bit of a pain.
At dinner, Leanne once again stayed in the room with a sleeping Nicol while I took Andres to the dining room. When they brought out some dessert that I knew I wouldn't like, I declined it – so the lady serving us went and got a piece of the birthday cake they had bought for me yesterday out of the fridge. I shared it with Andres and it was very nice – he enjoyed it too.