It was a much more pleasant start to the day today – it looked like it was going to be really nice weather. Once more, we had breakfast, packed the car, topped the car up with petrol and then set off for our next stop – Barmera via Renmark.
A fairly short drive today – we stopped for some morning tea on the banks of the Murray River at Renmark before driving out to Bredl's Reptile Park on the outskirts of the town.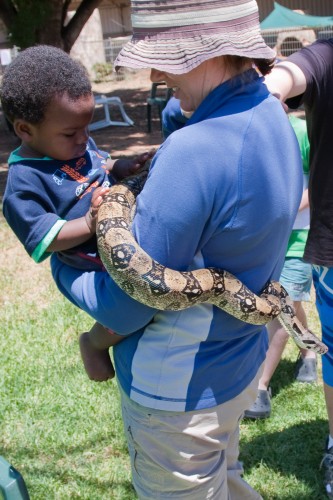 We spent a couple of hours at the park – and Andres got to pat a large python and a capuchin monkey and seemed to enjoy looking at the animals – especially the foxes and dingoes which were curious and came up to the fence in their enclosures. I took quite a few photos which I will be uploading to my ZooChat photo galleries.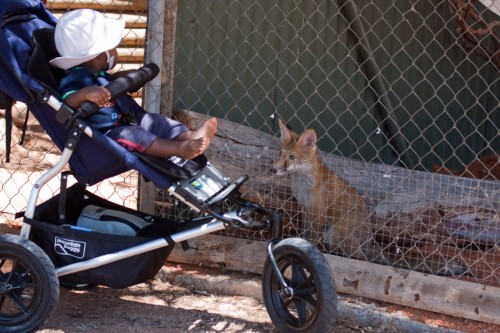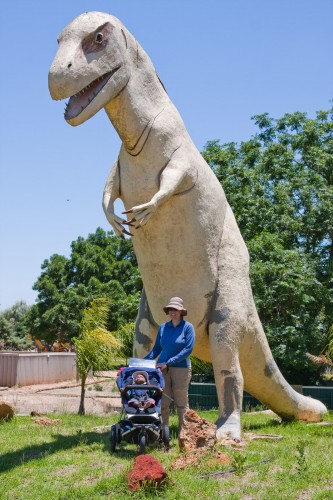 We then drove back in to town for some lunch – again, a picnic by the river, before continuing on to Barmera. When booking accommodation, I was a little disappointed with the lack of choice around Renmark – although it was a Friday night, so I guess a lot of people were already starting their holidays.
It was just a short drive to Barmera – we were staying at the Barmera Country Club which looks out over the golf course, quite a nice location. We unpacked the car and then decided to go for a walk around the town with Andres in the pram.
We were walking down the main street when Leanne stopped to pull a prickle out of the pram wheel. That proved to be a mistake, as the tyre started going flat quite quickly. It was hard work pushing the pram back with a flat tyre – by the time we got back it was completely flat and I was a bit worried about damaging the wheel.
I did a bit of research online back at our room and discovered that the pram wheels have inner-tubes and could be repaired just like bike tyres. I did see one comment which suggested we should always carry a bike repair kit with us as the tyres do tend to be prone to punctures. We've not had any trouble up until this point, but then we don't seem to get three-corner-jack prickles in Sydney which tend to be the main culprit for punctures in my experience.
We had planned on walking along the lake-front before dinner, but cancelled that plan. Instead, we drove down later, stopped at a playground and while Leanne fed Andres some dinner, I went to get some take-away for us to eat.
After dinner we stopped at the supermarket for some supplies and then headed back to the room. Once Andres was in bed, we sat up and watched a bit of television.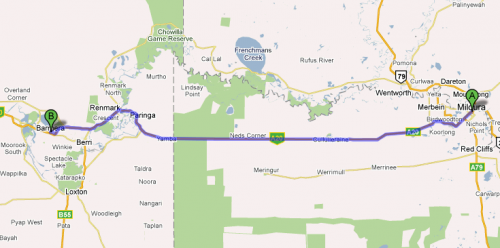 Tweets from today
lovely morning in Mildura – about to head to Renmark and then Barmera
grr – our first outing with the Mountain Buggy pram in South Australia this trip and we get a puncture! Dreaded 3-corner jacks strike again.